Rüdiger: "I will give everything for this club"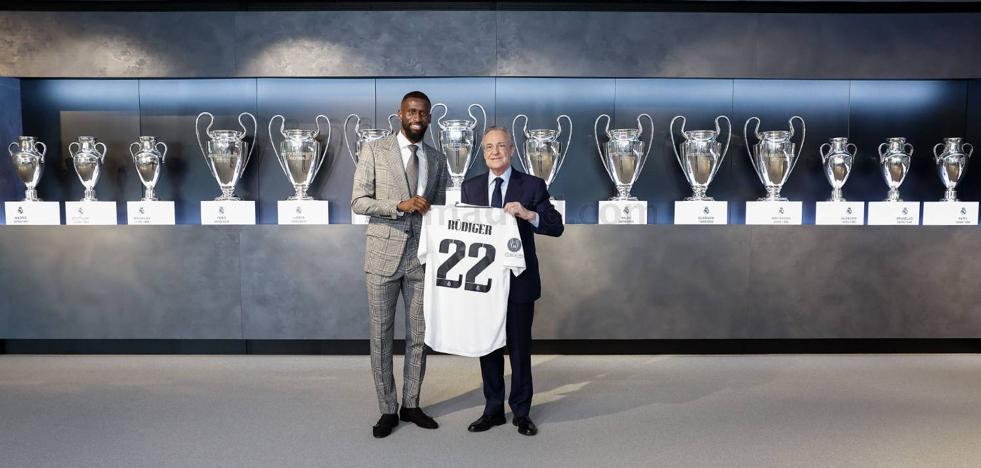 Presentation
"I want to win all the titles we can", proclaims the German center-back at his debut as a new Real Madrid footballer
"I can promise you that I will give everything for this club. I want to win all the titles we can. Hala Madrid and nothing more!". These were the first words of Antonio Rüdiger as a new Real Madrid player. The Berlin center-back enjoyed his debut with the brand-new European champion on Monday at the Ciudad Deportiva de Valdebebas, where Florentino Pérez welcomed him, described him as "one of the best defenders in the world" and showed his conviction that his incorporation will help the whites to be "stronger and more competitive".
Happy and smiling, Rüdiger had stamped his signature minutes before on the contract that will bind him to Real Madrid for the next four seasons. After ending his relationship with Chelsea, the club in which he played for the last five seasons, the Berlin center-back arrives at zero cost and will receive around nine million euros net per year. He will wear the number '22', a number that until now belonged to Isco.
With the arrival of Rüdiger, Real Madrid reinforces its defensive line with one of the most valued defenders on the continent. Trained in the Borussia Dortmund youth academy and then in that of Stuttgart, he made the leap to the elite in the latter of these teams, with which he debuted in the Bundesliga at the age of 18. From there he was catapulted to Roma and later to Chelsea, where he became the leader of the rearguard that won the Champions League in 2021 at the hands of Thomas Tuchel.
"Both for me and for my family it is a very special day. The first thing I want to do is thank my parents for their support throughout my life, without them I would not have come this far. I also want to thank the president of Real Madrid for giving me the opportunity to play for this great club," Rüdiger proclaimed after Florentino Pérez alluded to the bouquet of "girlfriends" that the footballer had. "Your career allowed you to choose between many options, but you have chosen Real Madrid, the shirt with which nobody ever gives up and allows you to achieve impossible goals", said the president of Real Madrid, satisfied by the arrival at the club of "a man that the soul will be left in each game ».