Rubiales asks for changes in the LaLiga format and matches on neutral ground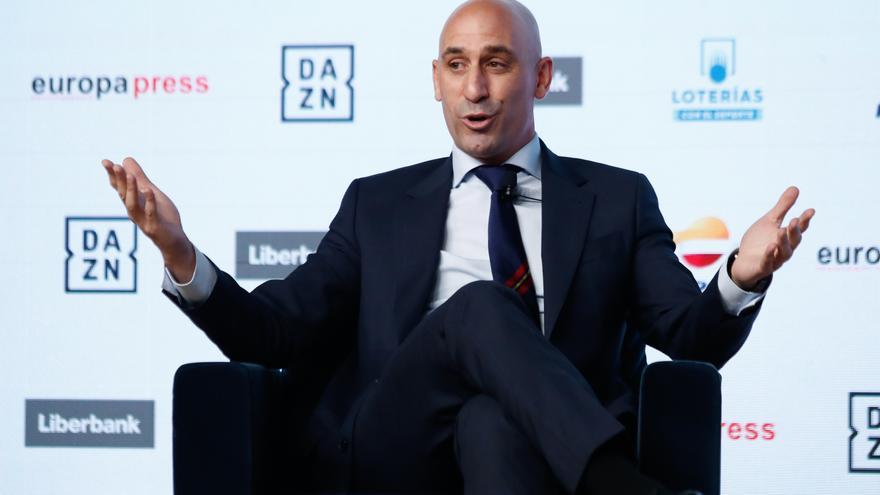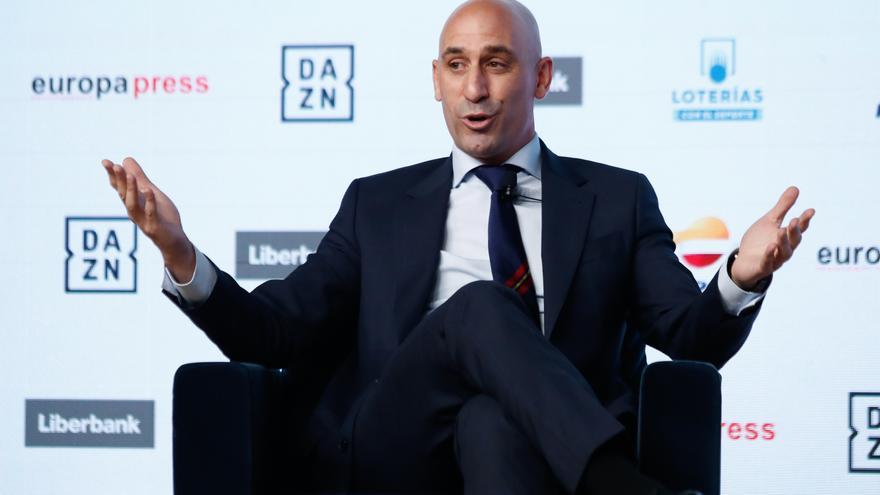 The president of the Royal Spanish Football Federation (RFEF), Luis rubiales, has shown a desire to "try to change the format of the current League", with a new design that" allows fewer busy days in the calendar, with more excitement and more quality matches", at the same time that it has opened the door to play league matches outside of Spain if that change occurs.
"In the next few days I will invite Javier Tebas to sit down and try to change the format of the current League. We have changed the format of many competitions such as Copa del Rey, the Spanish Super Cup, the First RFEF, it was necessary and fundamental that a pleasant television product reach the fans and that we improve the calendar. We are in a position to propose to LaLiga a format that allows fewer busy days on the calendar, with more emotion and more quality matches, "announced Rubiales at the Europa Press Sports Breakfasts, sponsored by DAZN, Liberbank, Loterías y Apuestas del Estado and Repsol.
In this sense, he indicated that "sports leaders" must perform "a sit-in". "Today's kids are born with the console, they no longer play on the street like we did. Immobility is the option that LaLiga has chosen. We are going to propose that change that allows for, for example, neutral venues in football matches. LaLiga, fewer days and a more exciting competition that would generate more income, "he explained.
Within this approach, he advanced that the option of playing outside of Spain "could be studied". "What is not viable is to do it with what is now, a game at home and another away, because then we distort the competition and in that sense there is a firm resolution to FIFA. But if there was a format change, why not? "He wondered.
Regarding his current relationship between the two estates, LaLiga and the RFEF, Rubiales explained that "There is judicialization, but it is not a war." "Javier Tebas and I have a very different way of thinking, but we can respect it. Dissenting is healthy, but the forms are very important, "he reminded his counterpart in LaLiga.
"Without the Super Cup, clubs would have disappeared"
As for other competitions, the president of the RFEF referred to the Super League and asked for "a solution." "But I have not hidden it, and thus I have spoken it with Real Madrid Y Barcelona, that we must be within UEFA and sports meritocracy, and that the path they have chosen is not the right one. Between all of us we must sow an atmosphere of more harmony. And if unfortunately we are going to a legal dispute, each one will defend in court what they think is best", he indicated.
Regarding the Spanish Super Cup, which is currently being played in Saudi Arabia, he defended his position of taking a tournament that before "it was almost a summer competition" to a country where social rights are restricted.
"If Spain had shown the same interest, we would have stayed here. When in a country there is a political regime that surely has to improve, and that does not hide, you can act in two ways: turn your back on the regime and also on the people of there, or go and show what is done in other countries. We have done well, with a female presence in the stands. Hopefully the football can help the opening, here it helped during the Franco regime, just as tourism did. Soccer has to be an integrating tool", he stated.
In this sense, he defended that without these new income from the Super Cup "There are Second B and Third teams that would have disappeared with the pandemic"." In the Assembly there was not a vote against. We now have an eight-year contract and a confidentiality commitment with the amounts (with Saudi Arabia). The Federation has multiplied by three its aid and now we are in 102 million euros ", fixed.
Criticisms from LaLiga
LaLiga has ensured that "There will be no change in the competition format of any of its categories", since it considers that "it has been a success during the last years", and has lamented the "irresponsibility" of the president of the RFEF, Luis Rubiales, for making that proposal.
"LaLiga will not consider a change in the competition format of any of its categories. The current model, its structure, its days of competition, its schedules, etc., has been a success during the last yearss ", settled the competition.
In this sense, LaLiga named some of his recent "many achievements". "An increase in spectators in stadiums of more than 20%; an exponential growth of our national and international audiovisual rights, among which the latest agreement with ESPN in the United States stands out; an economic stability that has allowed it to be the only major league competition with a positive net result in the first season of the COVID; etcetera, "he stated.
Therefore, he considered that "any modification of the current format or its mere approach would be irresponsible." "And it would also generate uncertainty about other sports and non-professional football, to which LaLiga contributes 125 million euros per season. From LaLiga we are willing to dialogue with the RFEF on various issues to improve football, such as improving VAR, which We have already proposed days ago, the coordination with the new category 1st RFEF (prior to professional football), a common strategy against the European Super League, etcetera, "the competition was offered.