Rubén Darío: "Galdós is an icon that I have come down to earth and now I feel closer to him"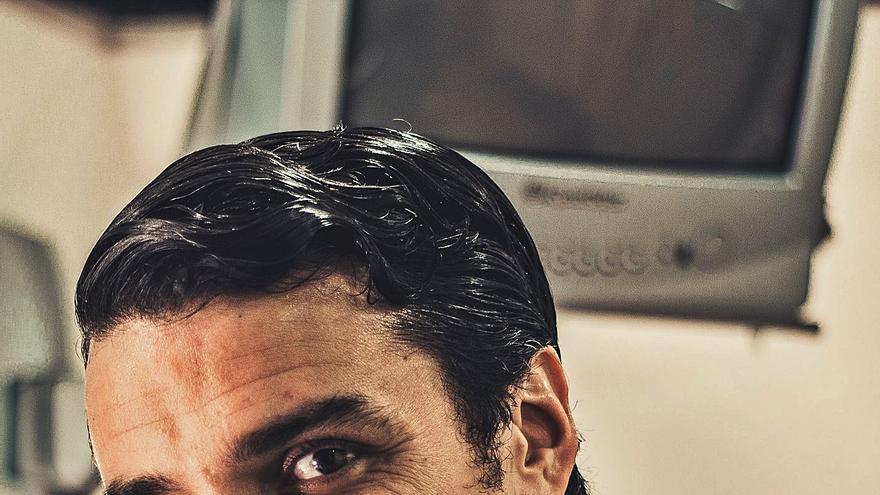 How was the gestation and staging of The Last Old Woman of Galdós in times of pandemic?
It has been an intense and beautiful process of discovering the wonderful characters that surround Galdós's life. The rehearsals took a lot of work due to the need to find and delve into those characters, but they were also very fun, and it was really very easy. Faced with Covid-19, we took the relevant tests before starting the tests, and thus be able to work safely on stage. And everything that has to do with virus prevention protocols makes you have a different attitude when working, especially because you are worried about other things, but we adapt.
It is up to him to defend the elderly Galdós in a cast of seven actresses and actors, such as: Lili Quintana, Ruth Sánchez, Marta Viera, Maday Méndez, Alicia Ramos and José Luis Massó. Previously, you had frequented the writer in the montage Ana, we will also take oblivion (2018), the first piece of this Laboratory. How did you approach the character?
This work has meant discovering Galdós from the point of view of this show. I was in Ana, but it has nothing to do with it, since this play was a wonderful dramaturgy of two texts that Irma Correa did, which were Tristana and Casa de Muñecas, and it was a project of characters that are born for the play. In this case we are dealing with real characters, and in my case it was working part of Galdós's life, his last moments in a very dreamlike way, and in another dimension, his human part, his desires, and it has helped me to discover that world that had Galdós. One has deified many people, great writers, actors and actresses, but when you work on his life, you see the human part and you realize that it could be any of us, with its defects and virtues, fears and emotions, and that's where where I saw a very human and natural Galdós. And then you have to look for that complexity, because among other things, I am 38 years old and I am representing a 76-year-old man right at the time of his death. It has also been a search job, physical, body, voice, many little things.
"Approaching a figure like Galdós has been a challenge, searching for his human part and the world he had"
Professionally, what does the character and figure of Benito Pérez Galdós bring you?
In addition to working with this wonderful cast, it is fortunate to share the stage because we support each other a lot, personally it helps me discover a character that I now feel much closer to, that icon I have brought down to earth. It has been a challenge on a physical level, and the fact of approaching a universal figure, with the premise that those who know him do not reject the character, and provoke curiosity among those who do not know him. All with great humility to place you in a time of great freedom through a very quiet, restrained man who did not like to attract attention.
The writer's correspondence, as expressed by the playwrights Laila Ripoll and Mariano Llorente, has been decisive in drawing the character and the situations.
In addition to reading the biographies when the character was proposed to me, and after seeing the text of the play, which is very well written, the correspondence helped a lot. The letters with Emilia Pardo Bazán, his social and political life that was in the chronicles of the people who surrounded him and covered him, also builds an image of what we might think of him.
The staging takes place in five spaces of the Pérez Galdós Theater, an "immersive experience" for the public, according to the producer, between the Saint-Saëns room, the chicken coop, the rehearsal room, the chácena – rectangular space located behind the stage- , and the moat, to end in the stalls.
It is a very successful approach and not only because it is the last show in this Laboratory and puts this moment in the life of Galdós, but also to celebrate the theater on a physical level. The public has the possibility to visit different spaces of the Theater, with different scenes and characters that tell their story. And it is something curious because in the Essay and error sessions that we have had, they are watching theater in those other spaces and they arrive on stage to continue with the play. All those characters are the ones who build Galdós in an imaginary that the public has not discovered. The Trial and Error sessions allow the public to participate in the work, make contributions and contribute to its construction, it seems to me a gift.
"The approach is successful, not only for this moment in his life, but for celebrating theater on a physical level"
What has this public brainstorming, which was used in Ana and in El crimes de la calle Fuencarral (2019), translate into this time?
Mario Vega always changes something. This work does not have a great scenographic apparatus and everything falls on the actors, and some things that have been proposed are tested, some are incorporated and others not.
The work is structured in two dimensions: one more realistic, and another in a poetic and dreamlike key, which I suppose is what places the viewer in front of the writer at the end of his life.
The whole truth is mixed in Galdós, socially and politically, the encounters he had with many of the characters that appear, why he was not awarded the Nobel, but obviously it is a very human farewell to Galdós with all the things that you need to leave in peace. It also happens that the characters are not like in real life, but like the writer, at his age, remembers and imagines them.