Ruangrupa: "We have never stepped on a Documenta" | Babelia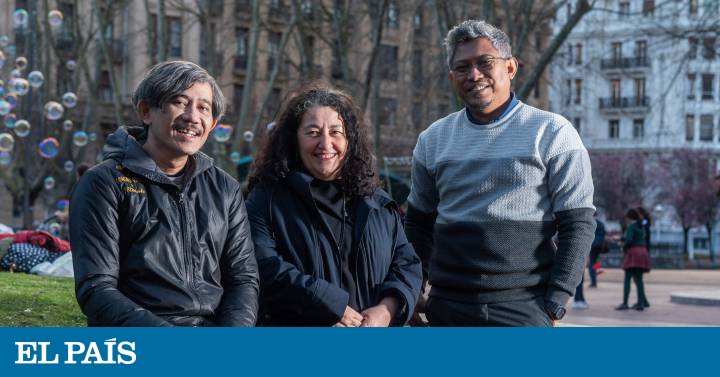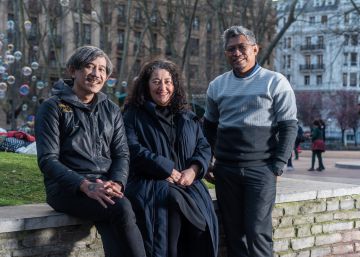 Invited by the Etxepare Institute and Artingenium Art Office, Ade Darmawan and Indra Ameng, director and program coordinator of the Indonesian collective Ruangrupa, who will lead the 15th edition of Documenta in 2022, visited Bilbao, Vitoria and San Sebastián a few days ago to meet in first line the work of curators, artists and agencies that could integrate your project with a view to the most important international exhibition of contemporary art, organized in Kassel every five years. It will serve, as they advance in this interview, to "activate the dimensions of a sustainable artistic ecosystem and transform them into operational realities".
The nine members of Ruangrupa (meaning "space for art") are not those steamy ideologues who use Marxism as a cliche. They are simply artists, sociologists, architects, economists and engineers who help people to live a little better. They argue that show culture has not ended the idea of ​​revolution, although they do not use terms such as neo-avant-garde, feminism or communism to express it. Everything is much simpler, the very idea of ​​simplicity and cooperation coincides for them with art. "The isms They are reductionists, we do not come from that DNA. We are innocent. We have never stepped on a Documenta but neither has a curator invited an Indonesian artist since the first edition in 1955 ". Darmawan and Ameng have an idle air, very good humor and in their explanations they show affectionate irony. More expeditious is the latest addition to the group, the German activist and researcher Ayşe Güleç –who was already part of the Documenta 14 team She is currently head of the Department of Education at the Museum of Modern Art in Frankfurt, which will act as a link between the group and the German organization.
Ruangrupa aspires that his edition of the "museum of a hundred days", as Documenta is called, be foundational, as was that of Harald Szeemann (1972), who marked the institutional acceptance of the conceptual, or that of Okwui Enwezor ( 2002), which remapped art on a world scale. "Our work in Kassel will be a process, a continuation of what we have been doing for two decades in Indonesia and during the last years in other biennials (Gwangju, Istanbul, São Paulo, Singapore)", they point out. "From video art, literature, electronic music or architecture, we create environments where people interact or just sit down to talk about forgotten history, new colonialism and migratory narratives, especially in Southeast Asia." The group also participated in the previous Documenta but "from Jakarta, with an internet radio station."
"The museum is something very old and melancholic. We look for crazy initiatives, generosity and independence "
Question. His ideas resemble the utopian internationalism of the situationists. It could happen what in the fifties, that the virtues of your works were also your weaknesses, the emphasis on the dispersion of the event, which you call "ecosystem", coincides with the spread of left-wing values ​​throughout the world. They also agree with their desire to expand collectivist practices in the face of a global and undifferentiated capitalism, only that the strategies of the situationists were urban psychogeography, drift, non-alienated work.
Reply. The Documenta was born to heal the wounds of war. Today's are social wounds caused by capitalism, colonialism, and the values ​​of patriarchy. Situationism grew out of student movements, just like our group in Indonesia in the 1990s. As for our strategies, the term that defines them is the lumbung, which is a way of governing the resources we have in Indonesia. It is a cabin[likealargegranaryorinBasquea[comounhórreograndeoenvascounaganbara], where the rice is kept and managed collectively. Let no one expect a conventional exhibition, or mammoth works on the esplanade of the Fridericianum. The heart of the event will be a large living room where the different visions of the collectives and artists will come into play. It is what we do since Ruangrupa exists: we meet in a circle and transform the environment into a space for art. It is our way of escaping institutionalization, but now we will do it with more resources.
P. Are you not afraid of falling into a contradiction? Documenta is a clearly institutionalized event, with a budget of 37 million euros, a considerable figure for an edition where you intend to re-evaluate dialectically the artistic element, accessible to all and produced by all.
R. With us, Documenta will be a resource center located in Kassel but operating on a global scale through a collaborative art ecosystem. What matters most to us is the city with its surroundings and its people, so it is about using money differently. We recognize the problem, and the fears you point to are also our fears and we know that other commissioners, like Enwezor, lived them too. To avoid being institutionalized the key is to make the event continue its process beyond Kassel.
P. What has caught your attention during these days?
The nine members are artists, sociologists, architects, economists, and engineers who help people live a little better.
R. Consonni and Bulegoa z / b, in the Basque Country, are very interesting. From Madrid, we really like the affective art of Fernando García Dory and we also want to visit Catalonia. We have to fill in the spaces that the States are not able to attend to. And that is achieved with art on a human scale that operates in public services, schools, hospitals and universities, with a hybrid of praxis and forms.
P. It is a way of expanding the social history of art, but not in the postwar period, but in the 21st century.
R. The question we must ask ourselves is this: what happened when a few centuries ago canvas painting entered Indonesia and mixed with our art? What kind of conversation or controversy was there? We had our own different art and cultural concepts, such as time or binary relationships, because our language, Indonesian, has no gender or words to say he or she. The journey will now be backwards. The West will be impregnated with other artistic practices, and they will not be a fad.
P. That indeterminacy or the question of the sublimation of art is not new. It exists since Duchamp, even the traumatic or the precariousness, which ended as a fad. What is the turn now?
R. For us, the museum is something very old, melancholic. We do not want to save works. We are moved by the intimacy that has been lost, engaging in fun conversations, creating new networks. We are looking for people who don't mind failing. Crazy initiatives, generosity, independence. When the committee of experts that selected us asked if we were going to make an exhibition, we explained our desire to create an experimental space and they immediately understood that it was not something conventional. We do not give up a good painting, but we will show it in a context and with richer forms. We have to think again, including the way we see art. Institutions are afraid of the public, or underestimate it, when they do not protect it. So they give him closed works. But we are also aware that doing only ephemeral works would be very boring.