RTVE names its preselection for Eurovision 2022 and publishes its rules: "We want to be better than Melodifestivalen"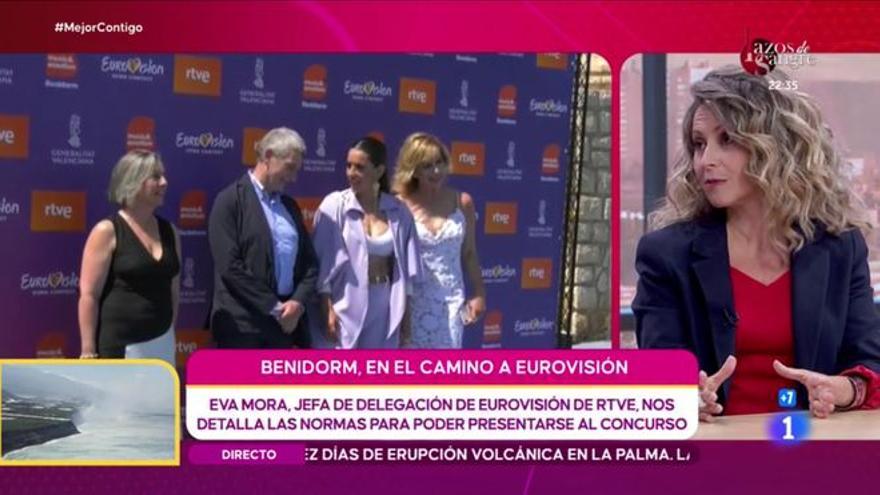 The preselection with which RTVE will choose the representative of Spain in Eurovision 2022 is gradually taking hold. The corporation has made public this Wednesday the bases of 'Benidorm Fest', the title of the format with which the singer and the song that will carry the flag of our country will be chosen in the EBU musical contest, as revealed by Eva Mora, head of the Spanish delegation, in your visit to 'Better with you'.
"There will be room for all genres and for all the people who want to present themselves. We want it to be a preselection of international weight. We want to seem, even to be better than the Sanremo, the Melodifestivalen in Sweden or the Festivali i Këngës from Albania. We are building a solid and hard foundation, but we have to be like the Empire State of New York, but it is a long journey, "said Mora in the Ion Arramendi program.
The process will be open in which interested parties may participate through form enabled on the RTVE website, although the public channel will also try to get established artists to participate in it. The term of this phase will last for one month, from September 29 to October 29, both included: "The goal is for the 'Benidorm Fest' to be a quality festival. Yes, there will be direct invitations (to this type of singers) because we need them on that stage, especially because they export our talent beyond our borders."
"Not only will we select, we will be well surrounded by music professionals, and they will tell us what is better and worse. We will risk with external advisers"explained the head of the Spanish delegation at the European festival, who also avoided making triumphant speeches for the moment:" 'Eurovision is the Olympic Games of music, and music is the universal language. You have to do a good job. Italy has won it all this year and it has taken them ten years. It's a long-distance race '".
In addition, the corporation has also confirmed that the 'Benidorm Fest 2022' will be composed of three galas (two semifinals and a grand final), which will be broadcast live by La 1 and RTVE Play next January.
The details of the rules of the 'Benidorm fest', RTVE's preselection for Eurovision 2022
To be more exact, in the bases, RTVE establishes that they can present themselves to this contest authors / composers and / or performers or groups; over 16 years old as of May 1, 2022; Spanish nationality or permanent residence in Spain and at least 50% of the participants in the case of being a group.
The composers may submit a single song as main authors, and a maximum of two additional authors as authors; while the Performers can only introduce themselves by performing a theme. Authors will be able to suggest an interpreter associated with their song. Those who take part in contests to represent another country in Eurovision will not be able to participate.
The songs, of a minimum duration of 2 minutes 30 seconds and a maximum of 3 minutes, must be original and not have been published, performed or distributed, in whole or in part, before September 1, 2021, a date also established in the rules of the Eurovision Song Contest. What's more, must include lyrics in Spanish and / or co-official languages ​​of Spain. Likewise, topics with snippets in foreign languages, as long as they do not exceed 35% of the letter in that language.
'Benidorm Fest', a preselection for Eurovision that was born in July
It should be remembered that RTVE announced last July the celebration in Benidorm of the selection of the representative of Spain at the Eurovision Song Contest 2022, following an agreement with the Generalitat Valenciana and the Benidorm City Council; and the creation of a working group in charge of designing and promoting the participation of Spain in the European pageant in the coming years.
This aforementioned working group -which depends directly on the Director of General Contents of RTVE, Amalia Martínez de Velasco, and that is coordinated by Ana Maria Bordas, Director of Originals of RTVE- is made up of Eva Mora, Head of the Eurovision Song Contest; Maria Eizaguirre, Director of Communication and Participation of RTVE; Esteban Calle, from Marketing RTVE; Cesar Vallejo, responsible for Digital Documentary and special envoy in six editions of the festival; Irene Mahía, Coordinator of Current Content of Playz and special sent to Eurovision in six editions; Fernando Macias, from RTVE Play, coordinator of the Eurovision website at RTVE and special envoy since 2018; Javier Garcia, a journalist from Informativos de RTVE; Jordi Vives, producer of musical programs; Julia Varela, Eurovision commentator since 2015 and director and presenter of 'Tarde lo que tard', on RNE; and the specialists of Radio 3 Virginia Diaz ('180 degrees', 'Cachitos' in La 2) and Julio Ródenas ('Turbo 3').