Rosalía and Billie Eilish launch 'You are going to forget', their long-awaited collaboration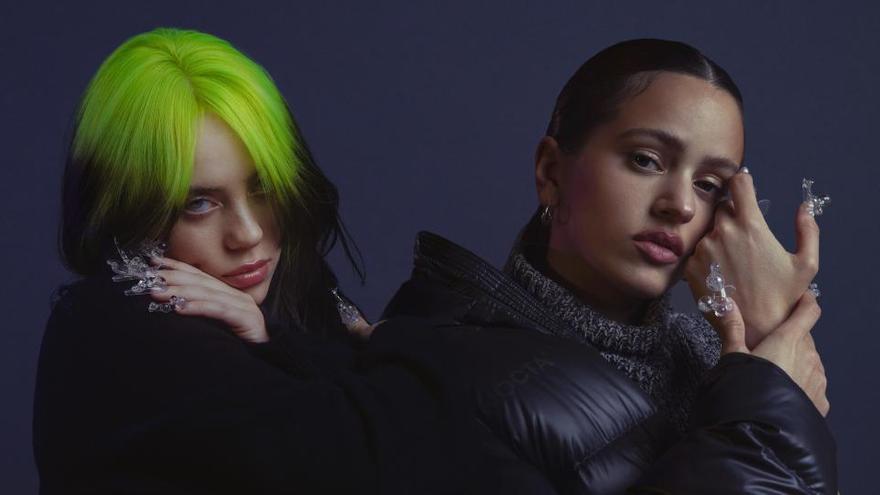 Rosalía and Billie Eilish presented their long-awaited collaboration with "You are going to forget it", a song of broken hearts laments for the series "Euphoria" and in which the American star is animated for the first time with Spanish in a song.
"Tell me if you miss me still, tell me if you don't forgive me yet. What will you do with all this poison, nothing good. Tell me if you miss me still"They sing in Spanish at the beginning of this song that mixes English and Spanish.
Although this is Billie Eilish's first official song with parts in Spanish, the young woman has home recordings on the internet in Spanish as a version of "You are you ", by the Mexican Carla Morrison.
The clip of "You are going to forget it", led by Nabil, shows the two artists in practically empty environments and surrounded by play of light and shadow.
"I love this song very much. Here you have it now for you to enjoy it, "Billie Eilish said today on Instagram, where she has 74 million followers.
Although it is the first collaboration between Rosalía and Billie Eilish, it has been known for a long time that they are friends and that they were working together.
For example, Rosalía said in April 2020 that they were about to finish a song between the two of us.
"It seems to me that it is already close. I think the arrangements were finished yesterday. I feel like the production, the sound design, is almost finished, so I just need Billie to send me her vocal part and for them (Billie Eilish and her brother Finneas) to send me the ideas they want to add because we're already there, "he commented. in an interview on Beats 1 radio.
Billie Eilish and Rosalía are two of the young stars who have revolutionized pop in recent years within a new batch with a great feminine presence.
Originally from Los Angeles (USA), Billie Eilish, who now he is 19 years old, made history in the last edition of the Grammy, where he took five awards including the four most important categories (album of the year for "When We Fall Asleep, Where Do We Go?"; record of the year and song of the year for "bad guy"; and best new artist).
Just a couple of months earlier, 27-year-old Rosalía had triumphed at the Latin Grammys by taking home the awards for album of the year and best contemporary pop vocal album for "Evil wanting"; and also the best urban song for "With height" (with J Balvin).
"You're going to forget it" will accompany the second special episode of the television phenomenon of "Euphoria"which will premiere on HBO on January 24 with a preview tomorrow on the HBO Max platform.
"This second special episode follows Jules (Hunter Schafer) during the Christmas holidays as he reflects on his year, "HBO said in a statement.
This chapter works as a complement to another special episode of "Euphoria" that premiered in December with Zendaya as the main character and in which Rue's character reviewed her life after parting ways with Jules.