Roque Nublo, Los Guanches and Maninidra, base champions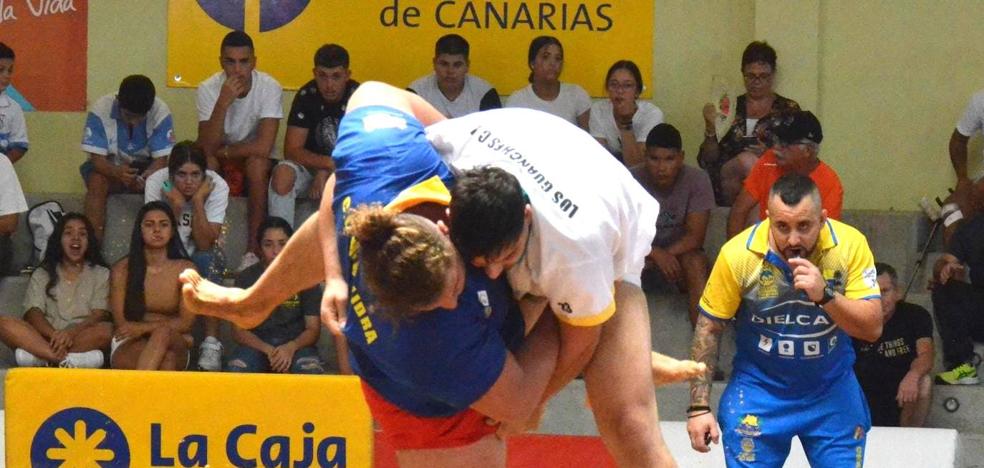 canary wrestling
Firgas was the scene of the finals of the Fundación la Caja de Canarias trophy
The season was coming to an end in Gran Canaria, in the municipality of Firgas, where the finals of the Caja de Canarias Foundation Trophy were held in the youth category before a
good crowd attendance who was cheering at all times and gave color to the day.
The first final was the one for children, between the
Roque Nublo and Santa Rita Autos Roso. The clash was tremendously even throughout the fight, to the point that it ended in a 17-17 and that led the youngest to dispute a sudden death between Víctor Martel and Diego Rodríguez.
The win and the championship went to the southerner to the joy of his fans and a reward for the good work that the Cruce de Arinaga club is doing.
Another team that is doing a great job with the quarry is
The Guanches of Arucas, who achieved victory in the cadet category, by defeating Unión Agüimes 14-22, that on this occasion he did not have the same luck as in the league. The northerners were better and from there, they won the Cup to also endorse a good campaign, as reflected by the fact that two of their teams reached the finals.
In juveniles, Maninidra, with a stellar Claudio Amador, reached the gold medal thanks to his best man, since he managed, by himself, the comeback and take half of the rival team to the arena, when the clash was being dominated by the Aruquense team. The electronic was put in a dangerous 11-8, and Amador had already knocked down two opponents before to prevent a greater advantage.
In his last effort,
managed to knock out four more opponents in a rowto flip the marker, and allow
his team won the gold medal. There is already talk in the luchistic gossip, that the young man from Gran Canaria will emigrate to the island of Fuerteventura next season, to a first of bells to continue his career as a fighter.
The Insular President, Enrique Rodríguez, the Treasurer, Esteban Alvarado, the historic fighter, Tonono and Juan Santana were present at the award ceremony.