Roque Nublo is encouraged and will be present in the Women's Regional League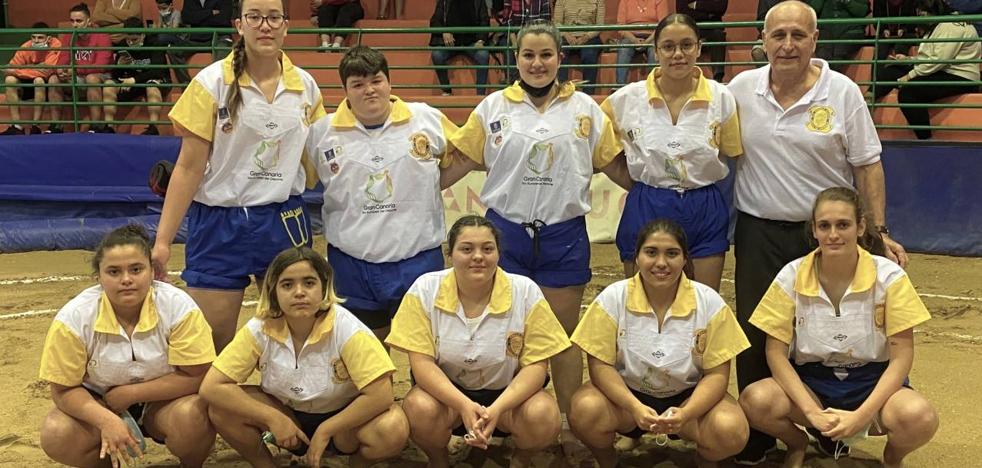 canary wrestling
It will be the second team from Gran Canaria in the competition. For their part, Los Guanches join the ABT with a representative
The women's fight is also moving and for this campaign Gran Canaria will have a second team in the Women's Regional League led by Roque Nublo. Juan Infante, its president, has already confirmed it. They believe in the club that it is time to make the leap given that they are the current runners-up in the ABT Canarias League. "With the team we have and some incorporation already planned, we can fight in the Regional League because we have to give way to the girls who come from below," said Infante.
The Cloud Rock
It was the only team that last season could in a fight with Santa Rita in the island competition of Gran Canaria. Their quarry work is already bearing fruit, so their incorporation into the regional league is a reward for that work of the girls so that they can continue to grow as fighters, with Tindaya Infante, as the first sword, in their first youth year. "It will be the team from last season with a couple of new seniors arriving," added the leader.
Roque Nublo did not have a women's team a year ago and in a single season it will have a youth team and a senior team. "We will participate in all competitions, the ABT Canarias League, the new senior Gran Canaria league and the Regional Disa Government League of the Canary Islands," insisted its highest representative.
In relation to the ABT League,
The Guanches of Arucas will present this women's team campaign in Gran Canariamaking clear the good moment that the fight is going through on the island, although on the negative side, Castillo will not continue with his, because, although he had seniors, he lacked juveniles, but they will continue working with the base.
Renewal of the Ramírez

The brand new fighters who premiere the category of outstanding C this season,
the sisters Olivia and María Ramírez, have renewed for the Santa Rita Autos Rosso.
Olivia Ramírez, who will be a senior this season, gave him the regional title a little over a month ago in La Palma, after taking the Tenerife staff to the arena in the grand final.
His sister, María Ramírez, another great fighter, is an ideal complement for those of Lomo Los Frailes to once again be one of the top contenders for the Regional League, which they have won in recent campaigns.
Undoubtedly, great news with a view to the future given the value of the protagonists.
On the contrary, the missing sister, the also outstanding C and current world champion,
Stephanie, between finishing recovering definitively from her injury and her next motherhood, she will leave the fight abandoned for a few months in a forced parenthesis.