Ronald Koeman: "They have scored goals that we cannot concede"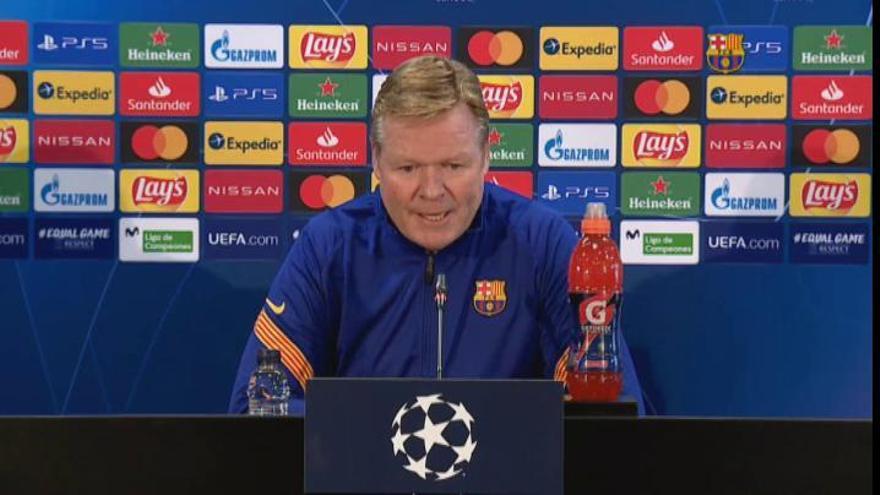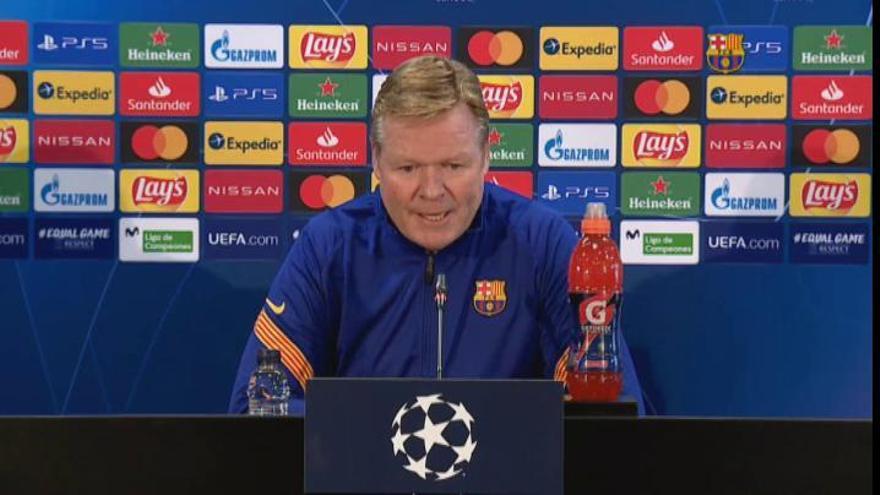 The coach of Barcelona, Ronald Koeman, regretted the defensive errors what the team is committing and defended its captain, Lionel messi, of which he recalled that he has no influence on the avoidable goals that the Barça team has conceded. "Still in our attack many plays come from Messi's foot. I agree that (when he loses) Messi is sought as the main culprit, because he is the best in the world, but Leo does not make defensive mistakes. They have scored goals that we cannot fit", he declared in the preview of the Champions League match against Juventus.
Koeman did not hide his dissatisfaction with how Barça lost in Cádiz (2-1): "There is a difference between losing a game like Saturday's and doing it in a field like Atlético. You have to see how they mark us, our effectiveness. I am someone who does not do theater, and I do not hide my anger, and yesterday I told my players. Goals that we have conceded in some games cannot be accepted. "
Against Juventus he hopes that mistakes will not be repeated and his team meet again with victory, which would classify him -also worth a draw- as first of the group for the round of 16. He will do it without the French winger Ousmane Dembélé, the last one who has happened to occupy the infirmary due to a muscle injury. And Koeman again complained about the tough competition schedule.
"It's a shame to lose another player to injury. He noticed something in the second half when he came in, he thought it was nothing, and it's a step back considering his background. It's one more reason why I complain about match schedules. I don't know who sets the schedules, but if on Tuesday you have a game of ChampionsThinking of the Spanish teams, you cannot arrive at 4 in the morning. We are the team that have played five games away from home at 9 at night, "he lamented.
The untimely hours, "and that the teams The league they know us better and lock themselves in better, like Alavés and Cádiz "are in his opinion the reasons why it is harder for Barça to win in the domestic tournament than in the maximum continental competition. And he justified how little active he is. sometimes on the bench, even when his team is losing: "I don't like to screamNot even when I was a player did I like to have a coach screaming in the band all the time, but we do have to take more responsibility on the field. "
The match against the Turin team has many incentives, for example reliving the umpteenth duel between Messi and Cristiano Ronaldo. "It has been a pleasure to see them compete, they have been the best during the last 15 years. They are different players who have fought to score goals, to win titles, it is not a question of who is better. We are going to enjoy both tomorrow", opined.
The now Barça player Miralem Pjanic will face his former team and the Dutch central Matthijs de Ligt, who could have been his club, although he finally opted for Juve's offer. Koeman was full of praise for De Ligt. "I know him well, he already has his experience despite being young. He may be the best on your site, and he is also a very good person. It is a pity that I am at Juve and not at Barça, although it is something that happened before I was here, "he reasoned.
The Barça coach also dstaked one of his pupils, midfielder Pedri González, for which he feels a special predilection since he arrived, and that he will surely return to the eleven after being a substitute in Cádiz. "Pedri has participated in every game except Ferencvaros, and this, with a 17-year-old boy, is something great. He can play in various positions and contribute many things, because he is a smart player, and the smart ones have no problems. to play in other positions, "he concluded