Roig's lawsuit is diluted during the trial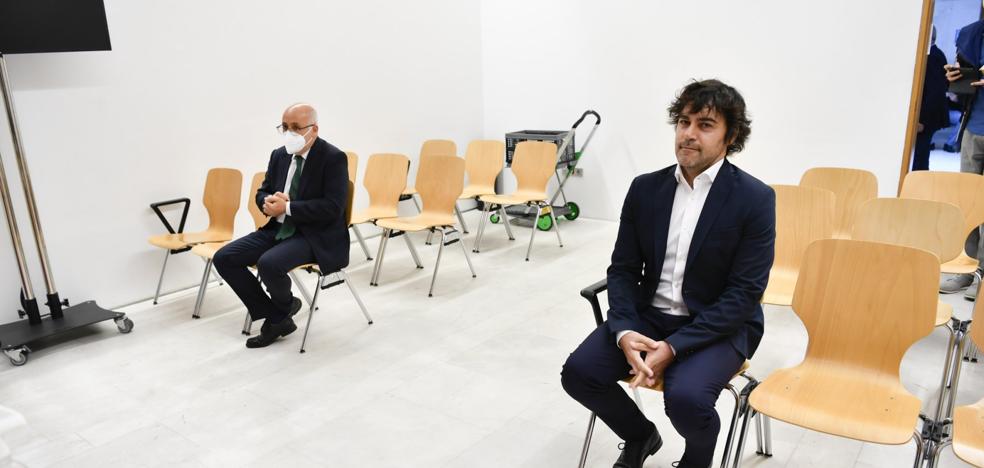 After the hearing this Friday, the statement of the British director, absent due to covid-19, and the written conclusions of the parties are pending
The lawsuit for workplace harassment and invalid dismissal presented by Christian Roig Puig against the Fundación Orquesta Filarmónica de Gran Canaria (OFGC), the titular and artistic director Karel Mark Chichon, and Antonio Morales, president of the Cabildo, was diluted this Thursday morning like a piece of sugar in a hot coffee during the trial held in
Social Court No. 9 of the capital of Gran Canariapresided over by Judge Jennifer Rocío Álamo.
two of the witnesses presented by the former manager of the OFGC since March 2021, Christian Roig,
They strongly rejected the statements made about them that appeared in the lawsuit.
So much
Guacimara MedinaMinister of Culture of the Cabildo, as
Miguel Angel Perez del PinoThey denied that Antonio Morales yelled at them in a meeting and demanded Roig's immediate dismissal while he threw his contract on the table. «
I don't remember any meeting with that vehemence and I wouldn't have let anyone yell at meMedina added.
Both also pointed out that their respective resignations as president and vice president of the OFGC Foundation were motivated because Antonio Morales "shielded" the figure of Chichon and that intransigence "endangered the government pact" of the Cabildo, as Roig points out in his lawsuit.
"Political Differences"

The island councilor Miguel Ángel Pérez del Pino spoke of
"political differences" when approaching the management of the orchestra as a justification for his resignation, especially due to the lack of predisposition of the British director to
"socialize" the OFGC with concerts around the island.
Guacimara Medina, for his part, pointed out that his resignation was motivated by
"a different vision of the orchestra" with your government partner. «
Antonio Morales did not ask us directly for the dismissal of Christian Roigalthough it was obvious that we did not agree on the approaches", he clarified.
Answers by Antonio Morales

The president of the Cabildo and current president of the OFGC Foundation, Antonio Morales, when asked by Christian Roig's lawyer, José María Domínguez Silva, clarified that
has never spoken in person or by telephone or telematics who has sued you.
Since he took office until Roig was dismissed, on March 31, 2021, Morales
had no contact with him for two reasons. «One for having a very busy agenda and the other because I commissioned the vice president to analyze the situation of the orchestra». X-ray that, he said, showed the discomfort of more than 60% of the musicians with the manager's management -at that time in a trial period-, as well as the artistic commission, "which is key in an orchestra and which is chosen democratically."
Christian Roig arrived at the courts accompanied by the former Gran Canarian politician Nardy Barrios. /

Juan Carlos Alonso

«
The orchestra was sounding like never before and that was endangered by the manager» Roig, he added.
He also replied to Domínguez Silva that he
"never signed" the contracts that link Roig with the OFGC and that revoked Guacimara Medina's powers for 24 hours as president of the OFGC Foundation, in order to access the merits presented and Roig's curriculum for the investigation that,
"From the legal services of the Cabildo"was carried out on the controversial and mediatic public contest that he won.
Chichon, with covid-19

Karel Mark Chichon's statement is pending, who did not attend the hearing after certifying that he suffers from covid-19. His lawyer, David Francisco Fernández Garrido, had power of attorney to respond on behalf of the British director, but former manager Christian Roig's lawyer, José María Domínguez Silva, requested to take a statement directly, since it would include
"personal questions". The judge accepted this request, which will be made from a
courthouse of Malagawhere Chichon is based, or in the capital of Gran Canaria if the director is coming to the island soon.
Once this procedure has been carried out, the parties have a term of at least
fifteen days to present their conclusions in writing, after which the trial will be seen for sentencing.
"Without concrete facts, without dates" and a request for a fine of 600 euros for recklessness for the former manager

The lawyer José Losada, representing the Fundación Orquesta Filarmónica de Canarias, defended the absence of workplace harassment against Christian Roig and that his dismissal was motivated by the "lack of suitability to undertake his position" of senior management.
He pointed out that during the time that Roig was in office there were several proposals for sanction by the titular and artistic director, Karel Mark Chichon, but "he was never sanctioned." "What is bullying? Here there are no concrete facts, not a single date, only personal interpretations », he said to which he added that the accusation of « stoning and laminating his public image and his honor » are not supported by proven facts.
He acknowledges that there was a delay in the approval of Christian Roig's powers as manager, but in the meantime he was able to perform his duties. "The powers are formally delivered to him on November 11, 2021 and the next day he filed his lawsuit," Losada explained.
David Francisco Fernández Garrido, Karel Mark Chichon's defense lawyer, stated that the British director "is not the employer" of the manager, so his dismissal was not part of his powers.
He pointed out that "workplace harassment in any case was reversed", since Chichon and Antonio Morales "are public figures and have been discredited" with this claim based solely, he added, on the fact that Roig "did not accept the artistic role" from the British director. He also missed the presence of "Labor Inspection" in this accusation of workplace harassment filed, he pointed out, "to shield himself and get a null dismissal." For all this, he asked Roig for "a fine of 600 euros for recklessness."
Begoña García Rodríguez, Antonio Morales's lawyer, defended that her client never put Roig "undervalue" and reiterated that "she has not had any type of contact" with him while he was at the OFGC Foundation.
In their respective statements as witnesses, the musicians Nebojsa Milanovic and José Ignacio Zarzo Sabater recounted how Karel Mark Chichon had to suspend an "artistic" meeting with all the instrumentalists due to Christian Roig's refusal to leave the Gabriel Rodó room where he was celebrated.
Judge Jennifer Rocío Álamo called Roig's lawyer, José María Domínguez Silva, to order several times during her interrogations, since she considered that he valued more than asked and that some of his questions were not pertinent to the object to be dealt with in the trial.