Rodríguez: «We will negotiate with whoever respects Canarian autonomy»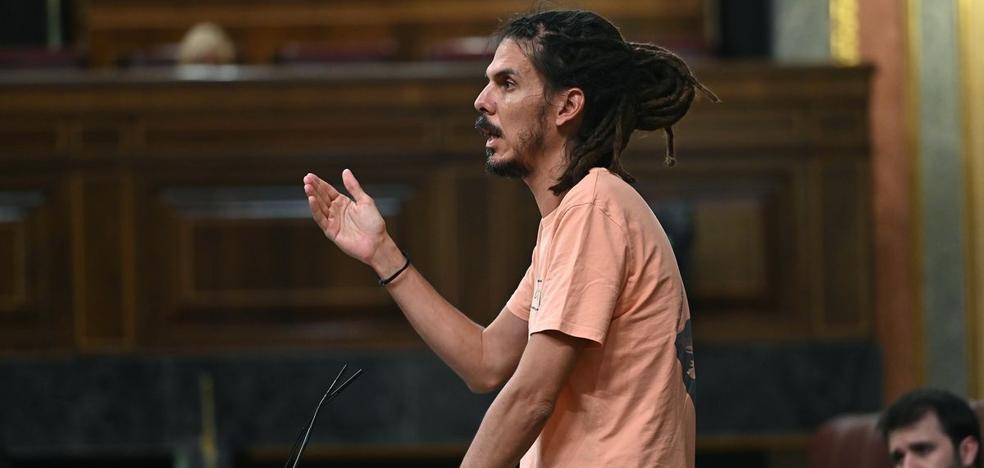 alberto rodriguez
The Tenerife native draws a social, political and electoral project, "of Canarian obedience and with a popular character", ahead of the next elections
The former Canarian deputy of United We Can is still pending to resolve the case of his still empty seat in Congress and focuses on returning to the bases of the social movement in the archipelago.
– After these three especially intense years and the disappointment in Madrid, do you still want to do politics?
– I have been doing it all my life, from adolescence with the social movements until now, and I think that from the institutional level it is a golden opportunity for the Canary Islands. My figure is known and respected by a good part of society and if I can put that tool at the service of the majority, I will do it, but without pretensions or red lines about the role I must play.
-How does it fit in the announcement that it will concur in the next elections of 2023?
–There is a social, political and electoral space that is not occupied or is occupied by forces that have not met expectations. I speak of a space of fully Canarian obedience, but that does not translate into acting based on a small elite but with a popular character that puts profound changes on the table. For this it is key to face, also, the high degree of political and electoral abstention. It is not an individual decision by Alberto Rodríguez, but a collective process and, in fact, there has already been contact with people from all the islands. If there is a space that is capable of hitting that key and mobilizing all that number of canaries who do not participate, it would give society a lot of joy. It is easy? No, but not impossible, and that's where I'll put my grain of sand.
–Would that space have the name of Gather?
–This is a collective process, we are not in the phase of having a name or establishing anything. I haven't even announced that it will be a normal party, simply that this space is very wide and that I am going to put everything in my power, like other people who are also working on it, so that it grows and that in 2023 it can be planting facing those who continue with the development model of the last 30 years. We have made no further details.
self-criticism

«I did not know how to see the limitations for the Canary Islands of belonging to a state organization»

– And would it be linked to Yolanda Díaz's platform?
–For us it is key that this project meets three conditions: that it be a space of Canarian obedience, with a self-centered perspective to put the archipelago at the center of decision-making on issues that affect us; that it has a popular character, defending the majorities; and that it be confederal, also within the autonomous community, so that it responds to all the islands and not only to Tenerife and Gran Canaria. A lot of forces fit into that framework and, as long as it is respected, we will be able to negotiate face to face and without complexes. We are not going to be sectarian.
-Could we say that it is a more nationalist perspective than the one that Podemos has?
–If you have to put labels on this, I would say that it is 'democratic'. It is evident that what guarantees higher levels of participation and democracy is that the issues that affect us are decided in the archipelago. The parties and state structures have shown a deep deficit in this sense, I know them well. This week was the anniversary of the mobilizations against Repsol: the Canarians defended a position while from other political frameworks it was the opposite. An atrocity. Right now I can think of other examples such as Monte Tropic or The Grandmothers of the Canary Islands.
– Do you notice that these pending issues are once again polarizing Canarian society?
–With what is happening, it is normal that there is so much indignation: inflation, the saturation of public services, the issue of housing... These are diagnoses that have been made many times, but we need action and if the Canarian institutions they do not have competences, it will be necessary to obtain more. Putting the policies into practice will reduce disenchantment and, thus, the retrograde options that put hate on the table will have much less space than now.
Justice

"I consider my rights violated and that of those who voted for me. I will continue fighting so that the same outrage does not happen again"

– Apart from this new project, it is pending that the issue of the empty seat be resolved. Will it be short term?
- Right now there are two appeals for amparo presented to the Constitutional Court (TC) because I consider my fundamental rights violated, as well as those of the Canarians who voted for me. Then we are waiting for the precautionary measures to be resolved, where it is stated that each day that passes
without occupying the seat It is a democratic offense and they have to return it as soon as possible. This must be resolved more quickly, because it is a case with great social and political repercussions in this country. The other depends on the time it takes for the TC. We will continue against all odds, not so much for me but also to guarantee that this outrage never happens again.
–Has the support of United We Can failed?
–The support I have felt has been at a social level and from below, without having anything to do with militancy. That is what has kept this conflict alive, as well as the compañeras who were with me on the party list and who have shown that the words 'ethics', 'honesty' and 'solidarity' are not hollow but rather ways of thinking that are very presents. Unfortunately, I can't say the same for the dome. It has been seen how each one has positioned themselves, but now it's time to turn the page, without forgetting, but looking to the future and proposing projects that excite society.
–What exercise of self-criticism do you do in this new roadmap?
-I have tried to do my best giving voice to the social problems of the islands and I have lived very beautiful moments in that sense. Within this framework, I have seen the limitations of participating in a state organization, because what was happening in the center of power was more concerned than in the Canary Islands. This corset prevented the objectives of the islands from being developed, for example, in the migratory crisis, and it does so again with territorial waters and the Sahara. Therefore, now I offer to collaborate in the position that is necessary.