Rodríguez denies his resignation after the NC conflict with the Interior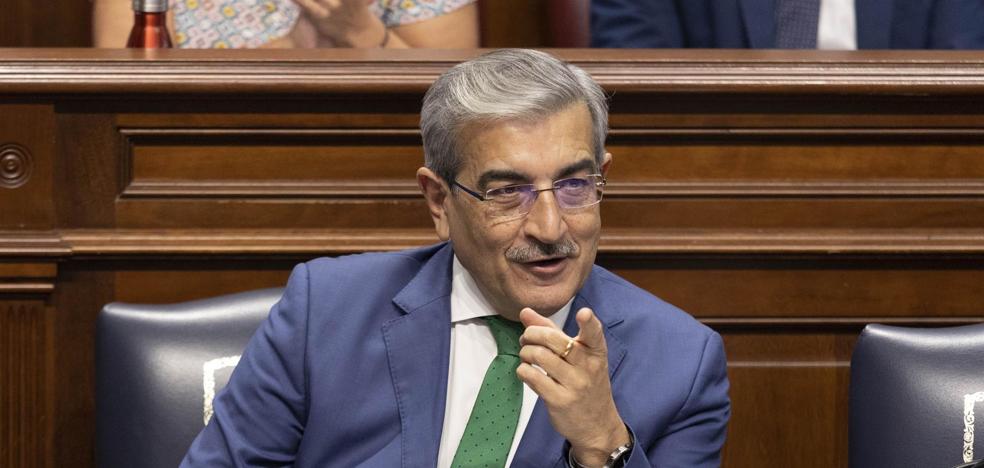 Its formation had been deleted from the Registry of Political Parties (RPP) supposedly due to lack of accountability
The Vice President and Minister of the Treasury, Román Rodríguez, stated this Tuesday in the last plenary session of the Canary Islands Parliament before the summer that he will continue in the Government "that he has steered the worst four-year period in the history of the Canary Islands."
His statements responded to the request of the deputy of the Mixed group,
Vidina Hawthorn to resign from his post after it came to light that Nueva Canarias allegedly had not been held accountable
for the last four years. Reason why the Ministry of the Interior has deleted him from the Register of Political Parties (RPP).
On this matter, the Secretary of Organization of NC, Carmelo Ramírez, appeared yesterday at a press conference to clarify that the reason is due to "not having adapted" the party's statutes to the 2015 financing law and not because of ordinary accounting .
He also denied that irregularities had been committed. in the party or that they had proof of a requirement from the RPP to correct alleged anomalies.
The conflict with the Interior was taken by Espino to blame the Government for poor management. «And you are the one who manages the accounts of the Autonomous Community? Well, people are amazed and wonder in whose hands we are, because it seems like a joke government, "said the deputy, who has stressed that if NC" no longer exists, it does not seem very legal that its parliamentary group has received funds " .
Rodríguez, for his part, has stressed that he has "the democratic mandate of the population" and has denied referring more to the situation of his party.
Budgets

Both deputies showed in appearance their discrepancies regarding the budgetary and fiscal measures to help families and self-employed Canarians to face inflation.
Vidina has asked the Government of the Canary Islands
an item of 5 million euros to help families meet school spending because they are "with water up to their necks" while the executive has gone from collecting 1,572 million euros to 2,090, which he has described as a "foolish" path because "when taxes impoverish, they are not fair or equitable or reasonable."
The vice president has indicated that the tax collection forecast is 8% higher than that foreseen in the regional budget law for this year, which was already "very optimistic", but he has also indicated that the IGIC collection is falling "and it's going to keep flattening."
Given these circumstances, the Canarian Government is "decent, rigorous, sensitive and passionate in handling public affairs" and it will be difficult to find a greater government effort than the one that has been produced, he continued.