Rodrigo Cortés: "I distrust anything that is devoid of humor"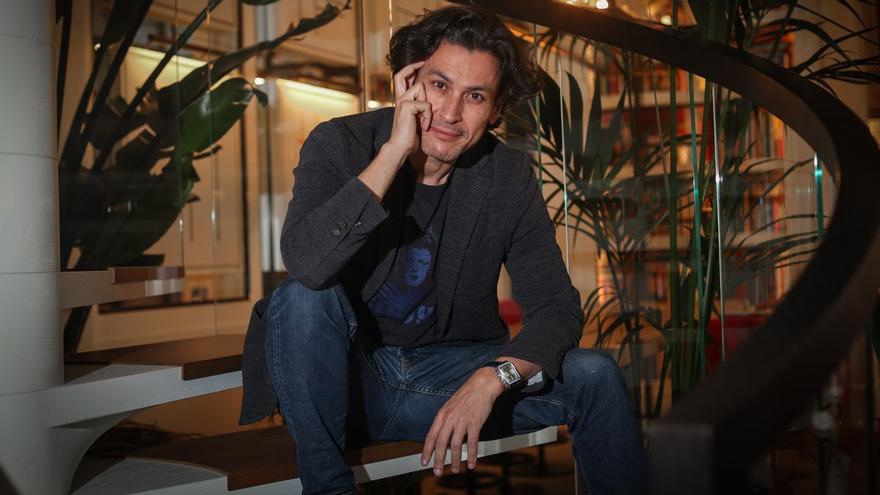 Rodrigo Cortés (Orense, 1973) lives a great professional moment. Last June his novel 'The Extraordinary Years' and became a bestseller. Now, he returns to the cinema with a very special project, 'El amor en su lugar' about a company of theater who tries to liven up the hard life in the Warsaw ghetto with his satirical works. A survival film that is also a love letter to artistic creation, to the profession of entertainment, to the need to laugh, even in the most difficult moments. Cortés directs, writes, edits, composes one of the songs of the musical who recreates himself on stage and once again demonstrates a virtuosity behind the camera that is not at odds with the purest emotion that the characters give off. The film has reached billboards this Friday.
How did you learn about the true story of Jerzy Jurandot and his theater company in the Warsaw Ghetto on which the film is based? film?
The original play was discovered by David Safier, because he was researching himself for a study. And from there, he drew up a first draft about a group of actors that they had to perform that role while making a life-and-death decision before curfew.
How did your particular research work develop?
I just wanted to read things that had been written inside the ghetto between 1941 and 1945. Many films have been made about the Second World War, but all very clean at the narrative level. We are supposed to know what happened there, what was going on at the time, but in reality the information is confusing and contradictory. For some the president of the Jewish council was a hero, and for others a weak man, for some a saint, for others a traitor. I discovered that the ghetto was not a concentration camp, but a very hierarchical society. There were rich people who had access to meat and smuggled products and poor people who died frozen at night and nobody cared about them.
"I have always thought that Wilder believed in humanity who, despite his hopelessness, believed in love"
Did you have any kind of reference when approaching the project?
In the same way that in 'Buried' the candles were lit by Hitchcock to try to embrace his magnanimity, in this case, I felt that I had to illuminate myself through Billy wilder. That's why I tried to impregnate the dialogues with that funny pessimism, that lucid poison, but also with its romantic heart. I have always thought that Wilder believed in humanity that, despite his hopelessness, he believed in the love.
It is true that it has a very classic touch, but at the same time very contemporary at the management level.
I gave the actors a list of movies they wanted them to see so they would have tools to work with later. Of course, there was 'To be or not to be' by Ernst Lubitsch, 'One two three' and 'Berlin, the West', by Wilder. Regarding the rhythm, I told them that we would have to be faster than the devil, that we were going to step on each other, overlap the dialogues, almost without breathing. I also asked them to see 'Down with the curtain', by Tim Robbins, 'What a show wreck!', By Peter Bogdanovich, 'Cabaret', but also 'Black swan', by Aronofsky, so they would know that in terms of camera we were going to be very sensory.
His characters always seem to be locked in an oppressive environment.
It is not something I am aware of, but it is true that this movie has a lot to do with 'Buried', because it also takes place in real time and everyone is confined. Both movies are very physical experiences. They are movies not only to be seen, but to be experienced. For whatever reason, I usually work in films in which the characters are subjected to circumstances that exceed them.
How did you interweave what happens on stage and what happens behind the scenes?
It was the part that frightened me the most, because it was what I was most interested in addressing, how we could get in and out of the show in progress from an emotional point of view. Also, logistically, I knew it was going to be very complicated because I had to handle various points of view. One thing is what happens on stage, another is what the actors communicate through the play and, finally, their true feelings. The challenge was to make all those levels fit: the characters and the roles they play on stage.
"The show must always go on. When everything is in darkness, someone can strike a match and offer some light."
What challenges did you face at the management level? Because sequence shots and formal choreographies dominate.
They start from a narrative decision. I think that complicated shots tend to collapse when they are sustained by pure exhibitionism. I wanted the viewer to be integrated into that theater so that they could really feel what is happening to the characters. That is why it was important to show the guts of the stage which, by the way, were shot in Terrassa.
I think it's the most exciting movie he's ever made, and not just because of the subject matter it addresses.
It has to do with the fact that some of the films I have made are conceived as games of Chess seen from above. The characters are pieces that respond to superior decisions. This is not the case here.
What does the world of theater mean in this context? Above all, in the current moment that we live.
That the function must always continue. That means that creation always makes its way. When everything is in darkness, someone can strike a match and offer some light. Like love, which is always a selfless act, an act of renunciation and sacrifice.
How was a sense of humor important in the movie?
I distrust anything that is dispossessed of humor.
'Love in its place'
Address Rodrigo Cortes
Interpreters Clara Rugaard, Ferdia Walsh-Peelo, Magnus Krepper, Freya Parks, Jack Roth, Henry Goodman
Premiere December 3, 2021