Rocío Romero, a bullfighter by vocation: "I feel that the bull has chosen me" | Blog The bull, by the horns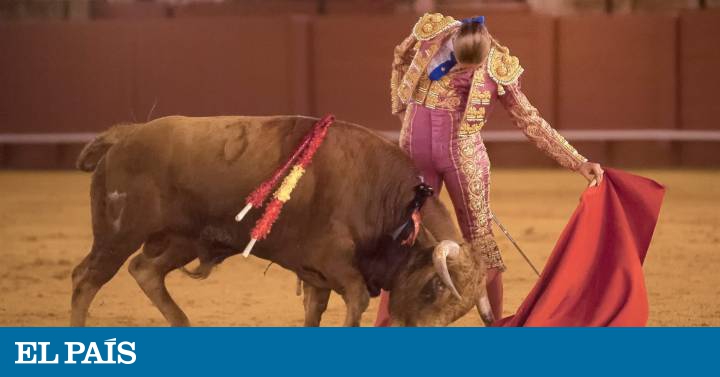 Rocío Romero (Córdoba, 1998) has been a bullfighter (that's how she prefers to be called) since her birth. That is, at least, his conviction: "I think the bull has chosen me," he says with undisguised timidity. And she, at 22 years old, and with the title of nurse about to hang it on the wall of her room, explains it like this: "I remember that I was very small and I felt something in my belly when I saw bulls; in nursery school they told me to write five words, and the same words always occurred to me: bull, cape, crutch, flags, bullfighting… I don't know, something had awakened in me. I say that the bull called me ".
She adds that, while still a child, she had a very bad time ("I cried a lot") because she convinced herself that she couldn't be a bullfighter, and rhythmic gymnastics became an escape route. She was between twelve and thirteen years old, she was proclaimed champion of Andalusia and third of Spain, and says that that was her life until the bull was crossed.
"As a gymnast I could express with my body what I had inside, until I stood in front of a calf and understood that this new movement did bring out everything I felt from me."
The event took place in Dos Torres, the Cordovan town of his grandparents, where every year cows are released in the bullring on the occasion of the festivities.
"I was with my mother and my two sisters on the line, they released a little cow, without thinking I went to the alley, I looked for my father and asked him for a crutch; I went out into the ring and gave him five clean hands and a clean chest pass. I watch the video and I still don't know how I was able to do it because I had never taken a crutch. I was 13 years old, yes, and it was the first and only time my mother has seen me fight. I remember the full square, the uproar that was formed, and that I thought that what I had just done was very easy ".
Life has since shown him that that thought was nothing more than a light dream. She left the rhythmic gymnastics podiums with tears in her eyes for the bullfighting dresses ("the bull came into my life and swept away"); He has shown that his vocation is serious, he has come out on the shoulders of the Maestranza of Seville before making his debut with horses in the Madrid square of Vistalegre in February 2018, he has earned the respect of bull people, and he has known honey and the gall of the profession.
"I did not expect that the jump to the ranks of the bullfighter with picadors was going to be like this," says the bullfighter.
Rocío Romero lived three successful seasons without horses, with an average of 30 celebrations per year; and since 2018 he has only fought six bullfights. It is true that after passing through Vistalegre her fibula fractured, which kept her unemployed for six months, and, at the end of the year, her attorney, Alberto García, decided to break the commitment that united them. And then the pandemic ...
"I went from everything to nothing in a week. I had a debut with horses with a lot of atmosphere and media coverage, and suddenly… That is hard to assimilate. It was neither that good before nor that bad after He was simply going through a learning process, typical of all bullfighters, conditioned by a serious injury and the loss of the attorney.
"I came face to face with the crudest reality," Rocío concludes. "In the ranks of bullfighters, interests that have nothing to do with gender come into play," he continues; "Whoever wins it in the ring does not always fight; the bull does not know if you are a woman or a man because this is for capable people ".
At this point, the bullfighter remembers her triumphal passage through the Sevillian Maestranza - she chanted two afternoons in the new values ​​contest in 2017 and cut off three ears - and the bittersweet taste of that feat.
"Going out on the shoulders of Seville is the most exciting thing I have experienced in my life; I enjoyed it since I saw myself advertised on the billboards. Fighting where Manolete had done was a dream. It was a very beautiful feeling that I remember with joy, but also with sorrow and frustration ... "
Because Rocío Romero has not stepped on the Sevillian albero again and his fellow cartel members have.
"… And look, I've tried. And the excuse is always the same: that there are many commitments and interests ".
"If I felt that I did not have the capacity to be someone important in the bull, I would not be here"
But this bullfighter says not to be discouraged: "Everything happens for a reason, and, when I have the opportunity, I will give the best version of myself."
"If I felt that I did not have the capacity to be someone important in the bull, I would not be here, because this is a very beautiful world, but terribly hard. At 22 years old and with a career in which there is no shortage of work, he would have no need. I'm here because I think I have something to say and I can say it. I'm not in a hurry, and I don't want to fight to fight ".
Rocío insists that she does not miss the lives of friends her age. "No. They also do not know what it is to walk out of the Plaza de Sevilla, which is to touch the sky with your fingers. I gladly live the life I have chosen. I have not sacrificed anything for the bull because I live by and for the bull ".
- But do you plan to practice your profession as a nurse in the future?
- "I have always liked nursing, but I have taken my career as a hobby, and it has helped me to avoid when I have had problems with the bull. I like to study and know, but I don't see myself as a nurse because my life is the bull. Maybe, as a member of a bullfighting medical team, maybe ... "
"I try to convey what I feel," he replies when asked to define himself as a bullfighter. And that is very difficult to put into words; it is something so big, so strong… I like bullfighters with personality ".
- Do you have a stamp?
- "I'm in that search."
- Artist or fighter?
- "I like the artist bullfighting with my whole body; I like the harmony that can be created with the bull, but you have to adapt to its conditions ".
- And the future?
- "I want to see it with hope. I hope the pandemic ends soon and opportunities appear. I don't want many, just one; I feel ready and eager ".
"I love the life I lead," Rocío ends. "I train morning and afternoon, I go to the field, and I don't stop; but I need to fight in the square ".
To do this, he has a new attorney-in-fact, Óscar Fernández, in whom he has placed all his trust, and with a faithful young man of swords, his father.