Rocío Carrasco recounts her divorce from Antonio David and the irruption of Rodríguez Menéndez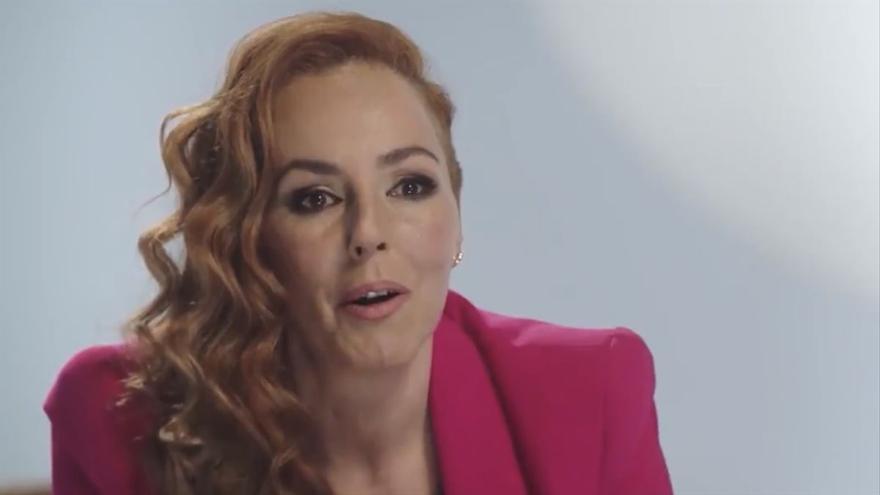 Rocio Carrasco continue the tremendous account of his relationship with Antonio David Flores. This Sunday, Telecinco broadcasts chapters 4 and 5 of 'Rocío, tell the truth to stay alive', in which deepens the moment you decide to divorce the father of his children, when he threatens him with a shameful "you're going to shit", according to his testimony. That's when the lawyer breaks in Emilio Rodríguez Menéndez, whom the father of her children hires to "isolate her from the world." Both create the magazine Dígame, a shameful pamphlet in which all kinds of insults were uttered towards popular characters such as Maria Teresa Campos or Rocío Carrasco herself.
After weeks of speculation about the nature of Rocío Carrasco's agreement with 'La Fábrica de la Tele', producer of the documentary, its executive producers have wanted to clarify, through a statement read by Carlota Corredera, that Rocío Jurado's daughter did not ask for money for exposing your testimony in Telecinco, but that, for his effort, they wanted to pay him what is usual in spaces with the same characteristics. Mediaset has denied in recent weeks the caches that have been published and other information that has appeared, as Irene Montero knew its content before the premiere.
The most outstanding phrases of Rocío Carrasco
– "I have never been unfaithful to Antonio David in my life."
– "During the summer before I separated, he agreed with the paparazzi Pablo González to follow up with me to portray any man who approached me and show that he was being unfaithful."
– "That summer began the media thrashing with which they tried to show that she was a bad mother."
– "When I met Fidel, he was dating Rocío Mestre, who was a friend of mine. We became friends but we didn't have anything until months later. With him came love and understanding. A lot of good things came."
– "My mother not only did not adore Antonio David but she feared him like the devil, because she did not want any scandal. And she did not have the courage to put the suitcases on the street. She was scared the whole time that that man was in my life".
– "That man took a safe from my bedroom that had my watches, jewelry and documents, like letters from when I was a teenager."
– "My children cannot give me a statement in the press or on a television program that I have said against their father, because he does not exist. I have never done it and it was because of them."
– "I wanted to protect my children above all else, but it turned against me. Maybe I was wrong. I want to believe that what I have done has helped them suffer a little less at that stage in which they are so vulnerable, at least. "
– "The moment of 'Tómbola' in which he says that there were many men with whom I was unfaithful is pure misogyny. I felt like I was in a butcher shop and they were cutting me pieces. It was lie after lie."
– "My family blamed Fidel for the accident and they threw him out of the hospital because they thought I was not going to get out alive. If not, they don't have the guts to do it. This is not done with anyone."
– "My father, José Ortega Cano and Juan de la Rosa took Fidel out of my house. And they had no right to do that."
– "Antonio David came to the hospital because he was making money. And no one in my family had the balls to stop him."
– "From the moment of the accident, the relationship with my father changed for quite a long time."