Rochina gives Granada the first win against a hitherto undefeated Sevilla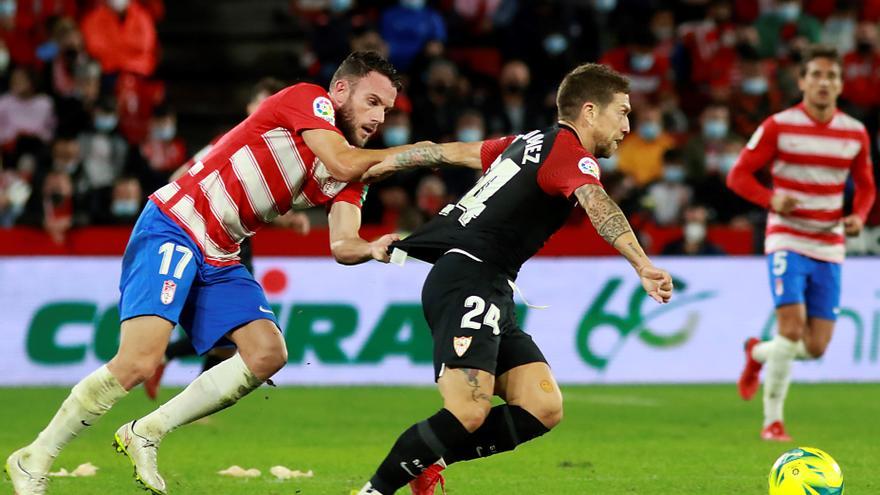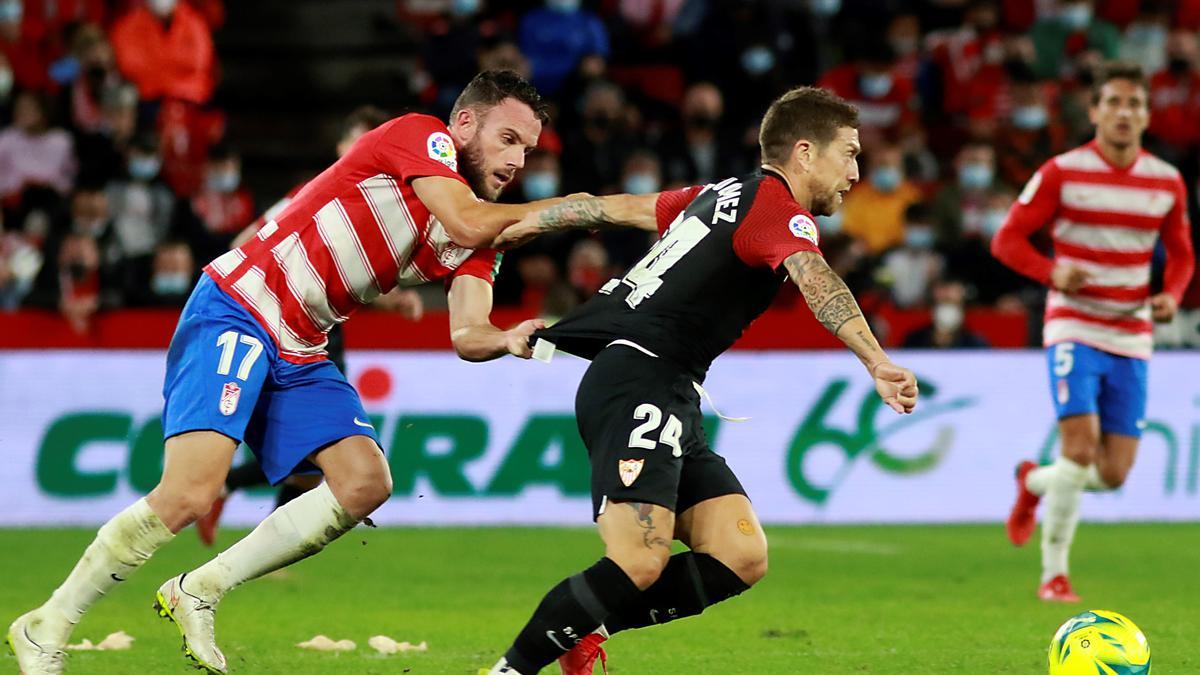 Granada achieved his first win of the season and leaves the relegation places by winning this Sunday at the Estadio Nuevo Los Cármenes 1-0 against Sevilla, which sHe suffered his first defeat of the course, although he remained in fourth place in the table.
A goal from Rubén Rochina in the 25th minute put Granada ahead in an even and rare first half, while the locals looked for the tables with everything in a second half that they dominated but in which they crashed with their lack of aim and with the good saves of the Portuguese goalkeeper Luis Maximiano.
After a good staging of the premises in a balanced first quarter of an hour, a distant shot from Jesús Fernández 'Suso' that stopped Portuguese Luis Maximiano well down gave way to a stretch of away dominance from having possession of the ball.
However the grenade scored 1-0 in the 25th minute through Rochina, who He took advantage of a bad clearance from the local defense to put together a powerful shot from outside the area very quickly and surprise the Moroccan Yassine bounou who reacted late.
In the next line, Sevilla had a very clear chance to tie, but the Brazilian Diego Carlos Santos sent off a point-blank header in the small area.
Equality once again presided over the final stretch of the first half, with a Granada better planted in the field than in previous matches and tying well to a Sevilla that only got closer to the goal before the break with a long shot from Brazilian Fernando Reges and a bad shot from Joan Jordán.
The Sevilla coach, Julen Lopetegui, did not like the first half of his team and made a triple change at halftime with the entry of Jesús Navas, Munir El Haddadi and Argentine Alejandro 'Papu' Gómez, which made the Hispanics go out for all in the resumption.
Argentine Erik Lamela did not hit the shot in a couple of good visitor arrivals, while Granada tried to take advantage of the gaps left by a Sevilla that with the passing of the minutes was increasingly offensive.
Louis maximiano He shone in the 72nd minute by avoiding the draw with a hand-in-hand save against Munir, although the attacker had little angle for his shot, while the French Jules Kounde also brushed the equalized with a header that did not find the goal by millimeters.
Sevilla besieged with everything a Granada very punished physically, which was supported by Luis Maximiano in a final stretch of the Bronco game in which Diego Carlos was sent off for a double yellow card.
Data sheet:
1. Granada: Maximiano; Quini, Víctor Díaz (Germán, m.76), Luis Abram, Carlos Neva; Gonalons, Luis Milla, Montoro (Antonio Puertas, m.46); Alberto Soro (Escudero, m.64), Rochina and Luis Suárez.
0. Seville: Bond; Montiel (Navas, m.46), Kounde, Diego Carlos, Acuña; Fernando, Jordán (Munir, m.46), Rakitic (Ocampos, m.70); Suso (Papu, m.46), Lamela (Óscar Rodríguez, m.64) and Rafa Mir.
Goal: 1-0, m.25: Rochina.
Referee: Alberola Rojas (C. Castellano-manchego). He sent off visitor Diego Carlos for a double yellow (m.73 and m.90). He showed yellow cardboard to the local Gonalons (m.28), Quini (m.75) and Luis Suárez (m.90), and to the visitors Acuña (m.75) and Ocampos (m.93).
Incidents: Match corresponding to the eighth day of LaLiga Santander played at the Nuevo Los Cármenes Stadium before 12,334 spectators, almost 500 of them Sevilla fans.