Rocasa visits Guardés with the runner-up between eyebrows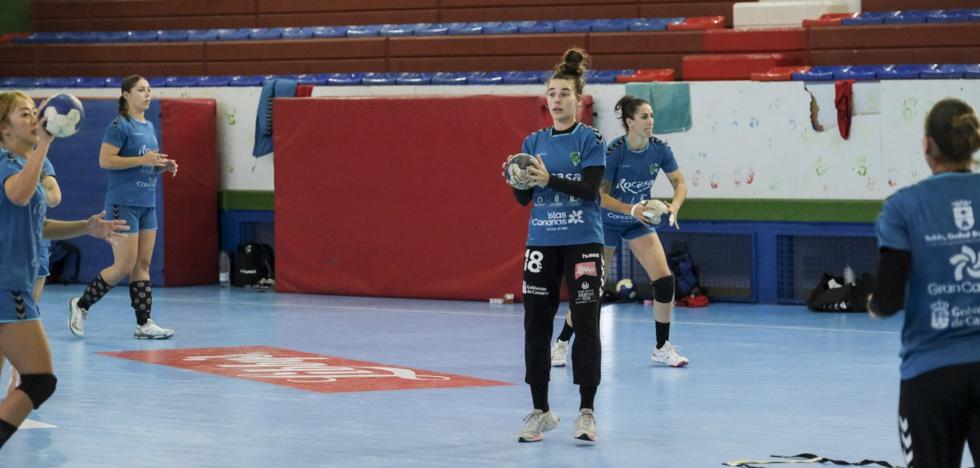 handball
The locals will play this Wednesday (7:45 p.m.) to qualify for Europe, while the Teldenses want second place in the table
Clash of the titans at home to close the travel season. Rocasa Gran Canaria is going to play its last game of this season away from home this Wednesday and it will do so with
the mind set on fighting with Costa del Sol Málaga for second place.
In that sense, in this
fight for the runner-up A Mecalia Atlético Guardés will be part of the jury, a rival of the yellows on this day, which has its own interests. Without a doubt, it will be a level test for Robert Cuesta's women, nothing to close a 2021-22 academic year that is already in the history books of Teldenses.
The crash of the first round which was held in the Antonio Moreno Pavilion
ended with a tie on the scoreboard (34-34). It was a game of many goals, with a lot of rhythm and in which there was emotion until the end. Both teams raised their scoring level to reach the last minutes with equality. In fact, a goal from Arcos 13 seconds from the end led to the distribution of points. Sayna Mbengue with 12 and María Gomes with 9 were the top scorers that day.
The Galician team arrives at this day with the option of playing European competition next season and therefore they want to speed up their chances. Right now,
they are 3 points from a Unicaja Banco Gijón who has played one more game. For this reason, this home game is vital for them to try to reach that last date of the championship with mathematics playing in their favor to compete for Europe.
In spite of everything, last weekend's home defeat against, precisely, Costa del Sol Málaga (21-27), has made the Pontevedra team take a little step back. Even so, the girls of José Ignacio Prades, national coach, will forget that misstep to,
with the support of his devoted public, fight to knock down a Rocasa Gran Canaria that arrives with a positive dynamic. Paula Arcos (103), Gabriela Pessoa (91) and Patricia Da Silva (79) are the top scorers for the Galicians, who occupy fifth place with 32 points to their credit.
For him
Rocky Gran Canaria This match is very important because they have between eyebrows and eyebrows the runner-up.
Nor it will not be easy at all because the calendar that remains is hardbeginning with this visit to A Guarda and ending with receiving the Bera Bera.
Nevertheless,
Robert Cuesta's girls are with the little arrow up and they want to close this course as second, so both the effort and the ambition are not going to be negotiated in the 120 minutes of the league that remain to be played. The yellows arrive at this match with 3 consecutive victories in the Iberdrola Guerreras League: Zuazo (33-26), Unicaja Banco Gijón (26-22) and Zonzamas (24-29).
All this, added to the positivism that surrounds the Teldense squad
after winning the EHF European Cupmake this end of competition look with
optimism and eager. There are things at stake and the islanders are going to fight with everything.