Rocasa leaves 'his' Cup (15-18)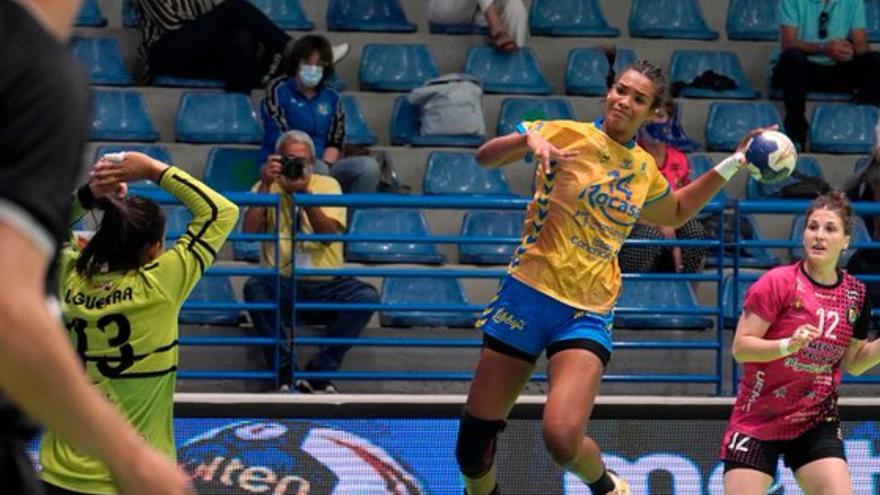 But what touched the heart of Rocasa was the honor of a champion team. A club that in recent years has filled its windows and that saw how this Friday They sneaked into his party to give him a dislike that will cost to digest. And that hurts more than losing. Because the Aula Alimentos Valladolid slapped Carlos Herrera's team to get him out of Rita Hernández de Telde at the first change in a tournament that does not understand pedigree and that does not give more opportunities than one.
Rocasa succumbed to Aula Alimentos Valladolid (15-18) and said goodbye to his 'Cup'. In the corner, the celebration of the one who knows that he has done a machado; on the bench, faces of pain more felt almost than a final. From the tears of Haridian Rodríguez to the sweatshirt on María González's head; from Sayna Mbengue's rage, face soaked, to Tiddara Trojaola's incredulity; from Mela Falcón's gaze to Carlos Herrera's lack of answers.
"Go, go, go!" Carlos Herrera shouted loudly from the band. And that not even a minute of the game had passed. The Rocasa Gran Canaria did not want scares, did not want to let the Aula Alimentos Valladolid believe it. Just because of the special flavor of the Queen's Cup, knowing that he was the host and knowing that he had to respond, it took him even to tune his arm. Because He did not even go to the third: it was not until the fourth attack that he managed to get the ball into the goal.
Without defending Rocasa he is nobody. Less in a tournament without a net like the Cup
In his favor, the known path. Without defending Rocasa he is nobody. Less in a tournament without a net like the Cup. He worked to suffocate the Classroom, which was having a hard time finding the 6-0 yellow key, until everything began to open up for both sides. There began the distribution of cachetones, to the open field, where Valladolid was fine (4-4, min. 10).
Until Silvia Navarro, that parachute that supports almost everything, raised a truce under her goal (6-4, min. 12). Ahead, Rocasa tried to hurt the pivot, with all the game loaded on Haridian Rodríguez's back. The ball did not reach the extremes, Gomes and Mbengue were stiff and Herrera's it cost a world to score a goal.
No solutions
The tie symbolized the entanglement of Rocasa (6-6, min.15), bundled between losses and a worrying lack of north. The matter got more bogged down. With no solutions at the front, rather than surrendering to Navarro since Valladolid suffered some misgivings behind – something that did not look like happening – the Las Remudas team was seen from behind. The situation was not momentary and it was completely complicated: the Aula took an advantage of two goals, which soon became three (6-9, min.22). Either he reacted now or the matter was going to turn black.
Sayna Mbengue cut a 0-5 partial and a drought of more than six minutes without scoring for Rocasa to wake up. But it took more, much more to fix that knot around her neck. And he did it thanks to the rhythm of Mizuki Hosoe, who put the Rocasa one more gear in the central axis. There was the change of Carlos Herrera's team that showed a more aggressive face in attack.
Without being so predictable, Rocasa managed to start giving bites to the rent of Aula Alimentos Valladolid. And if he did not go ahead at rest, it was because of the appearance of Lulu Guerra, who denied Tiddara Trojaola in the last action of the first half to leave a vertigo second half (10-10).
Final act
Yes, the San Bartolomé de Tirajana winger was right to put theirs ahead in the first ball that fell into their hands to open the final act (11-10). The Rocasa had taken its head out of the water and already had another color. He was breathing to find his best defense, but he still needed to achieve a remarkable fluidity in attack.
Meanwhile, he survived, which was not little, in a game where the marker was thick. In the first ten minutes of the second half, the set was Pyrrhic: 2-1 for Rocasa (12-11, min. 40). Too dangerous. Especially when few things happen, as is the case. So little that a simple action can give much of itself.
María Gomes, in an absurd error, found an exclusion that gave wings to the Classroom to overturn the scoreboard
Like when María Gomes, in an absurd error, found an exclusion that gave wings to the Aula to overturn the scoreboard: 12-14 stabbed Rita Hernández like a stab. A failure to amend that Francisca Parra could no longer make on the other side, who crashed a seven meters in the face of Ana Belén Palomino. Red already the stands.
But not even with these did the Rocasa manage to tame the electronics again. There was less and less time left and Carlos Herrera's were still unable to tune. If the ball did not go to the crossbar, Lulu Guerra appeared; if the ball didn't slip, it would go away. He tied (14-14 and 15-15, min 50 and 52), but not even that calmed Rocasa.
Access to the semifinals was in a handkerchief. As if it had never been seen in another like it, the Rocasa continued tied, nervous and contracted. With one less, he entered in the last five minutes a goal down (15-16). The drama was smelled. More when the Aula got two rental goals with three minutes to play.
Data sheet:
15.- Rocasa Gran Canaria (10 + 5): Melania Falcón González (-), Iara Grosso (-), Arinegua Pérez (-), Paula Valdivia (-), Agni Zygoura (-), Alba Chiara Spugnini (3), Sayna Mbengue (2), Haridian Rodríguez (2), Silvia Navarro (-), María Gómes (4), Ana Belén Palomino (-), Tiddara Trojaola (3), María González Méndez (-), Mizuki Hosoe (1), Adriana Marksteiner (-) and Yuli Quevedo (-). Coach: Carlos Herrera and Roberto Santana.
18.- Food Classroom of Valladolid (10 + 8): Carmen Sanz (-), Elba Álvarez (1), Jimena Laguna (-), Danila So Delgado (-), Francisca Parra (2), Ángela Nieto (-), Lourdes Guerra (-), Cristina Cifuentes (4), Lorena Tellez (3), Mireia Díez (-), Fátima Koudia (-), Teresa Álvarez (1), Sara Moles (1), Elena Cuadrado (2), Rafaela Bergara (-), Amaia González de Garibay (3). Coach: Miguel Ángel Peñas and Sergio Escudero.
Scoreboard every 5 minutes: 2-0, 4-4, 6-6, 6-7, 8-9, 10-10 (rest), 11-11, 12-11, 13-14, 13-14, 15-15 and 15-18 (final).
Referees: Jesús Álvarez and José Carlos Friera.