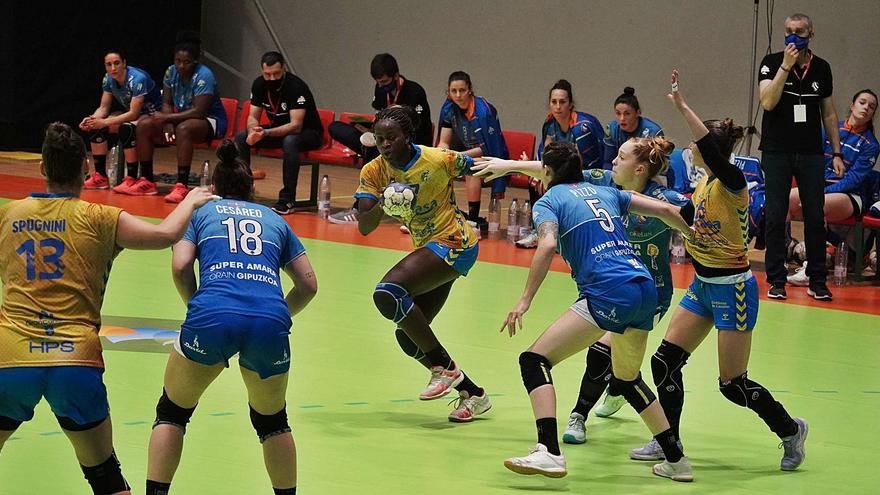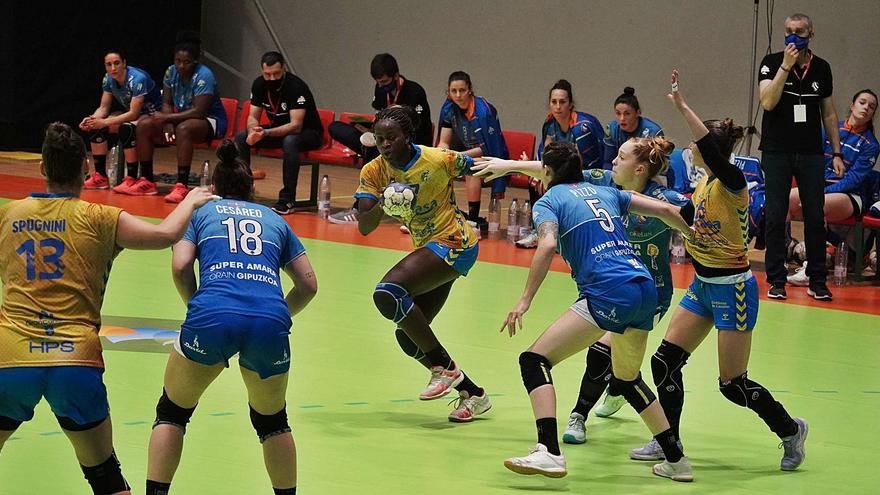 Those of Carlos Herrera have their eyes fixed on the Copa de la Reina that will be held from next Friday, and until Sunday, in the town of Gran Canaria. In the quarterfinals awaits the Aula Alimentos Valladolid. It is the tournament that can save the season for Rocasa.
Yesterday, the yellow players reacted before the break with a good set that allowed them to shorten distances at a critical moment. The island girls regained their joy and approached positions, but again Bera Bera put the direct, settling in the advantage they had and knowing how to take advantage of the losses of her rival. Therefore, the disadvantage for the islanders grew a little again just before the intermission (11-15).
Then Rocasa tried to get out of the changing rooms a bit more involved. He needed it to try to get closer again. A mini partial of 2-0 gave him some oxygen, however, when the moment came the Basque defense choked them and Bera Bera maintained their advantage firmly.
If to that was added the little success of the insular ones facing goal, the meeting leaned somewhat more in favor of the visitors mediated and the second half (14-21). The final stretch of the clash was more animated thanks to a couple of goals almost followed by the players of a Rocasa who, despite the score, pulled on pride to try not to lose sight of Bera Bera.
Thanks to Tiddara Trojaola, the yellow teams improved their effectiveness and were able to cut the gap somewhat, but the Basques had decided that their intensity was not going to decrease.
Two goals from seven meters from the visitors lengthened their advantage somewhat. It was much more difficult for Rocasa to score and that showed in some moments of the match, although during the second half it was noticeable more than in the first (21-28). It's time to think about the Cup.
Data sheet:
Rocasa 21 – Bera Bera 28
Rocasa Gran Canaria: Silvia Navarro (p); Melania Falcón, Arinegua Pérez (1), Iara Grosso (2), Paula Valdivia (3), Agny Zygoura (1), Alba Spugnini, Sayna Mbengue (1), Haridian Rodríguez (3), María Gomes (3), Ana Palomino (ps), Tiddara Trojaola (6), María González, Mizuki Hosoe (1), Adriana Marksteiner and Yuli Quevedo.
Bera Bera: Alice Fernades (p), Esther Arrojería (1), Mariane Fernandes (5), Manuela Pizzo (4), Nekane Teres, Alba Menéndez (1), Laura Hernández (3), Malena Cavo (1), Maitane Echeverria (3) , Elísabet Cesáreo (1), Adriana Cardoso (8), Ainhoa ​​Exteberria, Mirene Moreno (1) and Renata Lais (ps).
Partials every five minutes: 4-3, 5-5, 6-9, 8-12, 9-13, 11-15, 11-17, 13-18, 14-21, 16-23, 20-25 and 21-28.
Referee: Miguel Martín Soria Fabián and David Monjo Ortega.