Roberto Pérez Toledo, in his last interview with LA PROVINCIA: "I want to shoot much more in Lanzarote"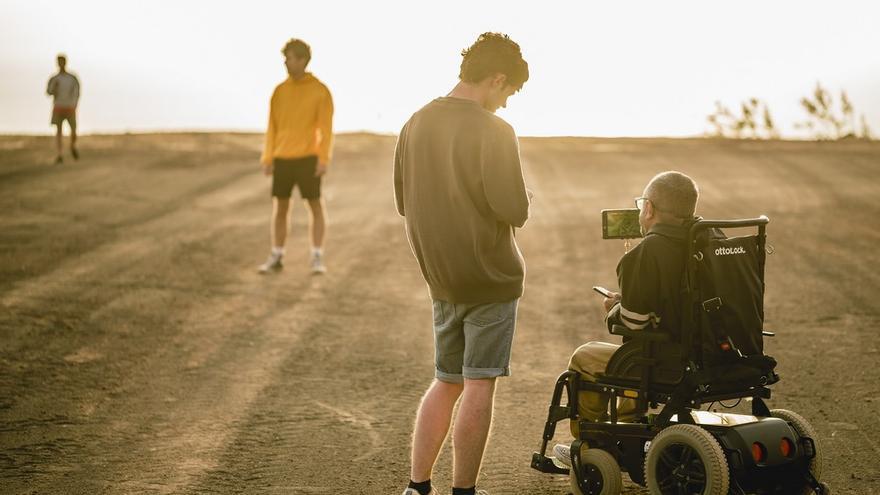 Where does the project come from? Before the eruption?
Shooting on my island, in Lanzarote, was my big pending issue, but I didn't want to shoot on the island for no reason. I wanted to find a story where Lanzarote had an organic, intrinsic presence, like one more character.
A lot of movies have been shot on the island, yes, but it's hard for me to find a movie that conveys what I feel, for example, taking a simple walk along the roads of Timanfaya. That overwhelming and enveloping feeling of being part of a unique landscape, created three centuries ago during six years of constant eruptions.
I was excited about the idea of ​​shooting close to home and capturing my personal experience of the island, first as a child and teenager who grew up on it until he went to study in Salamanca, and also my fascination as an adult who returns to Lanzarote several times a year. and rediscovers it each time.
And then the germ of Before the eruption. Identity is its great basic theme: the urgent need to find your little place in the world and occupy it. And suddenly I imagined these characters between volcanoes. On the island where I was born.
What role do volcanoes play in this story?
The volcano is the metaphor. I immediately imagined these characters among volcanoes. And then I understood why: because our identity, what we are, is like a volcano that erupts destroying everything. You can try to make the volcano sleep, but if it has to, your identity ends up gushing out, like lava. Because you cannot silence or placate what you are.
Did you know the five boys in the story before? Are all amateur actors already experienced? How do they contact?
Some yes and others no. I know a lot of actors, and have worked with a lot of young performers over the years. But the cast was formed with the help of the casting director Ana Lambarri, who introduced me to Pablo Capuz, who plays Em, or Javier Orán, who is the narrator of the story. Together with Jorge Alcocer, Edgar Córcoles and Javier Morgade they form a dream gang. With Edgar and Jorge he had already worked.
As soon as I got the five of them together, I knew it would work, because the challenge was to tell their friendship in a very physical, very silent way. We all ate one day in a restaurant in Lavapiés and I immediately believed them to be friends. And they had just met. The five are young but all professional actors, highly educated, very capable, with a track record and a great future. We will see some of them in series that are going to hit it this year.
When did they shoot and how long did it last?
We shot in June 2019, in one day. Shortly after, the world stopped with the pandemic, so we didn't start the short film until the beginning of 2021, when it began its tour at festivals and was acquired by Movistar. Last year it won 27 awards and toured more than 100 festivals around the world.
Did they stay at the gates of the Goya 2022 nominations, did they have a bad taste in their mouths?
Already being candidates, being in the final pre-selection for the nomination, was a gift, the result of a year in which the short took many turns. Very nice things happened to us, there were beautiful reactions, many people wrote me very exciting messages that give meaning to everything I do... Of course, once we reached that final pre-selection, what you want is to finish off and be nominated, but I was also very aware of how difficult it was, as it was to have gotten where we are. With my first feature film, "Six Points About Emma", I was also in the pools to be nominated for new director and in the end it didn't happen. Once it doesn't happen, I keep what I've achieved and move forward without thinking about prizes, which I think should never be the goal of telling a story. In the WhatsApp group that I have with the actors we send each other emojis with sad faces and broken hearts and the bad taste in our mouths stayed there, haha.
At what point did the short start breathing into a long? Was it around your head? What part of the process is the future feature film in right now?
It was always a long. I wrote Eruption as a feature film and then Before the eruption as a short to try to pave the way for financing for a long. And we are on it, encouraged by the achievements of the short film, but it is not being easy. Financing a movie with a decent budget is crazy, a road full of obstacles, and more and more. I feel that now it is even more difficult than when I did my first feature, which was already difficult.
The feature film is the complete story of Em and his friends' trip to Lanzarote, of their vital and emotional journey during those days. I couldn't be more excited to shoot it.
Do you see yourself reflected in any of the characters? And the rest inspires someone?
That always, in one way or another, more explicitly or more unconsciously. I write with what I am, with what I know, with the way I live my emotions, with what my friends tell me about what happens to them. And then I get a lot of satisfaction when viewers tell me that they have identified with my characters. I believe that this is the objective of cinema, of telling stories: to establish a communication with those who see them. And share questions. My characters are always people who don't know how to manage their feelings, who don't know the right way to behave or what to do about what they feel. And then sometimes they hit it or they screw it up, like everyone else in life.
I can tell a story that hasn't happened to me personally, but for me it is necessary to know closely the feelings that my characters go through. To understand them even though what happens to them has not necessarily happened to me. After all, this amalgamation of feelings is not so abundant but rather basic and we all end up knowing it sooner or later: desire, love, heartbreak, frustration, loneliness... They are the pillars of my stories and we have all been through it in greater or lesser extent.
Who has been important in carrying out this project? By the way, how much funding did they have?
Without a doubt, its producer, Rafael Álvarez, who has believed in this project and has always understood it since I told him about it a long time ago having a drink on a terrace. And here we continue to fight it. Before the eruption It was made with a small investment from you and the support of a dedicated team.
What part of the team is from the Canary Islands and how has it been working, for example, with Juanmi Márquez as director of photography?
The team, which has been small, is a mix between people from the Canary Islands and my regular collaborators from Madrid. I have known Juanmi for years and he has been in the project since its inception. I have always wanted to work with him and I knew that this story was for him to photograph and it has been a luxury to have him. Juanmi and his camera are one. He is very intuitive and here it was very important to breathe the story through the images, without markings, without corseting ourselves, living with the main characters in the sequences as one of the gang. And it was a spectacle to see him work and run alongside the boys.
There is a very marked image in lighting and texture and even the sound, which seems to write dialogues in the short with the wind, plays in favor of the story, was it something premeditated?
Yeah right. I wanted the story to have the colors of Lanzarote and, at times, to sound like when you try to talk to someone in that context, with the wind so characteristic of the island flooding everything, almost without letting us hear each other. It is difficult to record dialogues on a beach like Famara on a very windy day like the one we did, especially if the actors are wearing swimsuits and you cannot hide a microphone in their clothes and we can only record sound with a microphone on a pole. But in post-production we try to reproduce that rabbit-eared sound.
Do you think it's time to talk about tolerance? I also ask you because it seems that your generation lives perhaps somewhat with its back to this type of history.
Yes, now and always. And I wish fiction had always talked about tolerance and diversity. In my cinema and my stories, and now also in my theatrical debut with Basic manual of sign language to break hearts (premiere at the María Guerrero Theater on January 19), is essential.
When a boy tells me "thanks to your work, it has been easier for me to accept my sexuality" or "I put on a clip of yours to tell my parents that I am gay" gives a lot of meaning to what I do. Recently a woman wrote to me and said "you make me understand my son better". And it's very exciting.
It is something that happens to me more and more often and that makes me progressively more aware of the enormous value that fiction has as a tool for raising awareness, visibility and change in society, especially with regard to stories about diversity, tolerance, inclusion. .. And I have dedicated myself to exploring that diversity in recent years as a director and screenwriter.
As part of that diversity that is life itself, I initially focused on disabilities or different abilities, a responsibility that I also feel intrinsically, as a filmmaker in a wheelchair that I am. I have addressed functional diversity in several shorts and also in my feature films "Six points about Emma" and "Like foam".
But since I wrote and directed Cupid in love, a short for El Corte Inglés with two gay boys, I also discovered the huge audience that demands LGTBI+ stories, stories that make visible realities in which many viewers need to reflect and identify. I have continued creating LGTBI+ characters in other shorts for the network (Yes to everything, zombie-kiss, Secret Admirer, Hello mom hello dad, Taras, Compass, Polyamory explained for mothers and grandmothers), in the medium-length film for television the weird friends, in like foam and in the series gifted love, produced and premiered by Facebook Watch.
And I learn from feedback constant that comes to me. In recent years, the community that I have been creating on the network has grown (700,000 followers on Facebook, more than 330,000 on YouTube and 80,000 on Instagram, with shorts of more than twenty million views) and I am lucky to have viewers , many young people, from many parts of the world who enrich me with their messages and comments. It is the best thermometer, because they let me know immediately their opinion about my short and long films, what they like most about my works, what worries them, what they also dislike or don't understand... And I couldn't be more grateful to receive messages from boys and girls who tell me that my films help them tell their parents that they are gay, lesbian or bisexual, or that what I tell inspires them in one way or another.
What is your relationship with the islands?
All. I am from Lanzarote. I have lived in Madrid for years, but there is my home and my refuge. Apart from the times I've been to the Festivalito de La Palma and I've shot there, in 2004 I shot the short rollover, but not on my island, but on Tenerife, with which I also shot my first feature, Six points on Emma, with the production company La Mirada. Now I want to shoot much more in Lanzarote.