Robe Iniesta: "Extremoduro is part of the past, and I like to live in the present"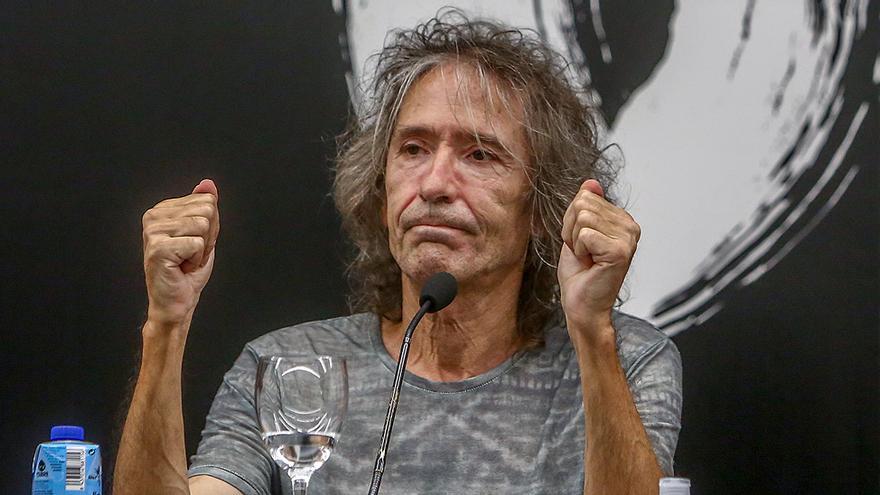 Singer and songwriter Robe Iniesta The tour 'Now is the moment' closes this Saturday at the Palau Sant Jordi in Barcelona in which it will be the first concert with an audience standing on the track and the Covid passport protocol that the venue hosts. The tour, in which Robe presents the album 'Maieutics' and which will resume in May, has followed the controversial suspension, after several postponements, of the farewell tour of Extreme hard, which months ago confronted the musician with the promoter Live Nation
When he presented the tour in August, he warned that perhaps some date would fall due to the unpredictability of the pandemic, but it has not been the case.
Well no, it was lucky. The concerts have gone very well from the beginning, and with people on their feet it is being something else. They are already real concerts.
The Sant Jordi concert will be with a covid passport, a protocol that this week the judges of the Basque Country have knocked down. What do you think?
Well, it's a bit of a joke that in the end the pandemic is handled by the judges. It was supposed to be the doctors. And in each site it is in one way. Not in each community, but in each city. That is why we are putting tickets on sale only two weeks before each concert, to adapt to the situation. That's where the title of the tour comes from, 'Now is the time'.
If the previous 'tour', in 2017, was of theaters and auditoriums, and repertoires of his solo work, this is of large venues and including songs by Extremoduro.
That tour was unique and a bit experimental. The songs were softer. The new album has come out much more funky, and with Woody (Amores) the sound has changed and gives for a mix of violin and guitar that is very popular.
The 'maieutics' refers to the Socratic method according to which we can reach conclusions on our own from questions or clues.
Yes, they don't have to be questions: just an impulse, something that moves you, a reading, something that you have seen and that can make things move inside you and get to know yourself a little better.
"What counts are the emotions, and if it makes you think a bit, great"
The central body of the album consists of four movements, a nomenclature that appeals to classical music. An influence on your work?
No, a lot of classical music I haven't heard. Actually, both 'La ley innata' and the new album have the feeling of being a whole song, so that you can hear it at once, but since it is a bit hard not to put any cut in the middle, and since there are fragments that have a determined form, that is why it is divided into movements. Live we play it in its entirety and it flies by.
A challenge to current listening on the networks, fast and changing?
It is not a challenge, because I cannot plan what I am going to compose, its duration, what it is going to be about, if it will be slow or fast ... That makes it difficult for me. What counts are the emotions, and if it makes you think a little, great.
Do the bands break because when an age comes, it is natural to let go of the moorings?
I do not know, now I am not very clear that I am going solo. We are more of a group now than we have ever been. We work a lot on the premises, we make artistic decisions together… It's a band.
Was he carrying more weight with Extremoduro?
No, but they worked in a different way: Iñaki and I made models and the rest of the group learned what we were doing. There was no job at the rehearsal room like now.
"I can't plan things. When I compose I often see myself as a spectator"
'Destrozares', the previous album, gave off influences from Andalusian rock and flamenco. The new album is more rock, headed for a big tour and to follow the Extremoduro lane?
No, no, I can't plan things like that. When I compose I often see myself as a spectator. But the group is now something else. In 2017, Extremoduro was working and it did not make much sense to make those songs, but now I am continuing with my career and we play songs that I have composed throughout my life. Trying to keep the essence and adapting them to the current band.
Last August the suspension of the farewell tour of Extremoduro was confirmed, in an episode of friction with the promoter Live Nation. To situate ourselves, we are talking about concerts whose tickets were sold out, at the end of 2019, with the anticipation of filling large capacities; formats that, after the last postponements, no one could know when they could be held.
And it remains unknown. Concerts of four people per square meter, and capacity of 30,000, 40,000, 50,000 people ...
"You cannot be waiting for life to see when the pandemic is over to do the concerts"
The promoter tried to move the tour to 2022. Do you think that represented postponing your solo career, mortgaging your immediate future?
No longer to 2022; They wanted me to mortgage myself for life. The tour was scheduled for spring-summer 2020, then jumped to fall, later to 2021, and for the following fall, and for the following spring ... And you can do that a couple of times, but you can't be there for life waiting to see when the pandemic ends to do the concerts. It is the other way around, you have to wait for the pandemic to pass to set the dates. They have not wanted to wait and have suspended the tour. Anyone with two fingers of a brain can understand: should I be mortgaged during that time without being able to do other things?
What did you propose to Live Nation?
Wait for the pandemic to end to set a date. You cannot keep setting dates without knowing if you will be able to do the tour.
Do you have the feeling that your reasons have been understood?
I think that understanding is not very good. So I don't know to what extent they have understood them.
There seems to be not much dialogue.
Rather little. Rather, there is discussion, rather than dialogue, and conflicting positions. Each one defends his own.
But, with all this, do you feel that Extremoduro's trajectory has closed as it should?
Extremoduro is already over. It is part of the past, and I like to live in the present. If there can be a reunion or farewell tour, I don't know. I do not rule it out, but it is not something that excites me. What I like is touching new things. Now we are going to try to publish at least one or two new songs for next year's tour.