Richard Branson, first tycoon to jump into space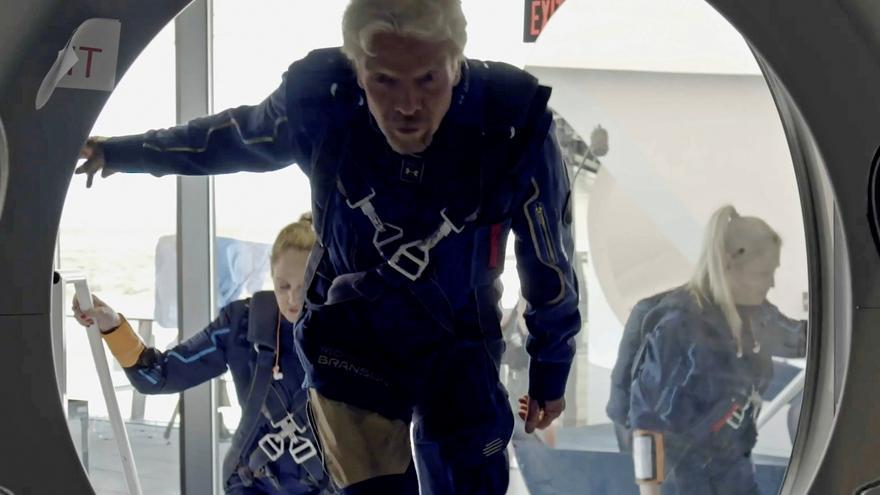 British businessman and philanthropist Richard Branson began this Sunday his travel into space aboard the VSS Unity aircraft, that successfully took off from Spaceport America base in the New Mexico desert (USA).
After a delay of an hour and a half due to weather conditions, the Virgin Galactic company space plane took off at around 08.40 local time (12.40 GMT) mounted on the VMS Eve propellant ship and with the ssix members of your crew on board, including Branson, the founder of the firm.
Throughout a flight of about 90 minutes, the VSS Unity space plane plans to reach an altitude of more than 50 miles (88 km) above the surface of the Earth, where it will reach weightlessness and will remain for about 4 minutes before starting the descent.
The plane, with dimensions similar to those of a private jet, will separate from the VMS Eve spacecraft, named after Branson's mother, once it reaches a height of about 10,000 feet (just over 3 kilometers), to soon continue your journey to the frontiers of space.
They travel with Branson and are part of the Unity 22 mission crew. Beth moses, chief astronaut instructor; Colin Bennet, operations engineer, and Sirisha bandla, vice president of government affairs and research. The VSS Unity pilots are Dave mackay Y Michael masucci.
Branson is tasked with assessing the future customer experience of Virgin Galatic's spaceflight, a company he founded in 2004 and which has at least three more test flights planned like this Sunday.
A Branson dressed in a blue spacesuit and sporting his famous smile made his appearance before more than 200 journalists and guests, whom he greeted before boarding the VMS Eve propulsion ship controlled by pilots CJ Sturckow and Kelly Latime.
The event broadcast is hosted by host and comedian Stephen Colbert and American singer Khalid will perform a new song once the ship lands.
Today's flight takes place days before Jeff bezos, founder and until a few days ago executive director of the giant AmazonAlso travel to space in the New Shepard ship, designed and built by his company Blue Origin, and in what the media has called the "millionaire space race.