Ricardo's strange death in Andalusia: "My father was killed in Nerja"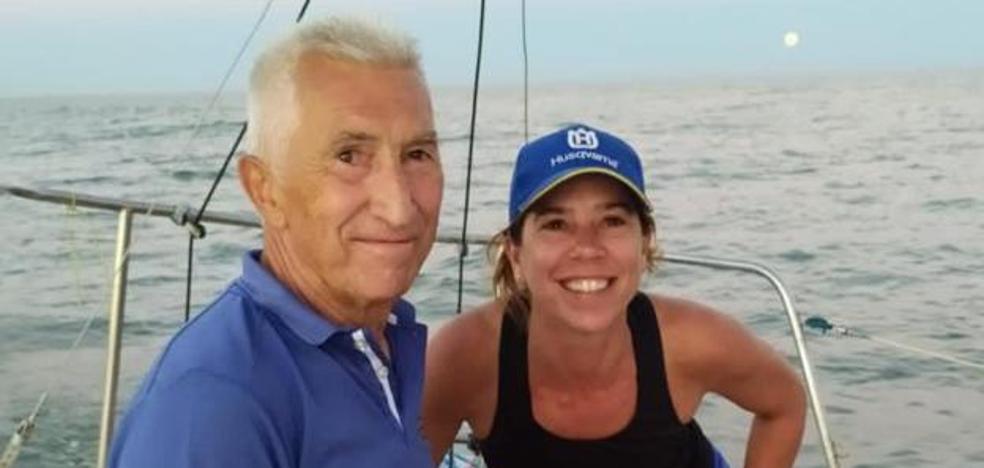 Ricardo Capparelli turned 77 on June 14, the same day he landed at Malaga airport from his native Argentina to enjoy a trip that his daughter had prepared for him with all the care in the world. His goal was to tour Andalusia, enjoy and disconnect for 15 days from the life of a full-time caregiver that he had led in recent years to care for his wife, who suffers from Alzheimer's.
The trip that began that day in Malaga had to have ended today, precisely, in Marbella. But something went wrong at the second stop on the tour. Ricardo left Nerja badly injured and, although he drove to Granada, he felt unwell when climbing a hill in the Alhambra and ended up admitted to hospital. There they discovered that he had 12 broken ribs on both sides, a "severe" pleural effusion with pneumothorax and hepatic laceration. Also that he was positive for Covid-19. He died hours later.
But… what really happened to Ricardo Caparelli? The answer is being sought by his children, Sole and Facundo, who took the first plane from Mar del Plata, the Argentine city where the family lives, and traveled to Malaga to recover the mortal remains of their father and investigate what happened. They have already located two witnesses who spoke with him in the last hours of his life. He told both of them -as they have verified to SUR- that they assaulted him and stole his mobile and watch. "I am convinced that they beat him up and that he hid it from us so as not to worry us. My father was like that, he always thought of others before himself », she affirms.
His daughter Sole organized the entire trip for him. /

south

That quality of Ricardo was precisely what motivated the trip. Nicknamed 'El Gallego' (he was a descendant of Vigo and Italian migrants), he grew up in Mar del Plata, where he met the woman who would later become his wife at the age of 17. They haven't separated since then and neither could the early illness that was erasing the trace of her memory. «The last five years were very sad and very wearisome for him. And for me too, because I realized that they were both dying. But my father always said that he was never going to take her to a nursing home, "she says.
Ricardo, who had earned a living with a dry construction materials company that his daughter now runs, hired with her help a team of nurses to help him care for his wife all day. "Six or seven months ago he began to live again. I gave him some golf clubs and he began to play with a friend, and he went to lunch every day at the Nautical Club, of which he had been a member since he was a child».
Ricardo's passion was sailing. He was the Argentine champion of J/24 (a type of fixed keel sailing boat) in which he came to compete in a world championship. Messages of encouragement and condolences accumulate today on the club's Facebook page, where he was very loved. Recently, a friend from Barcelona suggested traveling with him and his grandson to see the World Cup in Qatar. "December is a long way off, I want to leave now," he told his daughter.
the dream trip

Sole organized him, with great detail, a "dream trip" through Andalusia, "as he deserved", he added. He made him a folder with all the reservation documents and an excel file so that he would know what he had to do at each stop on the itinerary. A family friend was waiting for him at Malaga airport, and with her her first surprise: a convertible Mini Cooper, her favorite vehicle.
«In Argentina he would never have worn it because he was not a person to show off, but nobody knew him there». He stayed at the Only You hotel-she Sole had reserved a table for him on the terrace to celebrate her birthday-and, after a couple of days getting to know the city, she moved to Nerja. The second stop on the way.
At the Paraíso del Mar hotel they gave him a suite with views of Burriana beach. After leaving the suitcase in his room, Ricardo ordered a glass of water at the bar and went out for a walk around Nerja and looking for a place to have dinner. Nobody in the establishment saw him again until the next morning, when he went to the reception to check out. "He took a while to get out - he had to leave the room at twelve - but since he was an older person I left him a little room," explains the receptionist, Gustavo Caro.
Ricardo showed up at the reception with his suitcase. "He was very serious. He sat on the sofa and before paying for my room, he briefly explained to me what happened to him. He told me that he did not have his belongings because he believed that he had been assaulted the night before, that he had spent two hours lying on the floor, unconscious, and that his cell phone and watch had been stolen. He asked me to call his relatives in Argentina and I left him my cell phone. He only remembered the son's number. He tried a few times, but he did not catch ». There is also the possibility that he made the wrong number, because Facundo assures that they have no missed calls from a Spanish number on his terminal.
Assault and robbery

He sat on the sofa for a while because his ribs ached. The receptionist advised him to go to the doctor and report what happened to him, but Ricardo did not want to. «I was surprised by the lack of forcefulness with which he expressed himself. I think he was not aware of what had happened to him or the seriousness of what he had," adds Gustavo, who is "100%" convinced that Ricardo was attacked, based on the injuries he suffered.
This is the only way to explain why, instead of going to a health center, he drove the 93 kilometers that separate Nerja from Granada. Her daughter has been able to reconstruct the steps she took in the city thanks to the 'tickets' that she has found among her parents' belongings. She knows that she left the Mini in a 'parking lot' and then moved to the Paseo de los Tristes area, as she advised her, because she had reserved an apartment there.
It was Friday, June 17, and Domingo Spain was about to leave on a trip to Murcia and he remembered to take out the rubbish so that it wouldn't be stinking all weekend. "It would be half past four in the afternoon. Opening the gate, I found him sitting there. I asked him: Are you looking for something? He replied: 'I think I'm lost. I have rented an apartment in the Mirador de los Arcos '", he recalls.
Domingo explained that he had it right next door and asked him why he hadn't phoned the agency to get the keys. "He told me that his phone and watch had been stolen. Returning from the dumpster, I offered to call the agency so they could come pick it up. I told him: come in (there is an interior patio) and sit at least in the shade [hacía un calor considerable, apostilla]. I pulled out a chair for him and gave him a glass of water."
second witness

So, they started chatting for a few minutes and Ricardo told her, in his last hours of life, what had happened to him. «He told me that they hit him, that he was left unconscious and that, when he regained consciousness, he realized that he had been robbed. I told him that he should buy a phone here. Later, we said goodbye and he stayed there waiting for the agency with his suitcase. I wished him the best of luck," says Domingo. «I did not hear from him again -continues the neighbor- until I returned on Sunday. That's where I found out the news. I was a bit shocked. He made me very sad, really."
In Granada, Ricardo had booked a tour to see the Alhambra. He made the first part of the visit, but began to complain of being hot and tired. He told his guide that he could not continue with the visit and she asked the workers at the Puerta del Vino store to let him stay inside because there is air conditioning.
When he met him again, after finishing the tour with the group, around two in the afternoon of the 18th, he already had "a very bad face", according to what the guide told Sole. Ricardo explained that he was not going to continue with the excursion because she had suffered a very strong fall and her side hurt a lot. The worker asked him if a doctor had seen him and he told her that she had an appointment for the next day. She was not convinced by the answer and she notified a Red Cross team to attend to him. "I practically forced him," she recalls.
This is how Ricardo ended up in the emergency room at the San Cecilio University Clinical Hospital. There he told, it is not clear why, that he had fallen into a well, despite the fact that he had almost no injuries to his legs. Doctors confirmed that he suffered from multiple rib fractures, pneumothorax and liver damage, in addition to being infected with Covid. Although they managed to stabilize him, his condition worsened and he died at 3:15 a.m. on the 19th.
The medical report, to which SUR has had access, indicates that he died of "hemorrhagic shock secondary to massive traumatic hemothorax in an anticoagulated patient." It also states that there was no autopsy request. Yesterday, this newspaper contacted the hospital in Granada to find out if a clinical autopsy -in the health center- or a judicial one -in the Institute of Legal Medicine- was carried out. No response yet.
the first news

Sole was not very on top of her father those days because she wanted to leave him space and enjoy the trip, as she likes to do when she goes on vacation. That she lived the experience without being aware of a phone. She only knew, through her brother Facundo, that she had lost her cell phone. Sole found out what was happening through an email that she read, it says, more or less like this: «Hello Ricardo, we know that you are hospitalized, but we would need to enter the apartment to remove your belongings...»
"I did not understand anything. My brother thought there was a cat locked up and that it could be a virtual kidnapping. In Argentina there are many. I was alarmed. I started to Google the hospitals in Granada to call them one by one. Then I remembered that I had hired the travel assistance service ». They knew where his father was.
As they rushed to catch the next flight to Spain, they heard the news of Ricardo's death. Sole is now trying to find an explanation for his father's erratic behavior: «He was a very strong person. He prioritized the welfare of his children and did not want us to know anything. That is why he said that he had fallen, but the doctors saw that it was impossible with those injuries. They beat him up », he says.
Perhaps that is why he feels the need to investigate what happened to him. For this reason and because he understands that he has a "social responsibility" so that the same thing does not happen to another person. Together with his brother, they have begun to reconstruct what Ricardo did during his stay in Nerja. "I've been to every restaurant with his picture on it to find out where he's been dining. In the end I found a waiter who recognized him and told me that he was there with someone else, a man with a mustache. But I don't know much else."
He also recovered among his belongings the clothes -torn and bloodstained-, which he has already handed over to the Civil Guard to investigate the case, and the 6,000 euros he had in his backpack to pay for the trip. But he hasn't found any more clues in his father's luggage. She and her brother have gone to the guard court and the Nerja barracks to report the events and have her death investigated. Now, the Judicial Police Unit tries to find an answer to the question that resonates over and over again in their heads. What happened to Ricardo Capparelli?