Ricardo Darín: «Love is beyond the structure of marriage and that is why we continue to love»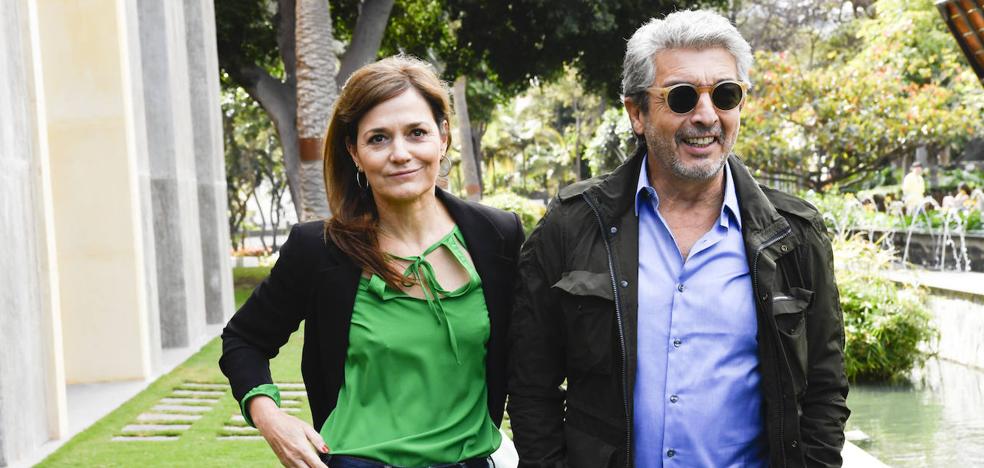 The popular Argentine actor stars with Andrea Pietra in 'Escenas de la vida conjugal', which from this Wednesday to Sunday is performed at the Cuyás
As smiling as he is friendly, Ricardo Darín premieres in the archipelago as part of the theatrical production tour
'Scenes of conjugal life', written by Ingmar Bergman, where he shares the spotlight from this Wednesday until Sunday at the Cuyás Theater in the capital of Gran Canaria, with the actress Andrea Petri.
"We are happy to be here, after two years all locked up, happiness has returned," said the Argentine interpreter yesterday during the presentation of the tour that will also take them through
Lanzarote -Teatro El Salinero, on April 5 and 6-, Fuerteventura -April 8 and 9, at the Training and Congress Palace- and Tenerife -from April 11 to 15, at the Guimerá Theater- and that will extend through different enclaves of the national geography until June.
The assembly went fallow when the covid-19 pandemic appeared. And his return to life generates "great expectations," Darín acknowledged, knowing that nothing is the same anymore. «We are very happy to return to the ring and are curious to see what happens in theaters with different audiences.
Everything has moved, everything has gone from one place to another and it is likely that we will be a little surprised at the reaction of people in the face of a conflict such as the one we pose on stage with this work. Everything has become something else and we have to adapt to that. We will be surprised by the resignification that the work will have now, "said the popular performer at a press conference for a theatrical show more populated by media than is usual in these latitudes.
Specifically, the production that is represented with five functions in Cuyás, always at 7:30 p.m., is developed around the characters of Juan and Mariana, who show different stages of their marriage even after their divorce. Some funny and some dramatic.
«The work has gone through many stages, it has been rolling in essence since it premiered in 73 of the last century»explained the protagonist of the Oscar-winning 'The Secret in Their Eyes' (2009), by Juan José Campanella.
The actor underlined the fact that the work written by the great Swedish author and which he defined as "a dramatic comedy with many parts of humor", carries out "a criticism of the marital structure, but not of love. Love is beyond that structure and that is why you continue to love. He supported this reflection in an anecdote after one of the performances before the pandemic break. A friend of his wife who is married, laughed, said to him: "Why are you doing this to me?" Alluding to passages in the play that he had gone through with his wife.
«In the work we do not bite the dust, but it rescues us», he added.
Andrea Pietra, for her part, highlighted
"the validity" of a text that has had multiple versions and montages both on stage and on film and television. «During the pandemic we were locked up and we had to live 24 times seven with our partners, which gives new meaning to this work and the coexistence of two of this couple. I love the character that I have to play, because she talks about a woman who has growth due to things that are happening. It seems beautiful to me to act it, because she does not stay in the same place, but evolves over time and with her partner, which modifies both of them », she said, always as smiling as the stage partner of her.
Pietra stressed that the viewer during the development of the montage seems to be "spying in the 'living room' of his house" on the leading couple.
«Television does not allow that, being there in the moment, watching and vibrating with what is happening. That has no competition."
If Ricardo Darín is one of the most popular and respected active Spanish-language actors in the world, it is no less so who directs these 'Scenes from conjugal life', the actress
Norma Aleander. The two performers are all praise for this legendary figure. "Norma is one of the best actresses in my country. She is a big woman, but also a girl. She will be until the last days. She has the game very well implemented and has it both to act and to direct.
It gives a lot of freedom. She knows this character by others, not only for being the director but for having done it. For me it was a luxury, a pleasure and a gift that she was my director, because she let me do it and in her ear she told me a couple of things that changed my doing for the better », acknowledged Pietra. Darin defined it as
"a magician who does magic, incredible things"like walking, at 85 years old, "in the same way that the character has to do it" in this montage during one of the rehearsals.
"I will never be in favor of violence, but something happened to Will Smith that exceeds the rational"

Actor Will Smith's slap at the comedian and presenter of the Oscar gala, Chris Rock, was present as expected at the press conference of Andrea Pietra and Ricardo Darín.
"We plan to give ourselves a couple of slaps to give the conference greater importance," Ricardo Darín responded with a laugh. "It is difficult to analyze, because it would have to be analyzed in depth. Looks like there was a carryover from a few years ago, from what I read. Although I will never, never, never be in favor of violence, I want to rescue the emotion that Will Smith felt in defending the position of his wife. Still subjecting himself to all kinds of criticism », he pointed out. «What happened to him exceeds the rational, there is something that made him get up from that chair, walk in a masked way and apply a corrective, it was not a punch to knock him out. It's as far as I can go, "she added, after which the actress said that she does not" justify violence in any case "but that she considers that what happened to Will Smith was" instinctive ".
In another order of things, Ricardo Darín said that, contrary to popular belief, he does not have as many film projects on his desk as one might think and clarified what leads him to get on stage. "The theater is what mobilizes us and the only place where the actors have not been displaced", while he highlighted the "energy" that it generates.