Rhonda Fleming, leading actress of classic Hollywood, dies at 97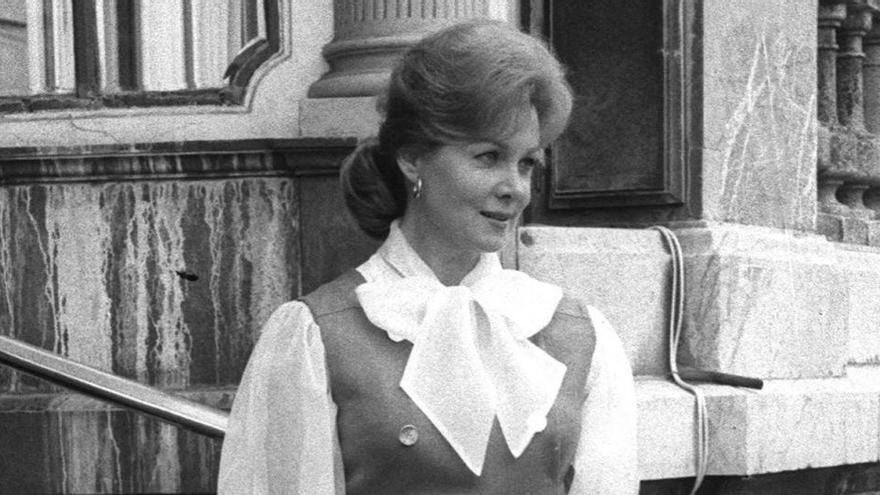 Rhonda Fleming, one of the few outstanding actresses of classic Hollywood who remained alive, died at the age of 97 in Santa Monica (California, USA).
His secretary Carla Sapon confirmed this Friday to Variety magazine the death of this American actress whose filmography includes films such as'Remember'(1945) or'Duel of the titans'(1957).
With stunning red hair and fascinating green eyes, Fleming was nicknamed as 'the queen of Technicolor', a nickname by which another illustrious Hollywood redhead like Maureen O'Hara was also known.
That nickname made reference to that, with the progressive disappearance of black and white in the cinema, her hair and eyes shone in each of the scenes in which she appeared.
Marilyn Louis, due to her original name, did not have to travel very far to succeed in the cinema, since she was born in 1923 in Los Angeles (USA).
Daughter of a model and actress, Fleming landed her first major role in her early twenties with Alfred Hitchcock's tape 'Remember' (1945), which starred Ingrid Bergman and Gregory Peck.
Little by little he gained notoriety and in his notable career, films such as "Return to the Past" (1947), starring Robert Mitchum, stand out; the musical comedy 'A Connecticut Yankee in King Arthur's Court' (1948), which he led with Bing Crosby; the dark 'While New York Sleeps' (1956), by Fritz Lang; or the western 'Duel of the Titans' (1957), led by Burt Lancaster and Kirk Douglas under John Sturges.
In addition to trying his luck on television from the 60s, Fleming also performed on Broadway stage and in Las Vegas shows (USA).
Outside of acting, Fleming stood out for your charitable work in support of cancer research, a disease suffered by her sister Beverly.
Thus, in the early 1990s, he founded the Rhonda Fleming Mann Clinic within UCLA Medical Center in Los Angeles.
Fleming's private life also attracted attention for the six times he was married.
Her last husband was Darol Wayne Carlson, who passed away in 2017.