Revolution in housing rental: new landlords arrive (and promise lower prices) | Economy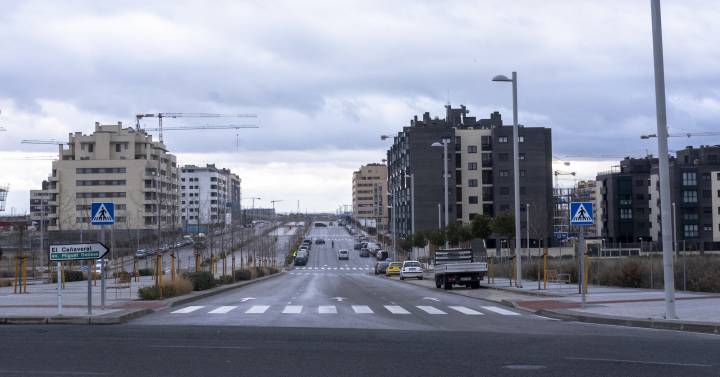 At the moment 5,700 are being built in Spain households just to rent. They will reach the market from 2021 and promise to have accessible income, from 550 euros per month. They are smaller in size than the houses destined for sale: they start from the environment of 42 square meters. They are in well-communicated areas, designed with more durable materials and with common facilities adapted to each tenant. Spain surrenders, or rather entrusts, to the professional management of the rental.
The formula build to rent, already consolidated in the Netherlands, Germany and the USA, enters through the big door in Spain. "It is an emerging market that is growing in response to the real needs of rental housing," said Arturo Díaz, executive director of the Residential Division and president of the Barcelona office of Savills Aguirre Newman. This consultancy calculates an investment volume close to 1,000 million euros for those 5,700 floors.
In this model the developer, owner of the land, builds the building, which delivers turnkey to an investor who, in turn, makes it profitable through rent under a professionalized, comprehensive and daily management (with his own team or through a third company, like Azzam). It is somewhat unusual in Spain, where 95.4% of the stock Rental is owned by individuals. The problem is that neither the sizes nor the prices of these houses are originally intended to be leased. Only the remaining 5% is in the hands of an institutional investor, says Savills Aguirre Newman in a report on the build to rent in Spain concluded this February.
The new market promises a different product at a different price. Many citizens expect it with open arms; all those looking for a rental, either because they cannot buy or because they value the flexibility of the lease. "The income levels offered by the segment build to rent They are a good opportunity to buy (including mortgage and common expenses). And all this, without having to have between 20% and 30% of the price of the house saved or borrow in the long term, "says Vanessa Gelado, director of Hines in Spain.
The logical thing is that in the current economic and labor context these promotions focus on the middle and lower middle classes, young people of emancipation age and young homes They are growing. In the case of Madrid and Barcelona, ​​"we refer to prices from 550 euros per month for smaller units to 850 for larger units," said Arturo Díaz. In its design the buildability is optimized to the maximum and non-useful surfaces such as hallways are eliminated. "We are talking about one bedroom homes with 55 or 60 square meters, although it is possible that there could be a tendency to reduce it if the regulations allow it; two bedrooms and a bathroom with an average area of ​​between 75 and 80 meters, and three bedrooms, with one or two bathrooms and 100 meters, "says Díaz. Regarding common areas, its design depends on the type of plaintiff: coworking o areas of shared work, gym and leisure spaces for the young segment; and community room, pool and playground for young middle class homes with children.
The containment of the rental price in Spainto. The fact of "increasing supply, especially those with affordable prices, should help contain prices. The possible downgrade will depend on the park that is able to develop and if it covers the demand," Diaz thinks. Of course, this depends on "the legislation is clear and flexible, protecting all parties," adds María Ruiz Gallardo, director of Tertiary of Metrovacesa. This promoter, which in 2019 sold a 121-story portfolio for rent to the Ares fund, says "it has the flexibility and capacity to develop large turnkey projects for specialized institutional investors."
Goldmine
For investors the formula is a gold mine. "They receive the product designed by them, at the selected location, at a certain price, in an agreed time and without being exposed to any setback in costs," explains Sergio Gálvez, director of Strategy, Investments and Alternative Developments at Aedas Homes. The discount they get for homes compared to the price they would have if the promoter sold them one by one moves between 5% and 10%, calculated in Savills Aguirre Newman. And, at the same time, "they benefit from a less volatile segment than other types of assets more correlated with the economic cycle, such as offices or retail"says Gelado. The main investors of build to rent in Spain they are Ares Capital, Hines, M&G, Vivenio, Azora, Axa IM, Locare and Catella. They are interested in creating large portfolios in Madrid and Barcelona, ​​although they already look at other cities, such as Malaga and Valencia.
The promoters also win. The build to rent it opens the door wide to a client profile that they could not reach, to those claimants – especially young people – who cannot buy a house. In addition, it is an opportunity to increase the activity of traditional residential promotion and, at the same time, reduce exposure to the promoter's cycle. Aedas Homes, Metrovacesa, Acciona, Amenábar, Stoneweg and Immoglacier (Cerberus) They have already taken positions and Neinor Homes is studying to premiere. "The build to rent it can mean a reduction in exposure to the promoter cycle; for better or worse, a price has been agreed with the investor, regardless of what happens in the market until the delivery of the houses, "says Sergio Gálvez, of Aedas Homes. Also," there is an improvement in shareholder remuneration, as it will mean an advance of its economic flows. "Aedas was the first to launch. Last year it announced the development of 500 homes for rent in Madrid for the Ares fund, which will be delivered in 2021. The developer is now studying new operations." they will always do that they add value to the company and do not enter into competition with our projects, "says Gálvez.
Apart from these homes with accessible rent and professional management, the market needs flats with social rents for households with low or no income. "We talk about income of between 50 and 200 euros per month, depending on the tenant's economic capacity," said Aguirre Newman at Savills. They should be developed by the Public Administration or in collaboration with the private sector.
In any case, not everyone looks forward to the entry of investors. Jaime Palomera, from the Tenant Union of Barcelona says that "the English experience is negative. The promoters said that this increase in the supply of rental housing would lower the price of housing, but the opposite has happened, they are more expensive than others in the In the case of London, it is estimated that the houses resulting from 'build to rent' are 10% more expensive than those in the neighborhoods where they are located. "