Return from the hunger tails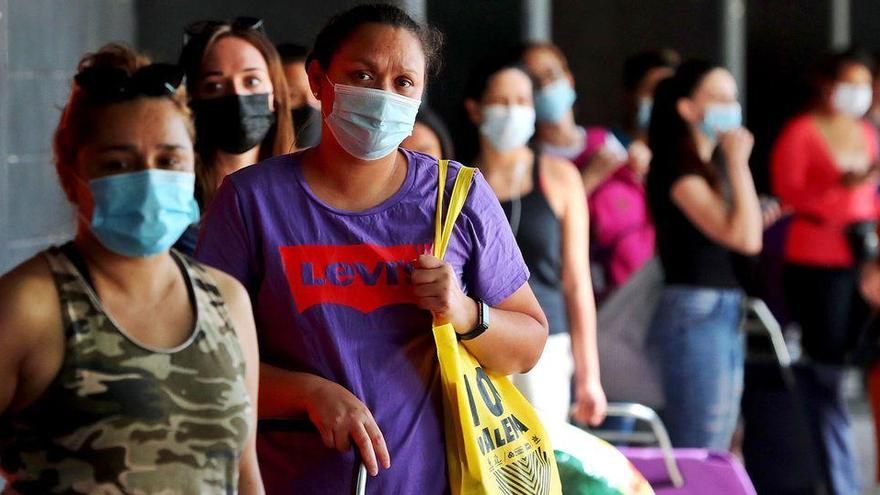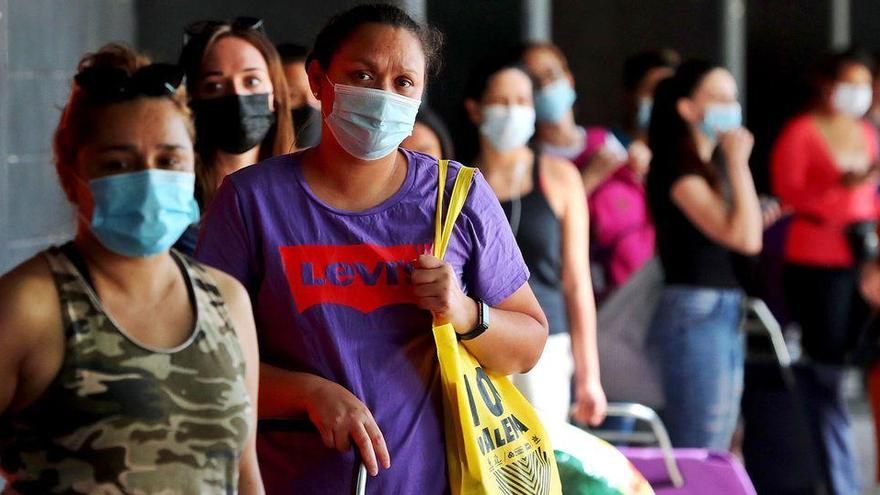 Two decades ago, in years of bonanza and economic growth those who queued to receive food were homeless, without resources and in many cases, with addictions. In those queues there were also recently arrived migrants in search of a better future. The profiles of that poverty that seemed unreal for the middle or wealthy class were formed by those who had lost everything or those who had arrived with nothing. Poor in every rule.
Today, the tails of hunger have returned and they no longer have raggedy in their ranks. Now, these same profiles (homeless people and recently arrived migrants) are joined by the long-term unemployed and precarious workers who have to decide whether, with their meager salary, they should pay the rent or fill the fridge. And in pandemic or without it, losing the roof implies leaving a circuit to which it is impossible to return. If you lose a home due to not paying your rent or mortgage How to meet the requirements of the free market to access a ceiling? Fixed contract, months in advance, an endorsement … Better to secure the roof. So there is no choice but to take turns, take a deep breath and juggle the packages, cans or liters that touch, depending on the number of people that make up the family unit.
In those queues of hunger (in those of before and in those of now), in those lines of people who simulate patient ants waiting their turn, everyone bows their heads, no one looks up. The image is repeated in all cities, in all municipalities in Spain. Before and now. Nobody likes to order food and even less, to be seen. Nobody likes to show their miseries. The soundtrack in these rows is silence.
For this reason, the social entities that work with the most vulnerable began to eradicate the "hunger queues" more than a decade ago with two objectives: eliminate the "shame" of making misery visible, dignify poverty and give autonomy to consume the foods that one prefers and not "those that touch you". And they achieved it through formulas such as shopping vouchers in a supermarket, commissary, soup kitchens and delivery of dishes cooked as if it were a take-out house.
So, for a few years, poverty did not have to wait its turn to feed itself. "It was a matter of dignifying the distribution of food and eliminating the 'hunger queues' because many people wanted to avoid being seen in line. Furthermore, the change of model represented an advance for the autonomy of families because in the end, if there was Rice to distribute because you had to eat rice all week. The power of decision was eliminated and in the end it is about dignifying a poverty that no one deserves. However, and since always, it costs people less to give a kilo of rice than the money that that same kilo of rice costs. That mentality persists and must change, "say entities such as the Red Cross or Cáritas, pioneers in the eradication of hunger lines.
Triple the attention
However, the pandemic of covid-19 Has ruined all this work. The hunger lines have returned and are longer than ever. Food banks throughout Spain have tripled their attention and social entities, large and small, cannot cope with the thousands of families who have knocked on the door during the state of alarm or they will do it as soon as their savings disappear because there is no alternative. Almost 10 million people (9.7) were poor or at risk of exclusion in Spain before the health emergency, according to data from the European Network to Combat Poverty and Social Exclusion (EAPN-ES), an organization that it encompasses more than 8,000 NGOs throughout the national territory.
Social entities affirm, black on white, that poverty will increase for the first time in 20 years. And they give figures. Thus, Oxfam Intermón ensures that, if social policies are not implemented, the pandemic will bring 1.1 million more impoverished people to Spain and the number of vulnerable people will reach 10.9 million. That is to say, go from 20.7% of the population living in poverty before covid-19 to 23.07% after the effects of coronavirus.
Save the Children focuses on minors and ensures that if there are now more than 2.1 million children who suffer from poverty in Spain, the pandemic will worsen these figures and will reach one in three children (33%). Before the pandemic, 27.1% of Spanish children under the age of 16 were poor, the highest rate of child poverty in the entire European Union only behind Romania and Bulgaria. And poverty is inherited. And inequality grows. But the figures have no face. And after each number there is a person, a family, a child who today queue to collect food.
The state of alarm was a blow to many companies and workers. And without job no income. And without income, nothing comes. But not everyone who works in this country has a contract in between. In fact, having it does not imply, and not because of the pandemic, being exempt from going for food after paying the bills for housing and basic supplies. The 2008 economic crisis brought as a consequence a new social class, that of the "working poor". The number of working poor exceeded 2.5 million people in 2019, with or without a contract.
In fact, three years ago (2017), the Observatory on Poverty and Exclusion claimed that six out of ten unemployed people were poor. Further, they warned of the figure of the "precarious worker" with four out of ten workers with a temporary contract in conditions of poverty. That same year, nine out of ten contracts were part-time and about 36.8% of salaries did not reach the minimum interprofessional wage (SMI).
The pandemic arrived and lockdown. And so, those who "were looking for life" without the need to go to get their food lot is today forced to do so. Thus, those who obtained income from an "informal" job – household employees without a contract in between, women who take care of the oldest (or smallest) in the house, people who rummage through scrap metal or who work for hours but without security social, whether on the job site, in the service sector or in the countryside, migrants in an irregular situation, homeless people, riders or street vendors – are today in social exclusion after months without income and without paying rent or supplies, since for them there has not been ERTE, no compensation, no possible help, especially if one takes into account that management focuses on who is already in the system. And they were away (jobs without a contract, rented rooms that do not allow registration, people without a bank account number …) and they are increasingly moving away from a poverty that becomes chronic and inherited. From a poverty from which it is impossible to get out. There is no "culture of effort" possible for them, for them.
The star measure
The autonomies have designed "shock plans" to minimize the impact of covid-19 on the most vulnerable families. The central government approved the Minimum Living Income (IMV) -by emergency decree- as the main tool against poverty. It is the star measure, but it does not reach families. When it was launched, it was estimated to reach 850,000 households. The reality is that 1.1 million people have requested it, but only 14% of the families that need it receive it. The rush with which aid was launched meant that many requirements were confusing when it came into force and there was insufficient staff and infrastructure to deal with the avalanche. The resolution periods, foreseen for three months, had to be extended to six.
The first ones who received the aid did so "ex officio" -75,000 families- without processing anything because the Government "had them controlled." They were those people who already received a child benefit, an aid provided for childhood, the only direct benefit for children growing up in vulnerable families. The Government had increased the amounts that now disappear (as of January 1) by the IMV, although the amounts are "of lesser amount" for those who received the regional aid (minimum income benefits) from their community and the child benefit at state charge. Now, only 160,000 households are receiving aid that has been requested by more than a million people.
Grants are processed late but invoices arrive on time. The evictions they continue despite the commitment of a decree prohibiting evictions until the end of the pandemic. The rents reach prices that families cannot afford. Every day 160 families are evicted in Spain. Every day there are thousands of families queuing for food and using their meager income to pay their rent or mortgage and maintain basic supplies. Juggling social exclusion or the life of the poor who doesn't seem like it.