Retirement two years earlier may mean a cut of up to 7,889 euros in the pension | Economy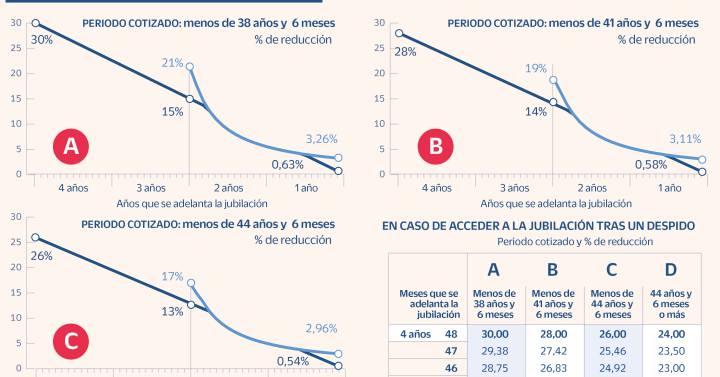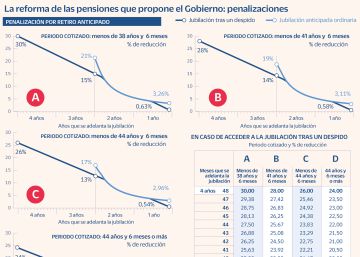 Parliament will begin in the next few days to discuss the first package of measures for the reform of pensions agreed between the government, the employer and the unions last July. This pact, which will link retirements to the evolution of inflation and contemplates an increase in bonuses for delaying the pension, will also include a tightening of penalties for those who decide to advance their professional retirement.
This new scheme, which aims to increase the working life of Spaniards to bring the real retirement age closer to the legal one, includes a series of reducing coefficients in case of early retirement that will depend on the time contributed: the most aggressive cut will be applied to those people who advance their retirement and have contributed less than 38 and a half years (the reduction will oscillate between 3.26% and 21%); in the second step are those who have contributed for less than 41 years and six months (from 3.11% to 19%); then those who have contributed for less than 44 and a half years (from 2.96% to 17%); and, finally, those who have contributed for more than 44 and a half years, who will risk a cut of between 2.81% (for bringing it forward one month) and 13% (for retiring two years earlier).
Different assumptions
These reducing coefficients, in turn, will translate into different amounts depending on the amount of the pension. For a person with less than 38 and a half years of contributions, who has the right to a maximum retirement (whose annual amount is at 37,567 euros) and who has decided to retire two years before, the cut would be 7,889 euros, leaving this pension at 29,678 euros. If, on the contrary, this same person decided to retire one year earlier instead of two, the reduction would be 2,066 euros.
Finally, if this worker chose to advance retirement by just one month (a reduction of 3.26% is applied), his pension would lose 1,224 euros per year. For its part, for a minimum pension (it is 9,569 euros) with a short career (less than 38 and a half years of contributions), bringing the retirement forward two years will cost 2,009 euros per year. If this same worker decided to retire a year earlier, the cut would remain at 526 euros per year.
For another professional, in this case a person with a slightly longer professional career, less than 41 and a half years old, who decides to retire two years earlier, the cut will range between 7,137 euros (in the case of a maximum pension) and 1,818 euros (a minimum). Advancing the end of the professional career one year will cost between 1,972 and 502 euros.
In the third step of the contribution, for those who do not exceed the barrier of 44 and a half years, the punishment for retiring two years before the legal age (which is currently at 66 years, but which will gradually advance until 67 years in 2027), it will be between 6,389 (for the maximum) and 1,626 euros. For a year in advance, the cut is reduced to a range of between 1,878 and 478 euros.
Lastly, for the longest listed careers, an advance of two years will mean a reduction of between 4,883 and 1,244 euros. Retiring a year before, meanwhile, will carry a penalty that will range between 1,784 (maximum pensions) and 454 euros (minimum).
Retirement after dismissal
Another possibility, outside of the previous assumptions, is that the worker has agreed to retirement after a dismissal, which in this case could be advanced up to four years. Depending on the time quoted, retiring four years before will carry a penalty of between 30% and 24% on the amount of the pension; while if the pensioner in question only came forward one month, the penalty would range between 0.63% and 0.5%.