Retirement in 2020: later and calculated with the last 23 years quoted | Economy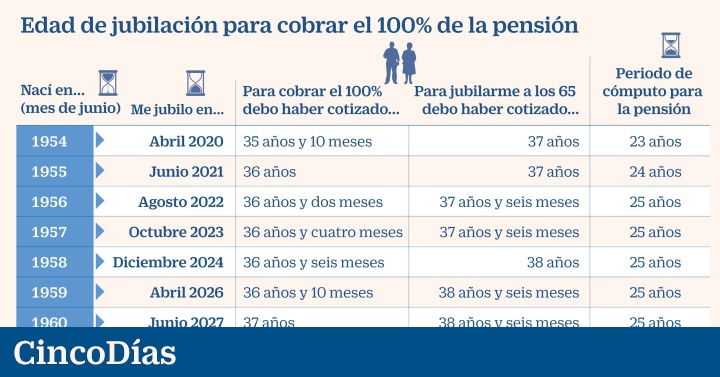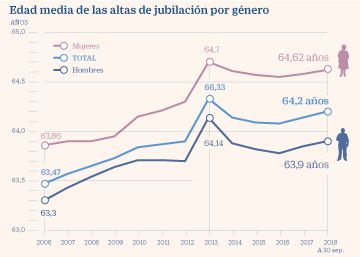 The last great pension reform which was carried out by the second Government of José Luis Rodríguez Zapatero in 2011 the legal age of retirement from 65 to 67 years, and increased the number of years that are taken into account to calculate the amount of the pension, from the last 15 years of working life to the last 25 years. However, given the high impact of these changes, the Socialist Executive decided that he would apply them progressively. Therefore, since then, at each beginning of the year, the conditions of access to retirement benefits change.
Thus, from January 1, 2020, the legal retirement age for those workers who have contributed less than 37 years will be 65 years and 10 months (until December 31, 2019 this age is 65 years and eight months for those who would have contributed less than 36 years and nine months). Although, those who can prove 37 years of contribution or more throughout the next year, may continue to retire without penalty at 65 years. In 2019, this possibility has been for those who would have contributed 36 years and nine months or more.
Also, next year the number of years quoted to calculate the retirement pension will be extended. This calculation will be done over the last 23 years of working life (in 2019 the last 22 years were taken). As a general rule, contribution careers are bullish, which means that as the years progress, workers usually improve their contribution bases (equivalent to salary), which also increase. This means that the more years are taken into account, years with lower contributions come in, which could have a somewhat lower retirement pension.
This effect, however, is changing in recent years due to the numerous expulsions from the labor market of workers from 50 years. For these groups, which have been damaged their contribution career just in the years prior to retirement, the increase in the number of years taken into account to calculate the pension has a positive impact, since it can serve to curb the damage in the amount of your retirement benefit.
Also, until 2027, an exercise in which the 2011 reform will be fully operational, every year it becomes also more demanding to charge 100% of the regulatory base. In this case, they go from the 35 years quoted and six months to 35 years and ten months, in 2020.
In spite of this tightening in the conditions of access to the pension, from the Social Security they explain that "the number of pensions that are recognized according to the legislation prior to August 2011 is still high", which is less demanding, because the law thus provides exceptions for some groups. Specifically, almost half of early retirements and 19.1% of ordinary retirements are made according to previous legislation.
Thus, there is a safeguard clause that ends on December 31 and allows the application of previous legislation in recognition of new retirement pensions.
Precisely, due to the existence of this clause, the number of benefits that are recognized with more benevolent legislation has been this year similar to that of 2018.
Waiting for the Government
Specifically, the groups that in recent years, including 2019, have continued to be able to retire with the legal requirements prior to August 1, 2011 are the people whose employment relationship has been terminated before April 1, 2013, provided that subsequently at that date they will not be included in any of the regimes of the Social Security system.
And, secondly, workers with a suspended or terminated employment relationship as a result of employment regulation files, or through collective agreements, collective bargaining agreements as well as by decisions of bankruptcy procedures, approved, signed or declared before April 1, 2013, provided that the termination or suspension of the employment relationship occurs before January 1, 2020. Although these agreements must be duly registered in Social Security.
These two groups of workers are now waiting to know if the Government, as the unions have insistently claimed, reestablishes another one-year extension, until January 1, 2021, so that those affected can continue to retire on next year with more advantageous conditions.
Last year, the decision to extend these better conditions to these groups by 12 months was taken on December 28, which led to workers who, thinking that if they retired in 2019, they would apply higher penalty coefficients, they requested their withdrawal before Let the year end. And when they learned that the extension was granted again, they rejected their retirement status, but Social Security did not accept it. This led workers in these circumstances to sue Social Security, in processes that are still ongoing today.
The Government has not made public its intention to extend this clause until 2021, but if it were finally its intention, it could do so in a Royal Decree that could be preparing to revalue the pensions by 0.9% in 2020 and that could see the light today same in the Council of Ministers. While this point is unconfirmed.