Results and classification after the Bahrain Grand Prix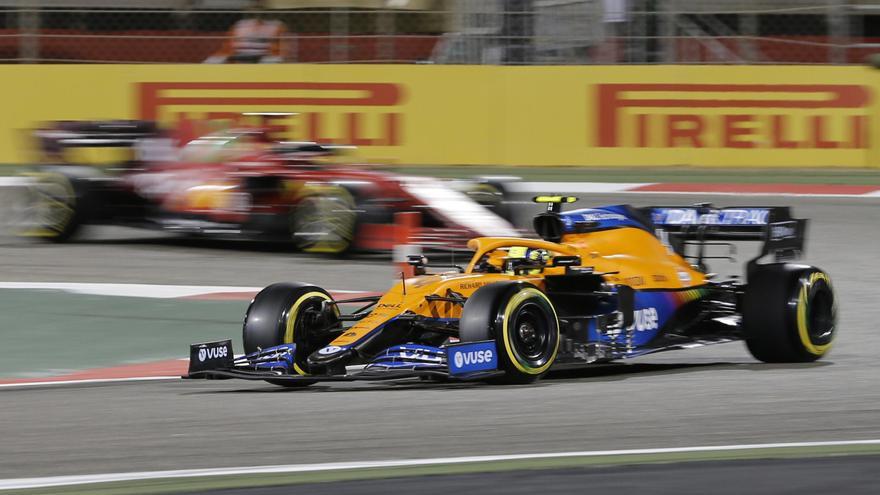 The British pilot Lewis hamilton (Mercedes) is the first leader of the Formula 1 World Cup 2021 after winning this Sunday in the race of Bahrain Grand Prix, in which he won after a controversial end to the Dutch Max verstappen (Red Bull), while the Spanish Carlos Sainz (Ferrari) finished eighth and Fernando Alonso (Alpine) had to drop out on their re-release due to brake problems.
The Dutchman managed to overtake Hamilton with four laps remaining, after several harassing and knockdown laps, but Red Bull warned him on the radio that he should return to his position after going off the track at Turn 4 by direct order of the International Automobile Federation (FIA). Meanwhile, the Finn Valtteri Bottas (Mercedes) completed the podium.
For his part, Sainz, in his first race with the 'Scuderia', defended his starting position, while Alonso could not celebrate his return to Formula 1 in a big way after suffering a mechanical problem with the brakes of his Alpine and seeing himself forced to withdraw from the test.
The start of the race at the Bahrain International Circuit was delayed by a mishap by Mexican Sergio 'Checo' Pérez (Red Bull), who had the car stopped in the middle of the track on the warm-up lap and had to start the date from the 'pit lane', even behind a Sebastian Vettel (Aston Martin) who got a penalty for ignoring the yellow flags in Q1 made him start from the back of the grid.
The incidents did not end there, because as soon as the race started the Haas of Russian Nikita Mazepin, who already in qualifying suffered a spin that interrupted the session, went against protections and caused the first safety car of the championship to come out. Once the race was relaunched, the Japanese Yuki Tsunoda (AlphaTauri) and the loss of his wing forced a new interruption, this time with the 'virtual safety car'.
Earlier, Verstappen had defended his pole position ahead of Hamilton, while the Monegasque Charles Leclerc (Ferrari) beat Finn Valtteri Bottas (Mercedes) and snatched third place. Alonso also rose a position at the expense of Sainz to be eighth.
The great duel between the Madrilenian and the Asturian -the first to go through the pits to perform an 'undercut' to Lance Stroll– he made himself wait until lap 20, with Vettel in between, a fight in which Sainz made a double overtake that allowed him to consolidate in eighth place. Ahead, Hamilton 'copied' Alonso's strategy to successfully complete his 'undercut' on Verstappen and go on to lead the race.
1. Lewis Hamilton – 25 points
2. Max Verstappen – 18 points
3. Valtteri Bottas – 16 points
Four. Lando norris – 12 points
5. Sergio perez – 10 points
6. Charles Leclerc – 8 points
7. Daniel Ricciardo – 6 points
8. Carlos Sainz – 4 points
9. Yuki Tsunoda – 2 points
10. Lance Stroll – 1 point
Classification after the Bahrain GP
1. Lewis Hamilton – 25 points
2. Max Verstappen – 18 points
3. Valtteri Bottas – 16 points
Four. Lando norris – 12 points
5. Sergio perez – 10 points
6. Charles Leclerc – 8 points
7. Daniel Ricciardo – 6 points
8. Carlos Sainz – 4 points
9. Yuki Tsunoda – 2 points
10. Lance Stroll – 1 point