"Respecting animals makes us more dignified and mature"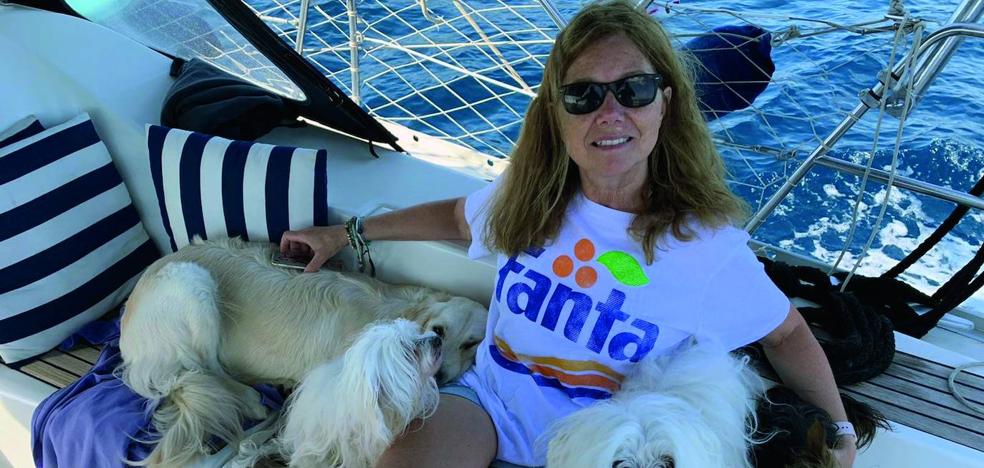 Interview with inma arán cabrera
"I have chosen thirty stories based on real events, but fictionalized," advances the writer of her first book
In the biography of his first book, recently published by Ediciones Martínez Roca, Grupo Planeta,
The deer that ate noodle soup and other crazy bug stories,
Inma Arán defines herself as Catalan with a Canarian heart. The reality is that the writer's childhood and youth cannot be explained without her long days at the Yacht Club, her ballet classes with Lorenzo Godoy or her intimate group of friends from the Teresianas.
-The deer that ate noodle soup and other crazy bug stories you sign it with a name and a pseudonym -Inma Arán and Bella Bamba-. Who is Bella Bamba?
-I have a degree in Art History, although my true hobbies have always been books, movies and dogs. A short time ago -with more than fifty years old- I decided to sign up for some canine education courses. The first thing I learned was that educating a dog is not training it. That idea opened up a new world for me. That course led me to another, and another, and another, until I founded Canis, a canine education company.
I treated the dogs in their habitat, their home, and with their pack, their family. With the arrival of the pandemic, I assumed a lot of risk by having contact with so many people and the truth is, they were not the best conditions to work. The social network TikTok has a program for content creators and I started by uploading dog training videos. The idea of ​​helping dogs from home was very attractive, but my main motivation was to teach people what a dog is, the needs they have and how they communicate. Everyone thinks they know about dogs, but the lack of knowledge is enormous. That's how my TikTok channel @Hablamos deanimals started. I adopted the nickname of Bella Bamba for the name of one of my dogs, without thinking too much.
-At the time of this interview you have more than 3 million followers and more than 112 million likes...
-These are huge numbers that are a bit scary, I have videos with more than 35 million views. The explosion of followers occurred with my first viral video, in which I tell the story of how Mico, one of my dogs, got home.
Mico's family hired me to work on an aggressiveness problem. Mico is a very impulsive dog, with many difficulties derived from anxiety. He came home for a few weeks because his family went on vacation and we thought it was a good idea to continue working intensively with him. When he returned to his family, he entered into what is called "learned helplessness", the depression of dogs. He stopped eating, he was no longer going to receive them, he disconnected from family life. Mico seemed to not love his family. He came back to my house and, from the first moment, he played with my other dogs and ate without problems. Mike chose me. I must say that Mico's family was great, they loved him and took good care of him. The transition was a very hard time for everyone.
With that video, which was a real hit, I realized that people wanted me to tell them stories -and of course, I'm passionate about telling them- and that it was the best way to convey my message of respect for animals. Through my accounts on social networks I help many animals and there are many followers who tell me that now they see their dogs differently, that they no longer have them tied up in the yard, that they have adopted one after listening to my narratives, which understand them better.
It is a different way of collaborating in animal welfare.
-Continuing your stories with a book seems like a natural transition.
-Yes. Many fans had already asked me during this year and a half to write the stories. It seemed impossible to me, but, little by little, the stories began to take shape. I sent the manuscript to several publishers and the response was very positive. I was lucky to be able to choose a magnificent publisher that has edited the book with great care.
It is a book designed for the youngest, from 9 years old, but it has different reading levels, so that it reaches adults in a different way. I have chosen thirty stories based on real events, but fictionalized. Each one has a different teaching, but they all start from the same premise: animals must be respected and that makes us a more dignified and mature society.
Whoever lives with an animal knows that instincts are very strong but that, in addition, they handle other emotions. They are capable of feeling affection, preference for one of the family, jealousy of other animals, envy the other's toy... These feelings must be considered. This is not about humanizing dogs. I believe that humanizing them is understanding their feelings from a human perspective, interpreting them according to our language. Doing it from their own, understanding their motivations, is not humanizing them, it is giving them the place they deserve.
- Is the book already on sale?
-Yes, it came out on May 4. I'm very happy. The edition is fantastic, with beautiful illustrations by María Mena and I am proud to have a prologue by Carmen Amoraga, Nadal award winner. I have put my heart in each of the stories, I have laughed, I have cried and there is a piece of my soul in each animal that appears, especially in Arpa, my greyhound. In her story I did not allow imagination to mar the beauty of reality. I hope readers enjoy them as much as I do.