Renée Zellweger is reborn with the fall of Judy Garland | Culture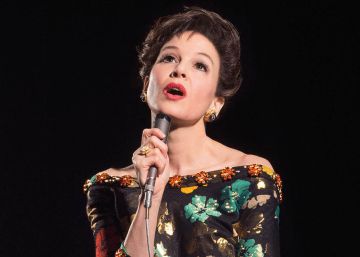 The road to Oscar for best actress this season seems to be paved with yellow tiles. Or, rather, golden, the color of the prizes that are raining Renée Zellweger (Katy, Texas, 50 years old) for her incarnation of Judy Garland in the film that has meant his triumphant return to Hollywood after a self-imposed retirement of several years. In Judy, which opens in Spain tomorrow Friday, the interpreter transforms into a sunken legend, typical role to make revenue in the awards season and, for him, Zellweger is favorite to Oscar (It would be the second of his career) and Bafta after having already won the Golden Globe and the Actors Guild Award (SAG). It is paradoxical that while Judy died from an accidental overdose of barbiturates six months after the events narrated by this biopic, the Texan is living what the English media have baptized as The Renéessance (Rendering).
The challenge of becoming the actress of The Wizard of Oz It started in 2017, when producer David Livingstone sent him the script, based on the work of Peter Quilter At the end of the rainbow. She was immersed in the project almost without being aware of having accepted it. "I really don't know if I did it. David and Rupert Goold, the director, told me: 'Let's try some looks, and take some photos, maybe sing some songs, train the voice a bit and maybe record some song, "the actress tells EL PAÍS in the presentation of the film in London. "So they booked a few hours of study on Abbey Road and to that I did answer: 'Yes! I will go! If only to snoop on Abbey Road, I will go. "
In December 1968, Judy Garland was 46 years old, ruined and homeless, hooked on alcohol and pills, and struggled for custody of her children. He accepted five weeks of concerts at a London nightclub, The Talk of The Town, but his erratic behavior made every night there unpredictable: sometimes, fueled by the love of his audience, he behaved like the star he always was – the film winks at its status as an icon of the gay community–; others, consumed by lack of sleep and by their demons and addictions, left the stage between boos. Zellweger was intrigued that a film with a tribute soul focused on the fall of myth and not its rise. "Rupert wanted to tell the truth about the life of an interpreter, and the cost that that entailed," he explains. "Because if you don't look at Judy's difficult moments, the challenges she faced, the occasions when it seemed like she was from outside defeated, it is impossible for you to appreciate how truly extraordinary it was. "
To perfect a transformation that never falls into imitation or caricature, Zellweger read obsessively, spent hours on YouTube, studied Garland's body posture – something hunched over – and reproduced his gestures and tics. But, above all, he trained his voice with discipline to be able to interpret the great successes of his repertoire live and with audience, Over the rainbow included; something that, for Goold, tanned in theater, was an indispensable requirement. "He sought to reproduce that indelible magic that reminds people who saw Judy act, that energy shared between an interpreter and her audience … I wanted it to be true, so she tried to eliminate everything that was not necessary in terms of makeup, or Any other device. It was a very crude experience, and I'm glad about it, because I would have cheated on a lot of things if I had left, "he laughs. Nose and false teeth, brown contact lenses and a wig are among the few tricks used by hairdressing and makeup designer Jeremy Woodhead, also an Oscar nominee.
As a child, Judy was mistreated by ruthless machinery that made her a star at the expense of her physical and mental health, and the film reflects it with a series of flashbacks that leave Louis B. Mayer in lousy place (the comparison between him and Harvey weinstein is, admits the actress, "obvious"). "At least today we are talking about it and questioning things that we did not think about opposing before," he says. "When young women come of age and do not know a world with a glass ceiling, it is inevitable that they ask about inequalities and why they have to tolerate situations that are clearly abusive. " Zellweger also paid the toll of fame and has suffered constant media scrutiny over his appearance. He left the cinema between 2010 and 2016 – he returned with Bridget Jones' Baby–, and she is not very sure that the industry that has received her with open arms is so different from the one she left a decade ago to take care of herself more, travel, study, write a pilot for a series, do feminist activism and, in short, reorder your priorities: "I don't read anything, I don't interact much and my circle is not from Hollywood. I travel, walk my dogs, I am alone often, and my idea to go out is to play cards with friends, write together, share ideas or play music. So I find it difficult to calibrate if it has changed. "