Reloaded ammunition: Álvaro Jiménez is ready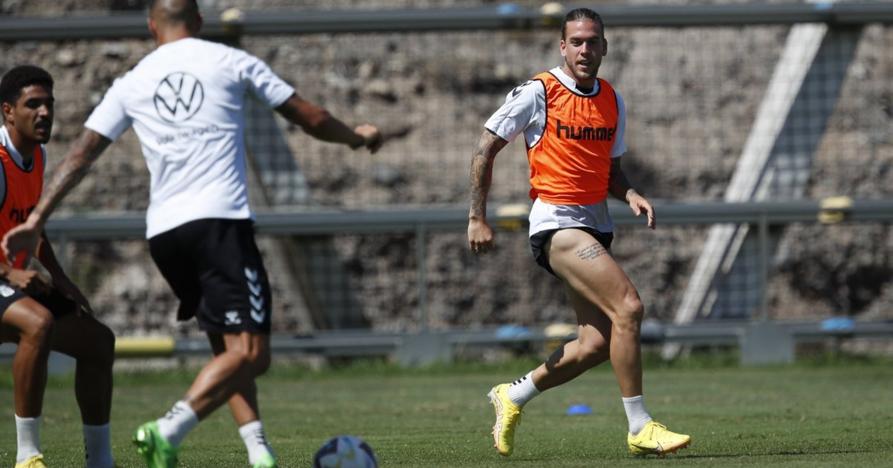 football - second division
Miraculous recovery of the Cordovan winger, which shortened the estimated four weeks that he was going to be out. He will be in the visit to Santander
With all the artillery for Santander. García Pimienta already has the arsenal to measure forces against Racing. Except for Sandro Ramírez, still recovering, he has the entire squad at his disposal. The
miraculous recovery of Álvaro Jiménezwhich shortened the estimated four weeks that he would be out for a
fibrillar microtear in the right biceps femorisis added to
the possible call of Vitolo and to the ownership of Viera.
The winger, who came out in tears from the clash in Gran Canaria against Andorra, when he was injured,
has shortened deadlines in such a way that Pimienta will assess whether to take him to play in El Sardinero. If it were up to the footballer, he would go directly into the starting team. He is demonstrating it in Barranco Seco, where he has a good face and
been in optimal shape to compete again in short.
The passing of the week and the weight of the training sessions, with different workloads, will dictate the final sentence. as with
Jonathan Viera, who last weekend played half an hour against Leganés on his return, no risks will be taken. But not all players react or overcome discomfort in the same way. The Cordovan, meanwhile, continues to work to be.
While,
García Pimienta is a happy guy. Knowing that things are turning out as she had in her roadmap and now
recovering troops to add to the cause. Marking step in direct promotion, UD begins to have most of the squad available for what is to come. Blessed dilemma for the Catalan coach when choosing the players who will start. Vitolo could enter the call.
With everything,
Álvaro was leaving very good feelings since his debut on the first day of the League. In the second he scored at La Rosaleda against Málaga and against Andorra, in the third round of the calendar, he was injured when he was also having a great game. Pure nerve in the band, it seems capital that Pimienta has him available as soon as possible. Above all because in defensive tasks he also adds a lot.
He has tasted Marvin and Lemos the yellow trainer at Jiménez's position. The Madrid academy player was not completely happy at Alavés, while the Galician, who played 130 games at home against Leganés, scored the winning goal. On merit, Lemos should stay in that position. But having the Cordovan available is another card to consider.