Released in Badajoz the first three lynxes born in captivity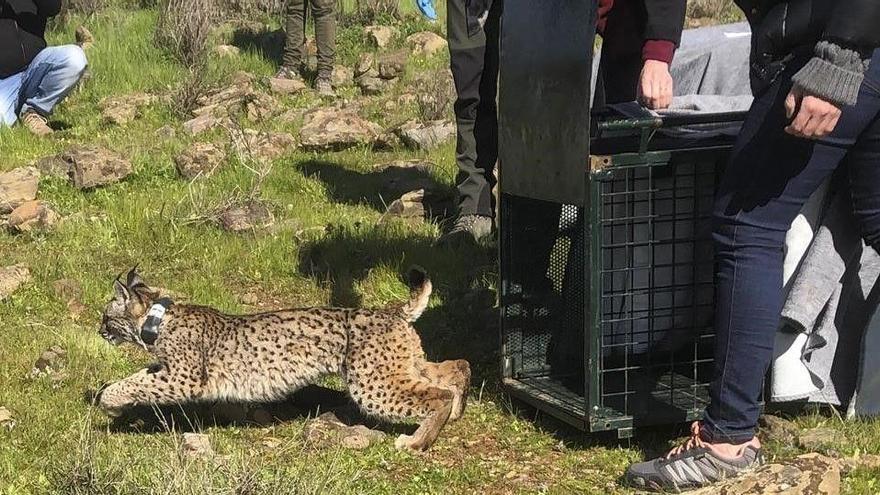 Extremadura has released the first three Iberian lynxes born in captivity this Monday as part of the 'Life Lynx Connect' project, in which the autonomous communities of Castilla-La Mancha and Andalusia also participate. This Monday's release was the first of this 2021 campaign for which a budget of about 18 million euros has been allocated and in which four more copies are expected to be released.
Olga García, the counselor for the Ecological Transition and Sustainability, has attended the release of a pair of Iberian lynxes, Rea and Ribadeu, female and male less than a year old and that they were raised in the center of Zarza de Granadilla (Cáceres). Also present during the event was María Jesús Rodríguez, director of the Autonomous Organization of National Parks.
A little earlier, first thing in the morning and without the presence of the media, a third specimen has been released that came from the Olivilla breeding center.
New home on the Matachel river
The coordinator of the lynx reintroduction program of the Junta de Extremadura, María Jesús Palacios, has assured that this year all the specimens that have participated in the reinsertion program will be released in the cuttings area of ​​the Matachel river, near the Sierra de Hornachos (Badajoz), where about 60 specimens of Iberian lynx live out of the 153 that live in freedom after the different reintroduction programs of the species that began in 2011 in Spain and Portugal.
That year both countries decided to launch programs for captive breeding, after confirming that the species was becoming extinct, as there were barely a hundred left free.
The area has been chosen by both the abundance of grasses and trees where these animals rest as for the large population of rabbits it has, a staple food for the lynx. In addition, it is a rocky region that females can use as farrowing pens.
Mating as a target
The three newly arrived specimens will now have to acclimatize to the place and it is expected that in a few months they will look for a possible pair from among the 15 reproductive females that are currently in the Matachel river basin to mate.
Bobcats released this Monday they have no family relationship, since the most genetically different animals are chosen from each center, because one of the main problems of this species is consanguinity and the diseases derived from it.
Meanwhile, the animals will be continuously monitored by the program's technicians through a radio antenna and a GPS signal that has been installed. Behind all this operation, there is a work team that will monitor the evolution of the animals released that will be complemented with images and information provided by the residents of the area.