«Relating Gáldar with the cinema is the best thing that can happen to this town»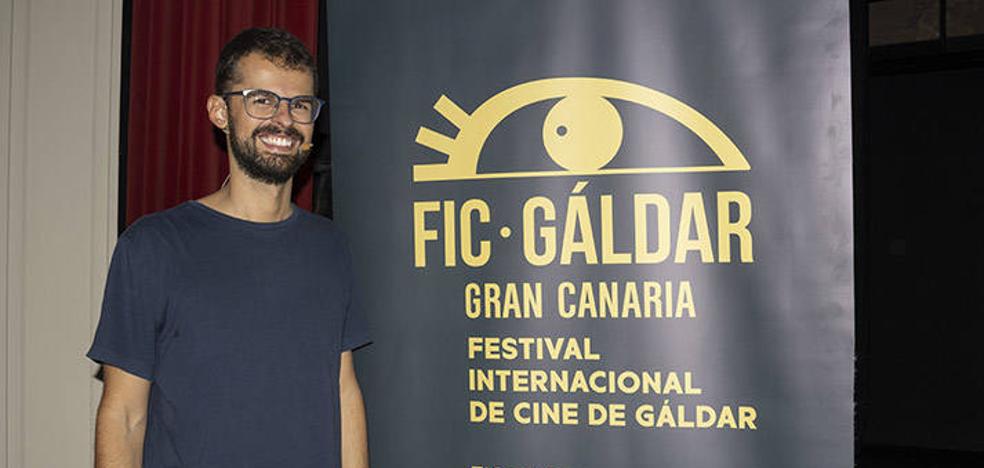 Interview with filmmaker Daniel Noblom
The Barcelona filmmaker participates in the Official Section of the FIC Gáldar with a short film and has given a master class in the contest
Daniel Noblom, director and screenwriter from Barcelona, ​​finds it practically impossible to count the number of festivals through which his works have been exhibited, he assures that there are hundreds.
'Sorry, I was sleeping', With which he participates in the FIC Gáldar 2022, he obtained the Honorable mention at the Cerdanya Film Festival, qualifying festival for the Goya Awards. its short
'Not suitable for minors' He has walked through qualifying festivals for the Oscars, such as the Edmonton International Film Festival and won the Spanish Film Blog Award at the Tarazona festival. And your work
'Eternal' will be in Terror Molins, after Sitges. These days she enjoys as a participant and as a speaker at the Gáldar International Film Festival.
–What do you think that a municipality like Gáldar has an international festival of these characteristics?
-I think it's great, because this type of event helps to make the municipalities themselves visible. One of the things we have learned in the world of festivals is that the festival itself benefits from being held in places other than a capital. Sitges is known for a festival that, if it were in Barcelona, ​​for example, would be just another festival. And it is not like that, Sitges is special. And the same thing happens to Gáldar. Suddenly being able to associate Gáldar with cinema is the best thing that can happen to him.
–What does Gáldar evoke in the world of cinema, among professionals in the sector?
–For me it is my first time and they have always painted me super well. "They are going to treat you super well", they told me and for now I can agree with them. It is a festival that is not just another, that cares about its guests and about the quality of the works it exhibits, and this is highly valued by the filmmakers.
–What possibilities does a short filmmaker have who shoots and works in a location like Gran Canaria in general and Gáldar in particular?
-In the end, the festival circuit is not like it was before, 15 years ago. Now you send it from home, you only need internet and that's it. You can shoot here, you can edit here and you can send it from here. And if you can afford to travel, do it, because you will get much more out of it, but making movies here is perfectly possible.
– His 'masterclass' at the FIC Gáldar is entitled 'Making a career in short films'. Is it easy to do it?
–It is never easy, but within the difficulty of the world of cinema, it is the easiest thing you can find, unlike a feature film or a series, you can say I want to make this short, and it may mean you save for months or years, but you will end up doing it and that cannot be done with another format.
– What are the essential requirements to do so?
I was going to say money, but I don't want to be cynical. The important thing is to always surround yourself with a good team. A good short filmmaker is really a good team of short filmmakers. The director is the visible face, but you're just not going anywhere.
–His short film, 'Sorry, I was sleeping', participates in the Official Section of the FIC Gáldar. What are the expectations of him?
–In the end, enjoy the festival, these things are for this. If a prize falls on top, it will be wonderful, because on top of that it is very personal. Well, actually they all are, but this one is autobiographical, it touches me very closely and any selection that this short has for me is worthy of celebration and without it we win prizes, well more.
–These days Gáldar is filled with film crews in search of inspiration within the 'Gáldar Rueda' contest. What would you recommend?
-Let them get stories from here, from Gáldar. We see a lot of American cinema, and many people try to resemble what is being done abroad. If I have learned something, it is that you have to tell stories from here, in my case very much from Barcelona and very much from Spain, without giving up what I like, but from here. In their case, they have here some very interesting lands to show and show off, that they do not try to hide them, that they exploit them.
–What do you predict for a festival like the one in Gáldar?
-A great future. I arrived yesterday, I have seen its two cinemas and they are beautiful. The infrastructure to be a festival with recognition, it has it, it's just a matter of making noise, because the logistics are already there.