Registered a 3.4 earthquake in Carboneras that alerts the population but leaves no damage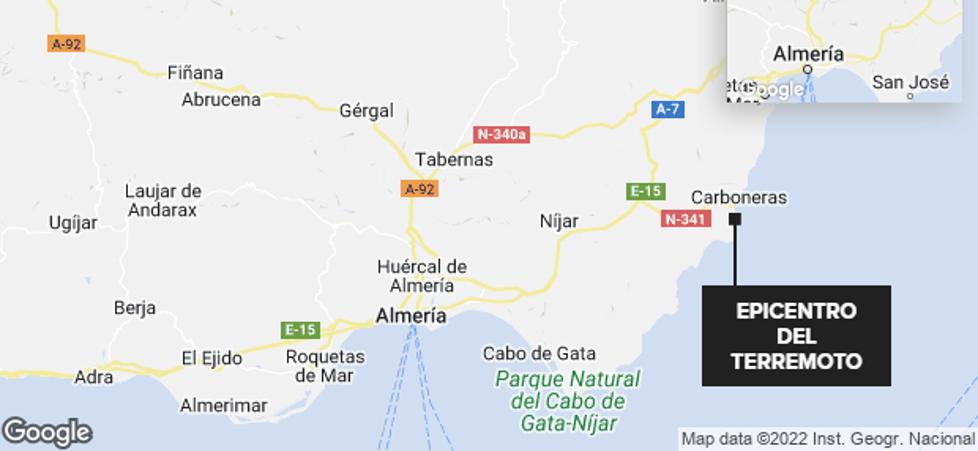 It was recorded at 1:34 a.m. in the southwest of Carboneras and at a depth of three kilometers.
The National Geographic Institute has registered an earthquake of magnitude 3.4 in the early hours of this Monday to the southwest of the town of Carboneras that has been felt by the population although it has not caused personal or material damage.
As reported by Emergencies 112 Andalusia, a service attached to the Ministry of the Presidency, Interior, Social Dialogue and Administrative Simplification of the Board, it was recorded at 1:34 a.m. in the southwest of Carboneras and with a depth of three kilometers.
Faced with this situation, and as it was felt by the public, the 112 Emergency Telephone number has attended several calls throughout the night alerted by the movement, without any of them reporting any outstanding incidents.
In addition, in round with the emergency operations in the area, the perception of the earthquake by the population has been confirmed.
From Emergencies 112 Andalusia it has been recommended that once the earthquake is over, an evacuation is carried out and that in the case of being inside a house or office it is necessary to gather all the cohabitants and go outside, always using the stairs and with the prohibited use of the elevator.
But first it must be verified that no one is injured and, if not, everyone injured must remain immobile, unless they know how to do so or in the event of serious deterioration or imminent danger such as fires or landslides.
After a violent shock, the state of the gas, water and electricity pipes must be checked visually and by smell, but without starting anything.
It is also recommended not to use the telephone, unless it is for emergency situations and to connect the radio to follow the indications of the authorities or intervening organizations through the media and official accounts on social networks.