Recovered an Oscar Wilde ring stolen in 2002 | Culture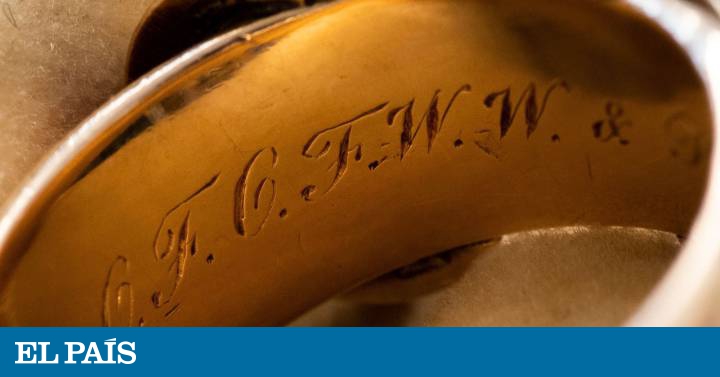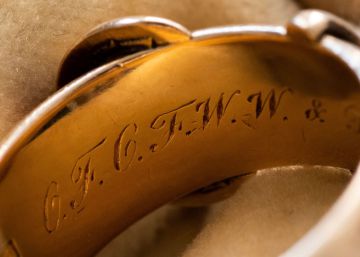 Arthur Brand, nicknamed in Holland "The art detective", He has found a new treasure: a ring purchased by the Irish-born writer Oscar Wilde (1854-1900), which was stolen in 2002 from Magdalen College in Oxford. The thief was a former member of the British university cleaning service who assured the police that he had sold the jewel to a scrap metal and was cast. "They say these things because they don't have to betray others like that, but it's not usually true," according to Brand. On December 4 it will be returned to Oxford and he will be present.
The ring was in a souvenir cabinet of Magdalen College and the thief, Eamonn Andrews, who sought evidence of the alleged infidelity of his wife, a center employee, had drunk. "He didn't find anything to clarify his personal problem, but he saw it and took it away," Brand says in a telephone conversation. Andrews later told police he had sold it for about 150 pounds (175 euros). The university has been "delighted" to have recovered a piece from the collection of objects of famous students. "We had lost all hope of seeing her again," according to her spokespersons.
The ring is 18 karat gold and is shaped like a belt with its buckle. Wilde, who studied at Trinity College, Dublin, and Oxford. The author gave it, along with another friend, to a third student in 1876. But this story transcends the boundaries of the famous university city and includes another robbery, much more striking. The Dutch detective, who has found, among others, pictures of Dalí, Picasso and Tamara de Lempicka, in addition to Thorak's horsesnicknamed Hitler's horses, 6th century mosaics Y Visigoth reliefs, He was interested in the fate of the jewel. "I read in the press about Eamonn Andrews, but everything was silent until, in 2015, seven veteran thieves – between 49 and 75 years old – perpetrated the biggest assault with jewel loot in UK history. They entered a vault in Hatton Garden, the London district of diamonds, and looted pieces worth 20 million euros, "among them the ring must be." It's a famous case, especially since some members of the band had The problems of his age. One of them pricked insulin in the middle of the job, "he says.
Brand believes that the ring then went through several hands before being acquired by its last owner. After the great London robbery, the news came that there was a Victorian hoop on the market with an inscription on the outside in Russian. Actually, it is written in Greek and says: "Gift of love, for those who want love." The initials recorded inside are OF OF WW (Oscar Fingal O'Flahertie Wills Wilde) + RRH (Reginald Harding) to WWW (William Ward), called by his friends bouncer (bully).
Thanks to his British contacts, with ties in the art market and the betting world, the Dutch traced his journey to the final buyer, "who obtained it in good faith and agreed to return it immediately so as not to get into trouble." Once the authenticity was verified, "they gave it to me in front of the same security deposit in Hatton Garden, burst by the band of pension thieves, in a gesture typical of the best English humor." In 2002, it was valued at about 40,000 euros at the exchange rate. Now he calculates that it could reach 200,000.
The stolen treasure hunter always collaborates with the authorities, and then "enjoys" a few days at his home the recovered pieces before making the discovery public. Take advantage of these moments to take pictures and the police, who knows it, trust your word.
. (tagsToTranslate) retrieve (t) ring (t) oscar wilde (t) steal (t) 2002 (t) arthur brand (t) detective (t) art (t) return (t) jewel (t) oxford university



Source link