Receives dependency six years after requesting it and is given a "wrong" grade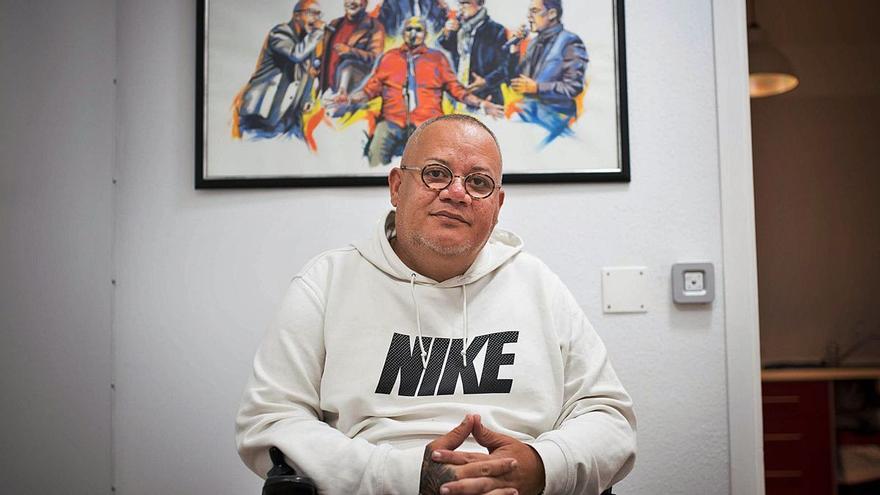 Moise González is a musician, composer, music producer and organizer of cultural activities. This neighbor of Santa Cruz of Tenerife He has had the opportunity to perform alongside internationally renowned salsa music singers and with different Canarian artists. And in recent years he has promoted different initiatives in which he highlights the value of self-creation in singers and interpreters of the Archipelago. Moise suffers from a degenerative disease called muscular dystrophy, waist type, which began when he was a teenager. At this time, he has a recognized physical disability of 90 percent, he moves around in an electric wheelchair and needs help with many daily actions.
The artist goes to the Diputación del Común so that his complaint does not take long to resolve
In March 2014, he applied for financial aid related to the Dependency Law from the Ministry of Social Rights, Equality, Diversity and Youth of the Government of the Canary Islands. More than six years later, a few weeks ago, after requesting the relevant appointment, he went to the headquarters of said organization, in Plaza Primero de Mayo, to see how his file was going and they informed him that his Individual Care Plan (PIA ). However, González denounces that he was assigned grade 2 and he was assigned grade 3. Grade 1 includes cases of moderate dependence, that is, for those who need help to perform various basic activities of daily life, at least once a day; either has intermittent or limited support needs for personal autonomy. Grade 2 encompasses situations of severe dependency, when citizens need help to carry out various basic actions two or three times each day, but do not require permanent support from a caregiver or have extensive support needs for their personal autonomy. And grade 3 includes situations of great dependence, where the disabled person requires support for various basic activities of daily life several times a day and, due to their total loss of physical, mental, intellectual or sensory autonomy, demands indispensable and continuous assistance from another person, or requires widespread support for personal autonomy. "I cannot go to bed or get up, or sleep alone, or dress or bathe, for example," says Moise González to express what his daily reality is.
Given what this musician from Añaza considers an erroneous grade assignment, has already filed the corresponding claim with the autonomous Executive, "but the reality is that several more years may pass" before it is resolved in an appropriate way to their interests, he explains. Along these lines, he is going to fight to prevent it from being the case, "because I need immediate solutions to resolve my current situation," he explains. Last Monday, this Santacrucero sent his protest to the Diputación del Común for the treatment received in the autonomous administration regarding the Dependency Law. His intention is that they help him and that the communication of the resolution is not prolonged in time "to receive what by law belongs to me."
At the moment, this musician ensures that he receives the cleaning service of his home, thanks to the Social Attention area of ​​the Santa Cruz de Tenerife City Council. The consistory of the Tenerife capital has also paid for an electric bed and a "crane". But González comments that his surprise did not end with what he considers an erroneous statement due to his degree of dependence. The aforementioned department of the Canarian Government gives you the possibility of enjoying a rehabilitation service with 230 euros per month. In the area of Social welfare They gave him a list of three centers in which he could supposedly perform such physical activity. But, curiously, one of them has not responded and the other two replied that they do not provide rehabilitation services. The affected regrets that, at times, "they call me conflictive, but I'm tired of keeping quiet, because I'm almost 50 years old and nothing is progressing" at the level of public administrations to offer effective attention to citizens in the same situation.
Hip-type muscular dystrophy was detected when he was 14 years old and he stopped walking a decade ago
At the age of 14 he began to suffer from muscular dystrophy, waist type. For more than two decades he was able to move on his own. However, everything changed a decade ago. He had a fall at home and fractured his tibia and fibula. He was immobilized in a bed for six months. And from that moment he lost the ability to walk permanently. And to get around, he uses his electric chair. Specialists explain that your degenerative disease can go "From bad to worse, or stabilize".
"It cannot be that in society we sell a social integration that is not real", criticizes this musician. It warns that, in general, very few physically disabled people can be seen on the street. He believes that "a large percentage of them are submerged in depression and suffer complexes that separate them" from social relationships.
"Regular physical activity is an emotional and psychological help"
Moise González criticized, years ago, Titsa drivers, "They left you on the ground, spoke to you in a rude way and, although the buses had ramps, either they did not open them automatically, or they did not bother to remove them manually, if the mechanism did not work". For González, with these attitudes, "you are late for appointments, interviews, jobs; that goes against the alleged social integration ".
"It is necessary that politicians pay more attention, since the administration does not have sufficient personnel or means to resolve dependency requests", says the musician. In his opinion, in Tenerife there are no resources prepared to intervene with people with neuromuscular problems. González comments that physical activity is an "emotional and psychological help" for those who suffer from these pathologies, as well as a respite for their families or caregivers. For him, workers should take the intervention "as a challenge" and "politicians take a lot of photos, but they do not solve the real problems."