Realme GT 2 Pro, the sustainable mobile with Snapdragon 8 Gen 1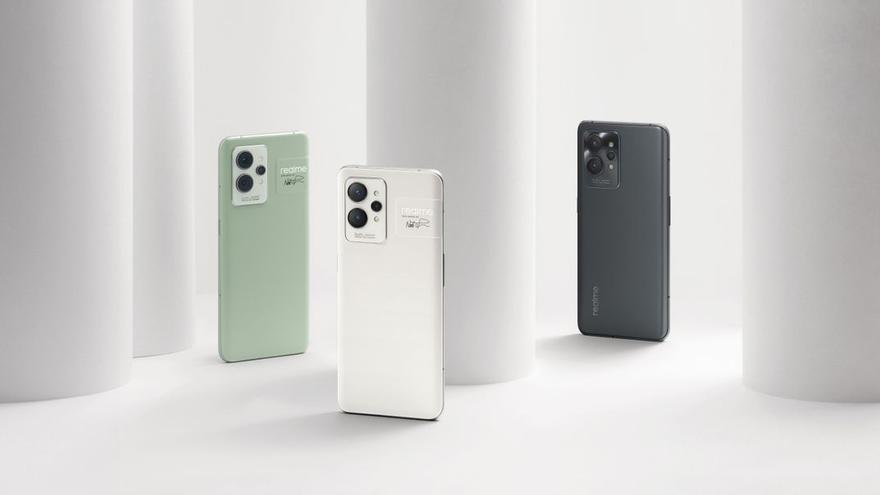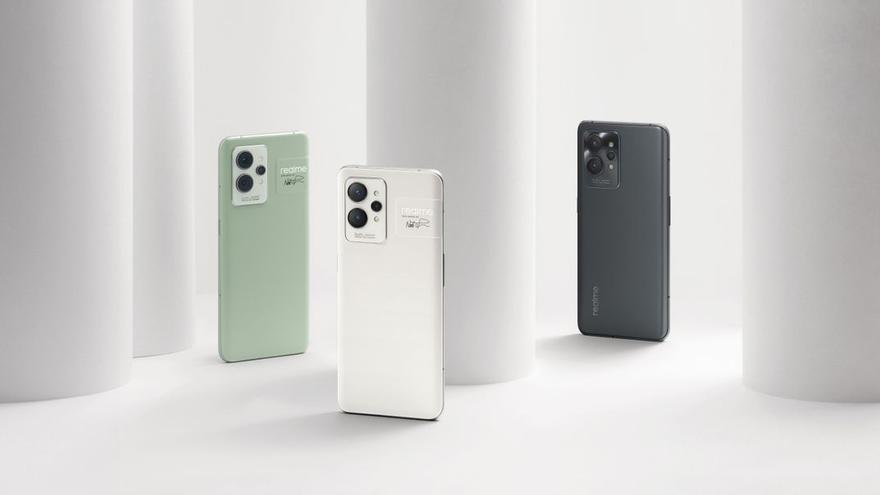 Realme just announced in Mobile World Congress gt series 2 with which the firm makes its entry into the high-end segment. The top model, the GT 2 Pro with Snapdragon 8 Gen 1 will have a launch price of 749.99 euros, and the realme GT 2, equipped with Snapdragon 888, it will cost 549 euros.
The GT 2 Pro has a Super Reality screen with a 120hz refresh rate., and it is the first 2K AMOLED with LTPO 2.0 technology that is based on a 6.7-inch AMOLED E4 with more than 4.5 million pixels and 525 pixels per inch. This higher pixel density makes text appear sharper and much more detailed images show amazing details, such as blades of grass or strands of hair. It offers a color depth of 10 bits, which means that the panel can reproduce 1,024 shades of red, green and blue, adding 1,070 million colors. Compared to an 8-bit display, which can only produce about 16 million colors, it offers 64 times more color information. It delivers a maximum outdoor brightness of 1,400 nits, and features 10,240 individual brightness levels that automatically adjust based on the environment for optimal power savings and a comfortable viewing experience.
Thanks to LTPO 2.0 technology, the screen automatically adjusts the refresh rate from 1 to 120 Hz and is capable of saving 1.7 hours of battery life. With GT 3.0 mode, instant touch sampling can be increased to 1,000Hz. The GT 2 Pro has received the highest possible score for screen quality from DisplayMate, with an A+. Incorporates Corning Gorilla Glass Victus glass.
Features of the processor and cameras
The device equips the processor Snapdragon 8 Gen 1, with 4nm processing technology and the first ARM v9 architecture on the market, offering a 30% performance improvement. It has a large heat dissipation system, with a surface area of ​​36,761 mm2, 9 layers and stainless steel, capable of reducing the temperature by up to 3 degrees. In the photographic section, it has a triple camera configuration that includes the first 150° ultra-panoramic camera and another with a 40x micro-lens. The main 50MP with the Sony IMX766 sensor, gives this phone features of omnidirectional PDAF and OIS. The IMX766 includes optical image stabilization for photos, and electronic image stabilization for videos. Optical image stabilization means that the lens itself physically moves to compensate for the movements of the user's hand.
It also integrates the first 150-degree ultra-panoramic lens, which increases the field of view of images by 278% compared to most main cameras (84º). In the 'software' section, the fisheye mode has been included. The x40 micro lens allows the user to be 2 times farther from the subject, making it easier to focus. In addition, it multiplies the depth of vision by 4, for a better focus.
The Realme GT2 have the same equipment as realme GT 2 Pro, including the design, the battery, the Realme UI 3.0 customization layer and the RAM. It includes an E4 AMOLED 120hz screen, the Snapdragon 888 5G processor and the Vapor Cooling Plus stainless steel cooling system, and GT 3.0 mode.
Ecological design signed by Naoto Fukasawa
The company has once again collaborated with the industrial designer Naoto Fukasawa, to create the industry's first bio-based polymer design, which is based on the sustainable concept of paper art. After 12 months of research with 63 prototypes, the final design of the GT 2 Pro is inspired by craftsmanship and has been made with a 0.1mm laser engraving process.
In keeping with the brand's sustainable philosophy, the back is made from a copolymer material of biological basis LNP ELCRIN from SABIC, certified by ISCC+. This material represents a reduction of two kilos of CO2 for each kilo of this material used. In addition, it has also received the TCO 9.0 sustainability certification, for the socially responsible manufacturing process behind it, exceeding more than 40 sustainability indicators. The percentage of plastic used in phone packaging has also been reduced from 21.7% to 0.3%.
GT 2 Series Pricing and Configurations
GT2Pro It will be on sale from March 8 at the usual points of sale in these colors, prices and configurations: GT 2 Pro: white, green and black in 8GB+128GB versions: 749.99 euros and 12GB+256GB: €849.99. From March 8 to March 16 they will have a special launch price of: 8GB + 128GB: 649.99 euros and 12GB + 256GB: 749.99 euros
The Realme GT2 It will be on sale from March 15 at the usual points of sale in these colors, prices and configurations: GT 2: white, green and black. 8GB+128GB: 549.99 euros and 12GB+256GB: 599.99 euros. In this case, the special launch price of GT 2 will be valid on March 15 and 16. In the case of the 8GB+128GB version, it will cost 449.99 euros, while the 12GB+256GB version will have the same price as the official one, but users who buy it on those dates they will receive a Realme Watch 2 Pro as a gift.