Real Sociedad recovers the smile and the goal against Cádiz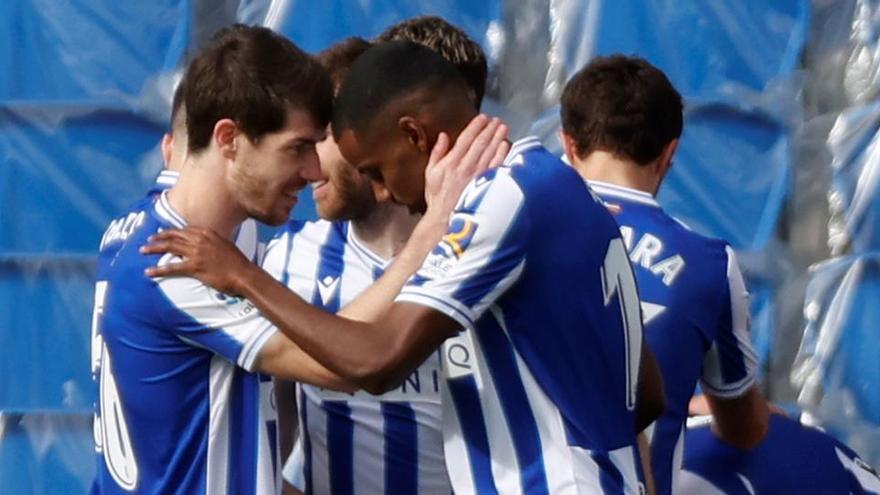 The Real society he won again three months later at his stadium before a Cadiz overtaken by events and by a great San Sebastian team, which showed the version that seemed lost in the previous weeks (4-1).
The dominance of the premises was overwhelming from the start. Imanol Alguacil's team clearly arrived in the Ledesma area and 24 minutes later there was a penalty awarded to the people of Cadiz, by Negredo, later confirmed by the VAR. Oyarzabal, who has not failed any in the league in his entire career, deceived Ledesma to open the scoring and remove the nerves that the bad results had caused in the 'txuri urdin' environment since the victory he achieved in the first round at Carranza .
Cadiz immediately had a similar move. Igor Zubeldia within the area hit the ball and the referee signaled a penalty in the first instance, the VAR reviewed the play, annulled it and gave possession to the Real before a monumental Cadiz anger. The yellow team was entertaining with that play when Oyarzabal took another ball in three quarters of the rival field, sped ahead of the visiting defense and beat Ledesma under.
Was already The meeting for the Guipuzcoans is very on track because, in addition, Marcos Mauro had seen the red card before the break and in the second half the Basques played at pleasure. It would be the turn for the exhibition of the Swede Alex Isak, who is seen released after the departure of Willian José. He took the center forward position and scored the third with a cross shot and 5 minutes later, with everything decided, he headed for the fourth with an empty goal after Ledesma's departure.
The people of Cadiz, who had not deserved so much punishment, they achieved their goal through Jairo against a Real who took his foot off the accelerator.
Data sheet
4 – Real Sociedad: Remiro; Gorosabel, Zubeldia (Sagnan, min. 83), Aritz, Monreal; Guevara, Illarramendi (Silva, min. 63), Merino; Januzaj (Merquelanz, min 63), Oyarzabal (Barrenetxea, min. 83) and Isak (Carlos Fernández, min. 74).
1 – Cadiz: Ledesma; Jairo, Cata (Espino, min. 60), Marcos Mauro, Iza (Nephew, min. 46); Fali, Jenis Jonsson (Garrido, min. 17), Alberto Perea, Salvi Sánchez; Negredo (Saponjic, min. 60) and Lozano (Alcalá, min. 46).
Referee: Pizarro Gómez (Madrid Committee). He showed a direct red card in the 48+ minute to Marcos Mauro after consulting the VAR. He admonished Jairo and Nephew.
Goals: 1-0, min. 26: Oyarzabal. 2-0, min.34: Oyarzabal. 3-0, min.54: Isak. 4-0, min. 59: Isak. 4-1, min. 65: Jairo.
Incidents: Match of the twenty-second day played at the Reale Arena without an audience.