Real Madrid takes air and eliminates Inter Milan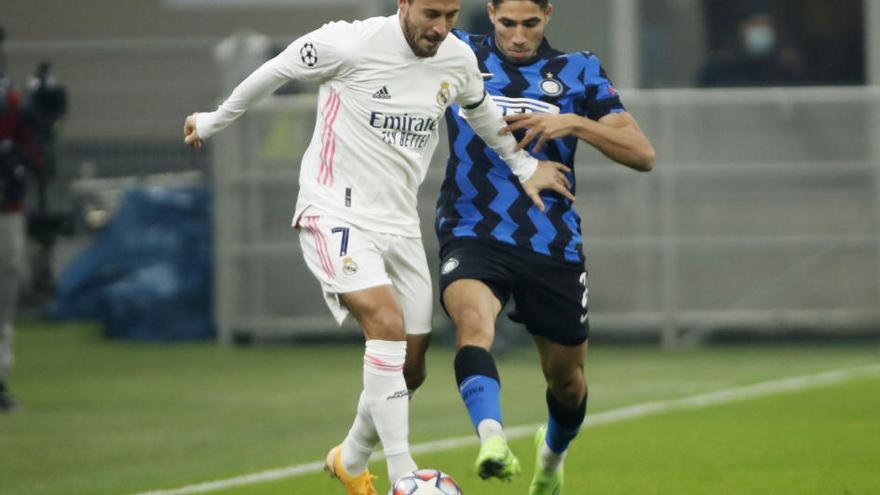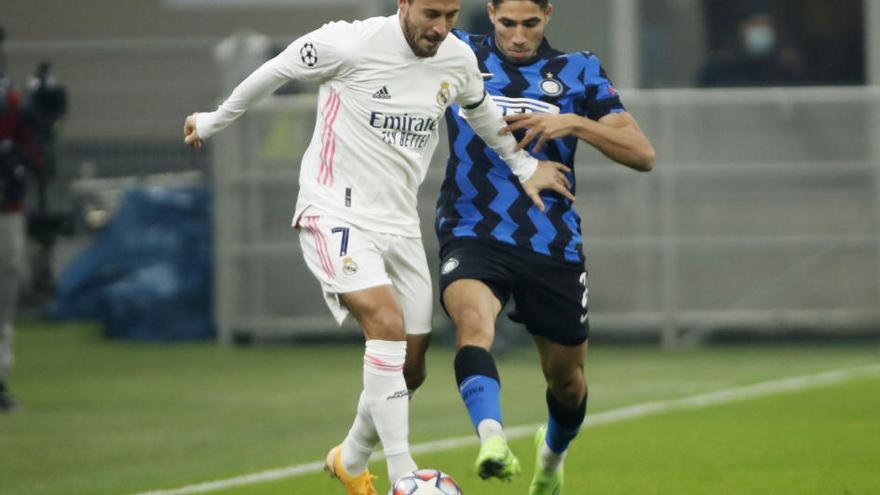 At the San Siro stadium in Milan, where four years ago they won the eleventh of their thirteen European Cups in the final against Atlético Madrid, Real Madrid beat Inter 2-0 this Wednesday and won a new "final", this time to take a giant step towards qualifying for the knockout stages of the Champions League.
With a team full of absences, led by the captain Sergio Ramos and of Karim Benzema, the Madrid of 1/tags/zinedine-zidane.html, who had defined this duel as a final at the press conference the day before, took his best version in his favorite competition and triumphed in Milan with goals from the Belgian Eden Hazard, from a penalty in the 7th, and the Brazilian Rodrygo Goes, the 59 nothing else jumps to the field.
After reaching the double confrontation with Inter with a single point in two games, Madrid won the round trip against the Milanese team and placed second alone in group B, with seven points, one less than the leader Borussia Monchengladbach, with whom the first position could be played on the sixth and final day.
Inter remained bottom with only two points, already on the brink of elimination, which would be his third in a row.
It was played in an environment torn between disbelief and grief over the death, at the age of sixty, of the Argentine Diego Armando Maradona, To which the two teams dedicated a minute of silence, lived with emotion both on the pitch and on the benches and in the stands of honor, where the Interista vice president, compatriot of Pibe de Oro, Javier Zanetti was.
Madrid had the merit of leaving with concentration and clear ideas at the tactical level, which once again he knew how to give his best in times of high demand. Zidane confirmed Villarreal's eleven and his team played with patience, moving the ball, combining with quality and pressing with order.
The German Toni Kroos lowered his position to the center line to build game, Odegaard fluctuated between lines and connected fluently with Hazard, on the left wing, and with Luka Modric. Nachó completely deactivated the Interista forward in which the Belgian Romelu Lukaku was barely noticed.
And in a long Madrid action at seven minutes, Hazard won a split ball with Slovak Milan Skriniar and combined with Odegaard, who gave an excellent pass to the hole to Nacho, knocked down in the area by Nicoló Barella. The referee indicated the maximum penalty and Hazard transformed it with power to give Madrid an early advantage.
He played Zidane's box with excellent technique, which could do much more damage to Inter by having more punch. On the 13th, Lucas Vázquez released a right hand that, with Handanovic immobile, was repelled by the post, and three minutes later, the French Ferland Mendy wasted a great opportunity after a ball recovered in three quarters by his team.
Madrid was well focused, which only risked after half an hour, when defensive indecisions first by Mendy and then by Varane and Dani Carvajal offered a great opportunity to Vidal. The Chilean was anticipated at the time of shooting at goal by Varane and protested vigorously before the referee Anthony Taylor. After seeing the yellow, he continued facing him and touched him with his chest, which caused the second warning and expulsion.
A red one that allowed Madrid to go into halftime with a one-goal and one-man lead, against an opponent who had not yet put Belgian goalkeeper Thibaut Courtois in any trouble.
Inter moved to 4-4-1 at the restart, with Croatian Ivan Perisic replacing a lackluster Lautaro Martínez and D'Ambrosio replacing Alessandro Bastoni. His team had a proud reaction at the start of the restart, but the superior technique of Madrid prevailed.
Zidane waited for game time to approach to make his changes. Rodrygo drew the card in 58 for Mariano and his bet could not be more successful. Less than a minute after hitting the pitch, he finished off a Vázquez cross with his right and gave Madrid a 2-0 lead.
The boy trained at Santos continues to shine on European nights. This Wednesday was his ninth game and he already has six goals and three assists.
His goal finished the game. Inter did not have the physical or mental strength to look for a comeback and his only chance was blocked by a great save from Courtois to Perisic, against a Madrid that continued to play the ball, managing rhythms and waiting for the final whistle to celebrate the first victory in its history at San Siro against the Interista team.
Data sheet:
0. Inter: Handanovic; Skriniar, De Vrij, Bastoni (D'Ambrosio, m.46); Hakimi (Alexis, m.64), Barella, Gagliardini (Sensi, m.78), Vidal, Young; Lautaro (Perisic, m.46) and Lukaku (Eriksen, m.86).
2. Real Madrid: Courtois; Carvajal, Varane, Nacho, Mendy; Kroos, Modrid, Odegaard (Casemiro, m.58); Lucas Vázquez, Mariano (Rodrygo, m.58) and Hazard (Vinicius, m.77).
Goals: 0-1, m.7: Hazard (penalty); 0-2, m.58: Rodrygo.
Referee: Anthony Taylor (ING). He showed yellow cardboard to Gagliardini (m.19) and Sensi (m.86), from Inter. He sent off Vidal with a double warning (both m.33).
Incidents: Match corresponding to the fourth day of group B of the Champions League played at the San Siro stadium in Milan behind closed doors.