Real Madrid runs over a Casademont in free fall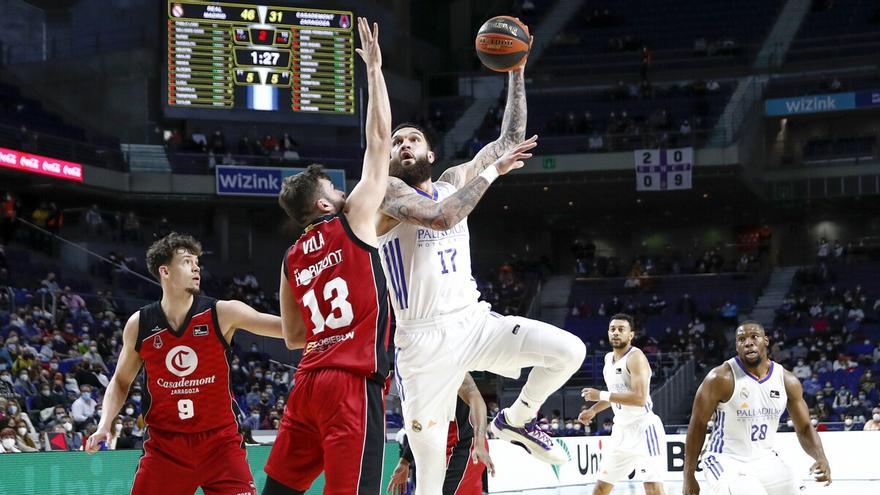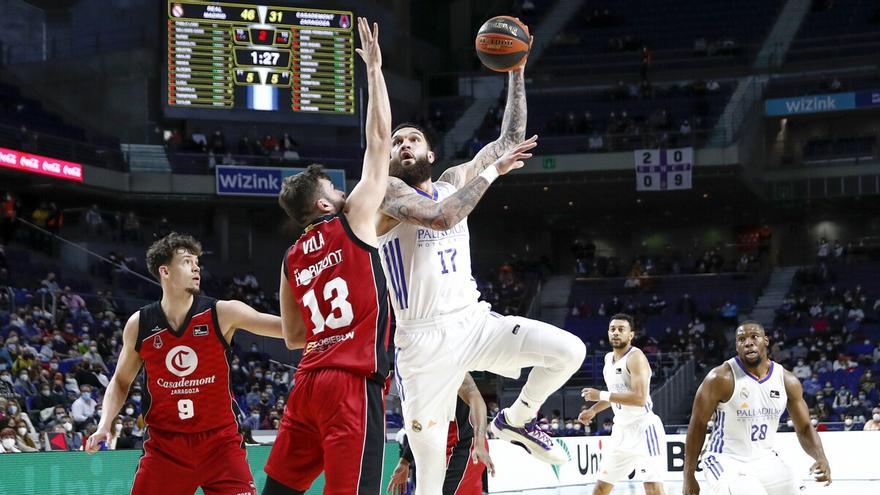 Real Madrid extended its good run this Sunday and added its tenth consecutive win in Endesa League after destroying with authority, in a choral and very solid performance, a Casademont Zaragoza in free fall, which has already accumulated six defeats in the last eight games and is approaching the dangerous zone of the table (94-69).
With the casualties of Rudy Fernández and Walter Tavares for covid, Y the return to the ACB of Trey Thompkins eight months after his serious injury as the best news, the white team played a league game again before his public 35 days later against a rival he dominated from start to finish in a clash in which the French center Vincent Poirier stood out, author of 19 points and 6 rebounds and who finished as the most valued with 29 credits.
The locals came out in a rush and two minutes were enough to get 10-0 against the swish of a Casademont who started asleep and who, with their first losses and shooting errors, forced Jaume Ponsarnau to ask for time out at the first change to try to redirect the situation, taking Omar Cook out on the track to order his own.
Real Madrid continued to play as they pleased, without any opposition and taking advantage of their speed and success from outside to continue opening a gap and destroying the Aragonese team. After seven minutes, he was already winning by 23 points (26-3) over a Zaragoza disappeared in combat that in nine minutes was only able to score a triple and that he was losing 28-7 after a first quarter to forget in which he only scored three of his fifteen shots, accumulated ten turnovers and had an overall rating of -10.
Gradually, the visitors cleared their minds. The Pole Adam Waczynski began to see hoops and decided to throw the team behind him. A 0-10 run somewhat fixed the situation, coinciding with a blackout in attack by Pablo Laso's players, who turned to Guerschon Yabusele to serve as a trigger.
The Frenchman responded immediately with five straight points capped off by a spectacular one-handed dunk. His ten points in the fourth appeased the threat of reaction from a Casademont Zaragoza that tried to do it with Jordan Bone but went into the break losing by twenty points after a terrible first half in which he added thirteen losses and was only able to hit with one of his ten triple shots (53-23, min 20).
After the break, the exchange of baskets favored Madrid's interests. The mattress harvested in the first twenty minutes weighed like a slab for Jaume Ponsarnau's men, who came to the track of the leader in crisis of the game and results and were unable to trace the team in the best shape of the competition.
To make matters worse, Jeffery Taylor hit two 3-pointers and Randolph joined the party with another, aggravating the injury of an opponent without arguments who lost by thirty points and reached the last ten minutes 24 down (74-50, min 30)
Vincent Poirier, very solid all afternoon in the absence of Tavares, continued to do damage under the hoops, well assisted by his teammates in a last quarter with very little history that leaves Real Madrid more in the lead and Casademonz Zaragoza with much to improve to get out of the bad run they are going through.
Data sheet:
94-Real Madrid (28+25+21+20): Williams-Goss (13), Hanga (8), Abalde (5), Randolph (14) and Poirier (19) -starting quintet-, Heurtel (2), Thompkins (6), Taylor (8), Alocén (5) , Llull (3), Nuñez (1), Yabusele (10).
69 - Casademont Zaragoza(7+26+17+19): Bone (12), Font (4), Yusta (6), Vanwijn (10) and Thompson (9) -initial team-, Waczynski (12), Cook (2), Hlinason (6), Mobley (-), Radoncic (6) and Vila (2).
referees: Jordi Aliaga, Alberto Sánchez Sixto and Esperanza Mendoza. Without eliminated.
Incidents: Match of the 18th day of the Endesa League played at the WiZink Center in Madrid before 3,581 spectators.