Real Madrid receive Inter and play their European future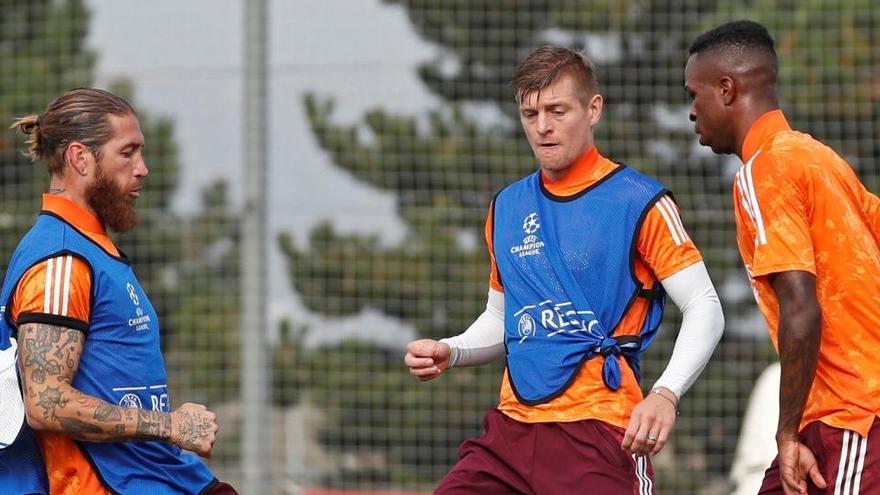 The Real Madrid his future in the Champions League is at stake at the first change, on his third day after repeating a bad start, recalling a european classic against Inter Milan that regained power and is pending Romelu Lukaku for the dispute of an unexpected final between those who were the two favorites of the group.
The situation is borderline for Zinedine Zidane's team. The dynamics in the Champions League more than worrying. A team that went from reigning in the competition throughout a historic cycle, four conquests in five years, to winning just one of its last six games. A particularly damaging collapse at home, with two consecutive defeats and a victory in seven games between Santiago Bernabéu and Alfredo di Stéfano.
He must correct it immediately or he will be closer to falling to the Europa League or being eliminated, than to contesting the round of 16. He has never experienced it in his history since the change of nomenclature of the competition. The situation is repeated compared to last year; the level of the adversaries, no. Now it is Inter Milan who will measure Madrid's reaction after falling with a crash in their debut against Shakhtar and get an agonizing draw in the visit to Borussia Mönchengladbach.
Hope is deposited in Eden Hazard. At last without pain, assuming the leadership that is demanded before the Huesca with a goal to frame in his first title of the course. The return of the Belgian returns optimism for what he brings in the attack zone. No punch since Cristiano Ronaldo said goodbye, but with a Karim Benzema more scathing when associated with a footballer who speaks his language like Hazard.
The new white trident will have its second test because everything indicates that Marco Asensio will remain from the beginning and that Zidane will give continuity to a typical team that is beginning to be recognizable after a start to the season with unsuccessful rotations. Only the French technician in defense is conditioned, where the casualties of a winded right-back have been added to the coronavirus suffered by the Brazilian Militao. Before the absences of Dani Carvajal, Álvaro Odriozola and Nacho Fernández, is forced to force Lucas Vázquez. With muscular discomfort from loading matches. From just counting to being essential in a new position.
The rest seems definite. Raphael Varane and Toni Kroos return to eleven after break. With the continuous growth of Uruguayan Fede Valverde, who has become the team's top gunner with his arrival from the second row, Luka Modric is emerging as a substitute in one of those big days in which all footballers want to play. Time is taking its toll and he will have to contribute by coming off the bench.
Inter come to Madrid against the ropes, after starting their European path with two draws (2-2 against Borussia Mönchengladbach and 0-0 against Shakhtar), and with the serious doubt of the Belgian Lukaku, with muscle problems. Author of 34 goals last year in his first campaign, he had been the undisputed leader in his first seven games, in which he scored as many goals.
With the Argentine Lautaro Martínez who, after a good scoring start, with three goals in his first three games, has not seen the door for a month, Lukaku managed to qualify with his targets a gray moment for the entire team. And it is that to the two draws in the Champions League was added a timid league start, with two draws and one defeat, by a single win, in the last four games of Serie A, which left Inter in sixth place and already five points behind leaders Milan.
All of it forces Antonio Conte's men to give a strong change of dynamics to their campaign in the visit to Real Madrid if they want to have the option of reaching the round of 16 of 'Champions', after the last two consecutive eliminations in the group stage. Without Lukaku and with the Chilean Alexis Sánchez touched, it is likely that Conte will confirm the Croatian Ivan Perisic adapted up front with Lautaro, a bet already seen last Saturday in the 2-2 league against Parma, in which the international of Croatia scored the final tie.
It will be the 45th match in Inter's history against Spanish rivals, with a balance of fourteen wins, eleven draws and 19 losses. Against Madrid, Inter won seven of the previous fifteen, with two draws and six setbacks, although their last duel against the madridistas dates back to 1998. A classic that wants to add more history. Probable lineups:
Real Madrid: Courtois; Lucas Vázquez, Varane, Sergio Ramos, Mendy; Casemiro, Fede Valverde, Kroos; Marco Asensio, Hazard and Benzema.
Inter de Milan: Handanovic; D'Ambrosio, De Vrij, Bastoni; Achraf, Brozovic, Vidal, Young; Barella; Lautaro and Perisic.
Referee: Clément Turpin (France)
Stadium: Alfredo di Stéfano.
Time: 21.00 (20.00 CET).