Real Madrid: Mino Raiola: "This summer I want to take a great player to Real Madrid"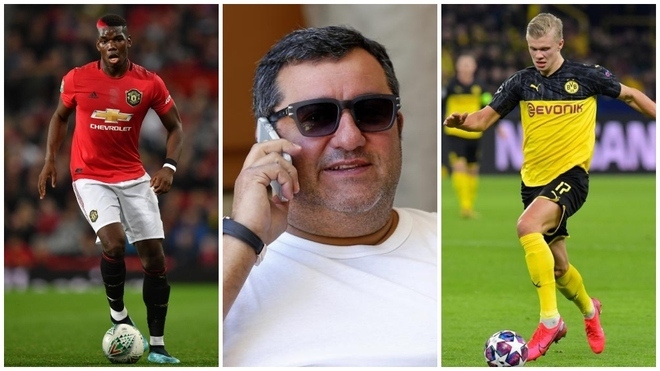 Real Madrid

TO

The representative of Pogba and Haaland says that their relationship with the white club is very good
Paul Pogbahas always been a favorite ofZinedine Zidane. The club's leaders have never been fully convinced to face his signing, although it is true that they have negotiated on different occasions withMino Raiola, French agent, looking for an agreement that has never been effective. Gone are moments of tension and now the relationship is good, with a dialogue between the agent andJos Angel Snchezwhich ended withAreolaas a madridista last summer.
Mino Raiola,French agent and one of the most important players in the current soccer scene, I spoke with MARCA this week and reviewed the panorama of its main players. "Paulis going through a difficult time, but let's be clear because in England they are very sensitive,PogbaHe is concentrating to make a great season finale with Manchester United. He wants to re-enter the team and make a great end to the season and that United can reach the Champions League. "
The message for the United fans has already been released, but Raiola does not dare to affirm what will happen to a player who ends his contract on June 30, 2021. "You cannot say what will happen. Today you cannot know. Now It matters the club, the team and then we will see what can happen. There was great interest, but it was not possible. Last year it does not count anymore. We will see what happens. "
Raiolais the agent, among many others, ofErling Haaland, which in just two months at Borussia in Dortmund has left all European football unanswered."It is a very important gem. It is nice to see him play and see how he evolves in each game.Nobody thought that his adaptation to the Bundesliga to the Champions League in a team like Borussia Dortmund would be like this. No one expected it. It is not easy to go from Austria to Germany and show that level. It has a lot to grow yet. Being in Dortmund for the necessary time. It is true that he is a footballer who is anticipating the fastest stages of growth that one might think. Don't think that when you left Salzburg it was the right time, but ... I don't think you'll be leaving Dortmund this summer. "
Raiola's relations with the white leaders are now great, as the agent acknowledges."My relations with Real Madrid are very good.I am in contact with José Angel and I love to discuss football and FIFA issues with him because his opinion interests me. I have great hope that someday I can bring Real Madrid to a great footballer. Now I have Areola, but it is a half operation because it is a loan.I want to bring a definitive footballer and I am going to try it this summer.It would be a pride for me and my footballers because Real Madrid is a great club "
After the months, the desire toPogbahas not changed. He has never declared himself in rebellion, nor has he refused to play, but he has told the leaders of Manchester United that he wants to leave and does not hide that his preferred destination is Real Madrid. His 'occasional' encounters with Zidane (the last one in Dubai last November) continue to feed the rumors and the possibility that one and the other will join their paths at once after several failed attempts.
Last summer, the still Manchester United player made clear his desire to trade Old Trafford for Santiago Bernabu. Negotiations existed, but Real Madrid never took the last step, always waiting before giving the final answer.ZidaneHe pressed, but not being clear about the movement, from the club they waited to commit definitively. The player's salary, but, above all, the absence of significant transfers of players from the white team during last summer, was the main obstacle that the world champion met to fulfill his dream of playing in Real Madrid.
The appearance of players likeValverde, one of the references of the current Real Madrid, or the possible arrival ofOdegaardto the first team, they question the sporting necessity of the arrival of a Pogba that for one or other circumstances takes all season without hardly participating in the game of the team ofSoljksjaer. So far he has eight games, seven in the Premier and one in the Carbao Cup.
HAALAND, AN NO MOVEMENTS
Haaland is amazing everyone, so much so that PSG 'dedicate' the victory in Champions. His goals are drawing the attention of the football world. The fact is that Erling Haaland has already been related to the future of Real Madrid, but as MARCA can assure, the white team has not made any approach with the Norwegian player. It is true that they have been following him and that they have seen his games in recent weeks, but so far they have not made any movement, either with the player's agent or with Borussia Dortmund.
The good relations that exist between the leaders of one other club, transmit tranquility in the noble area of ​​Bernabu. They know that if there is any movement around nine, the white club will have room to make an offer or make use of that 75 million euro clause that Haaland freedoms cost certain teams. The understanding of the leaders of both teams comes from afar and has been kept alive with the matches between both teams and with the cessation ofAchraf.