Real Madrid improves against Club América but does not go beyond a draw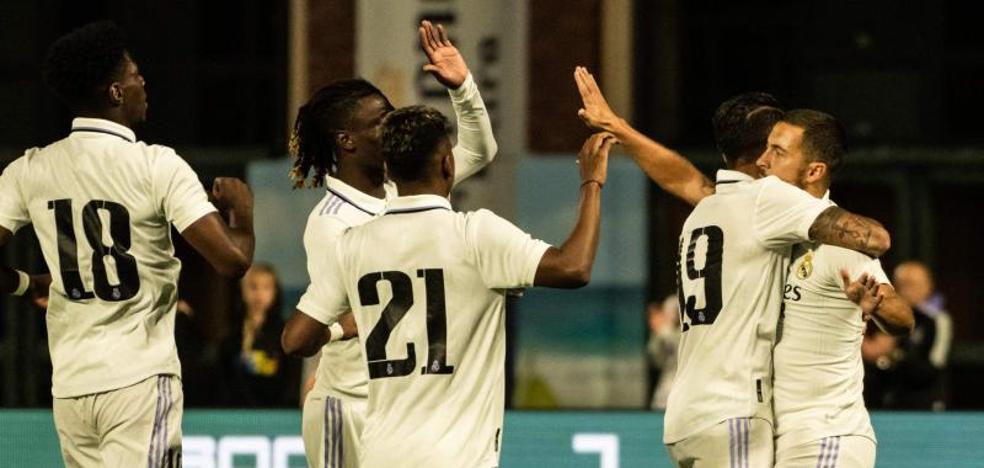 Benzema scored in his first pre-season game and Hazard scored his first goal 188 days later
Real Madrid continues to fine-tune in the preseason with its sights set on the European Super Cup. In their second game on the US tour, Ancelotti's men faced the Mexican Club América and showed a better version than in their first game against Barcelona but victory eluded them after drawing against the Mexicans.
The match made it clear that Casemiro, Kroos and Modric are untouchable for the Italian coach, no matter how many more names are on the bench. He lined them up from the start in what is a declaration of intent for the first title of the season in a few days against Eintracht. Along with the 'three tenors', Ancelotti made Karim Benzema debut this season and the Frenchman did not miss his appointment with the goal. A goal that returned the tables to the scoreboard after a bad white start made Club América take the lead after 5 minutes.
But with Benzema, Madrid not only has a goal but also play and more fluidity in attack. Quite the opposite of what was seen against Barcelona in the first game of the preseason. In the second half, Real Madrid was a different team, especially because of the eight changes, and with a younger midfield the team improved. More domineering. Valverde, Camavinga and Tchouaméni showed that white football is more dynamic with them, but today others have the stripes.
Hazard, from a penalty, scored again with the Real Madrid shirt 188 days later and when it seemed that the Whites were going to get their first win of the preseason, he saw how it escaped him due to a referee error. The former white youth squad Álvaro Fildalgo faced Vinicius Tobias and went to the ground. The referee understood that it was a penalty. Lunin stopped the shot, but the Ukrainian goalkeeper had moved two meters ahead of the shot. In the repetition, Fidalgo did not fail and put the definitive 2-2 on the scoreboard.