Real Madrid breathes with Benzema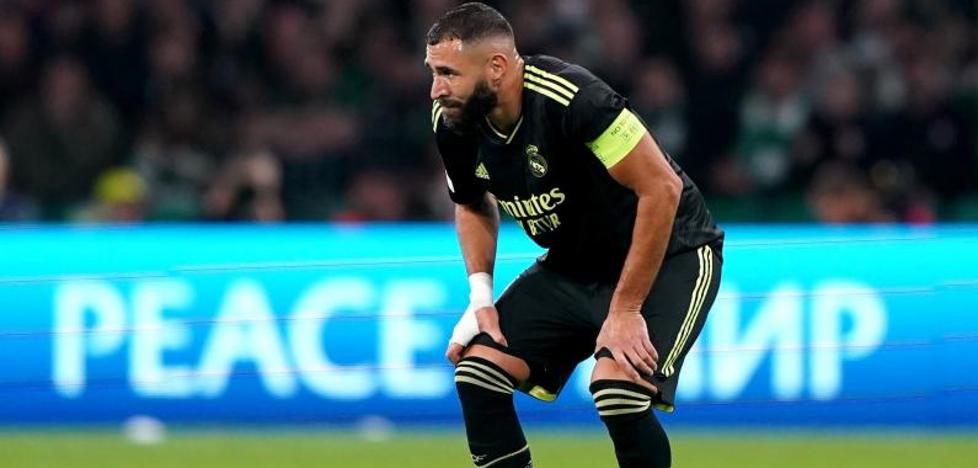 Analysis
The French striker's injury is not serious and he will be out for around ten days
Reassuring news arrives for Real Madrid from the infirmary. Karim Benzema, who set off all the alarms by having to retire with discomfort during the game that measured his team against Celtic, suffers an injury to the semitendinosus muscle and an overload in the quadriceps of the right thigh that will keep him out for about ten days . Therefore, a serious illness is ruled out and the Lyon native could even be available for the derby with Atlético on the 18th.
Despite the
resounding triumph By 0-3 with which they began their journey in a new edition of the Champions League, Real Madrid left Scotland with the logical concern that the mishap suffered by their captain and maximum reference entailed. But the medical tests to which the Frenchman underwent this Wednesday have come to relieve Ancelotti's troops, revealing that there is no serious injury.
Benzema will miss Sunday's duel against Mallorca, corresponding to the fifth day of the League, and will not be next Tuesday at the Santiago Bernabéu, where Real Madrid will face Leipzig on the second date of the Champions League. The goal is for the '9' to recover in time to visit the Metropolitano on September 18, the first major trial by fire for the Whites in the domestic championship.
Benzema felt pain in his right leg when he started a counterattack at Celtic Park before the first half hour of the game. The Frenchman stopped dead and, although he tried and tried to continue on the grass, he immediately requested the change while long faces appeared on the faces of his teammates. Relieved by Eden Hazard, he was explored 'in situ' by the doctors and, after the fourteen-time king of Europe finished off Celtic in a great second half for the whites, he left the Scottish venue crestfallen along with Éder Militao, also injured against to Celtic. "We'll see tomorrow," answered Bron's battering ram when asked about his sensations.
"It doesn't look like anything to worry about, but we have to wait for tomorrow's tests. The first scan doesn't look like anything very serious, but we have to wait until tomorrow. It is not yet known if he is muscular. It is not clear. That is why we have to wait until tomorrow », Ancelotti indicated on his part, who breathes after knowing the medical part of his star.