Real Madrid beats a very inspired Asvel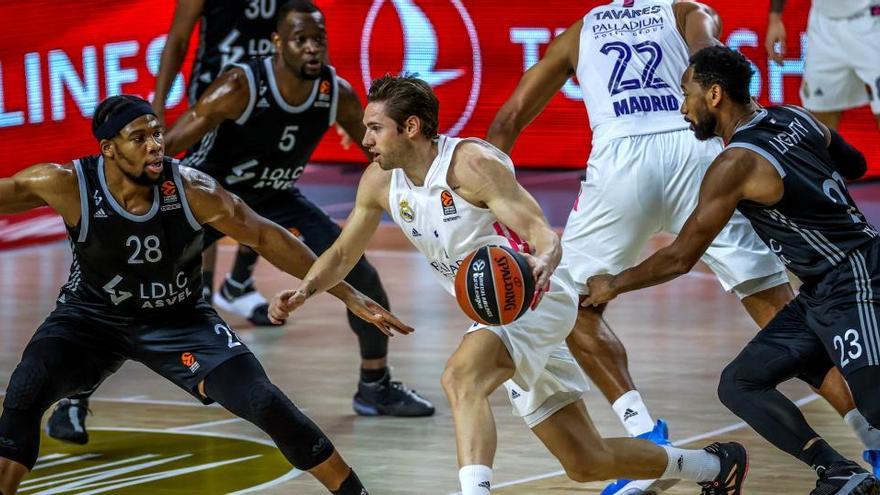 The Real Madrid exceeded (91-84) this friday at Asvel villerbaune on matchday 12 of the Euroleague held at the WiZink Center, thanks to a hard work of pride, defense and quality Before a very inspired rival, who wanted to roll his wave to the white box but found the local door slamming that strengthens him in the 'playoffs' zone.
Those of Pablo Laso, after the defeat against CSKA, they redirect their march up the table with 7-5, although for this they had to sweat the fat drop. Asvel riddled with triples in the first half and stayed on their feet until Madrid ended up pouring into the Palace with the last quarter (30-14), from defense and with Sergio Llull and Edy Tavares decisive, both with 19 points.
The Gallic team it came plugged in and so he wanted to continue. After winning at Barça and hitting Panathinaikos with triples, Asvel applied the same medicine against Madrid. Until shortly before the break, his shooting card at that distance was a 9 of 10. The first half seemed to be long for the visitors, but they held him to reach 10 at the break (40-50).
All in all, Laso's men seemed to be caught off guard, without a defense that knew how to stop those pitches. The white team threatened with the reaction (15-13), but it continued to rain triple Gauls. The local response with the same medicine was Llull, with three successes in a row in the second quarter (32-35). However, Fall was also sneaking inside, despite Garuba's fight.
Those of Laso they did not succeed in taking command in that pause of the rival rain shower that Yabusele, Cole and Freeman had commanded. With 10 down, Madrid came back pricked in pride, with the bench very involved in encouraging and exciting their team, and better in defense. Tavares and Causeur were key in that local step forward, but a greater inspiration was lacking in attack (53-60).
In that search, Madrid could not control everything and less an Asvel enjoying as never before in these two years of Euroleague. The French team knew how to avoid Tavares and plug it back in to save the income towards the last quarter (61-70). A triple by Llull made up for that disadvantage, while Rudy entered to shore up the defense a little more. Laso exhausted his cards with 10 minutes ahead.
Fernández's also put the Gauls to the test, increasingly demanded by a local defense to the limit and the match tied with four minutes remaining (79-79). Madrid's proud reaction, with a triple by Llull to confirm the change of third, closed the local ring. The same one that the Gauls had seen as a swimming pool, repelled the attempts to continue in a great fight in the Palace.
Data sheet
Outcome: Real Madrid, 91 - Asvel Villerbaune, 84 (40-50, at halftime)
Equipment:
Real Madrid: Laprovittola (5), Taylor (2), Deck (7), Randolph (2) and Tavares (19) -initial quintet-; Llull (19), Causeur (13), Abalde (2), Thompkins (8), Fernández (8), Garuba (6).
Asvel villerbaune: Freeman (11), Hayes (-), Kahudi (2), Yabusele (21) and Fall (6) -initial quintet-; Noua (-), Lighty (13), Diot (3), Cole (21), Howard (3), Bako (4).
Partial: 19-26, 21-24, 21-20, 30-14.
Referees: Belosevic, Majkic and Cici. Without eliminated.
Pavilion: WiZink Center.