Real Madrid basketball: Garuba, after Doncic and Ricky Rubio | sports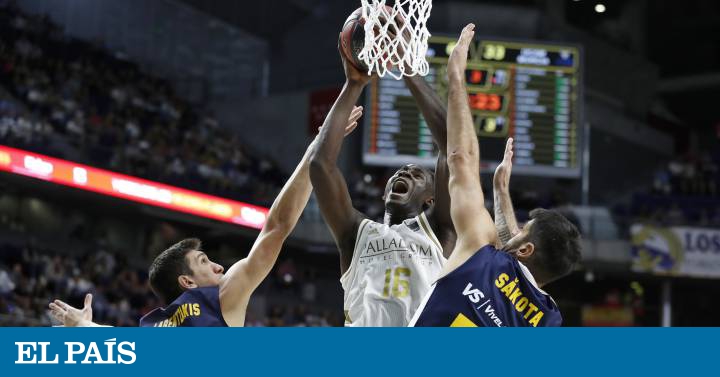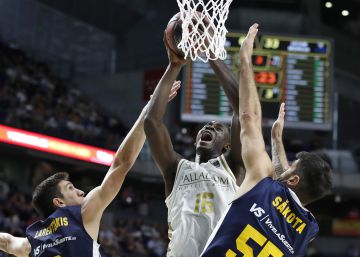 On Friday, at the start of the Endesa League, Usman Garuba he became the youngest player in the history of Real Madrid in appearing in the titular quintet. With 17 years, six months and 19 days, he surpassed the Luka Doncic brand (17 years, eight months and 16 days). Pablo Laso insisted on his determined commitment to the youth player and, on the second day, Garuba continued to polish a precocity he has well trained since he arrived at the Madrid children's team in 2013. Before UCAM Murcia, he managed to be the youngest of the history of the League in achieving a double-double (13 points and 10 rebounds) improving the brands of Doncic himself and Ricky Rubio. "He is able to do many things: bounce, bounce, continue situations of pick and roll, making open shots, transmits a lot of energy ... All knowing, in addition, that it is a debutante ... ", Laso said, that this course has made a place for Garuba in his first team to give continuity to the remarkable contribution of factory to your project
In October of last year, Garuba, a 2.01m power forward, received the alternative in Burgos where he became the 12th canterano to debut with Laso since 2011 (after Dani Díez, Alberto Martín, Willy Hernangómez, Santi Yusta, Jonathan Barreiro, Doncic , Dani de la Rúa, Dino Radoncic, Samba Thiago, Melwin Pantzar and Mario Nakic). "Our quarry works very well. Usman has been doing the preseason with us for two years now, and starting to play minutes is a prize for him. You can give us a lot in the future. It has a hopeful projection and a lot of play and rebound instinct, "said the Madrid coach, who yesterday stressed his road map with the kid. "We value everything it gives us and we hope it continues to grow. It always gives us intensity and today it has shone in the numbers as well, "explained the technician. Last year he only played 17 minutes in two games, but he had plenty of time to stand out. In his second appearance, before the Gipuzkoa, he placed three plugs. Until the appearance of Garuba, the youngest player to achieve it was Kristaps Porzingis, who placed four caps With 18 years and 3 months in a Cajasol-Baskonia 2013.
Usman is the oldest of three brothers. His parents, Mustapha and Betty, fled the conflict and hardships of Benin City, one of Nigeria's most troubled cities, in search of a better future in Europe. After trying their luck without success in Brussels they arrived in Madrid at the end of the 90s and finally settled down in Azuqueca de Henares (Guadalajara). His three children, Usman, Sediq and Uki, were born in the hospital October 12 in Madrid. The lug of Usman, who before turning 14 was already around two meters, quickly took him to basketball, where he has devoured stages, almost always among older kids. Madrid, as it already did with Mirotic or Doncic, has managed with care its interaction with the first template "to give naturalness and comfort to its settlement" in the elite as the quarry rectors directed by Alberto Angulo have.
In 2016, as a child, he won the U-16 European gold and was chosen MVP of the final by achieving a triple-double with 15 points, 11 rebounds and 10 blocks; In 2017 it was silver in the same category. In five years in the quarry of Madrid he has been champion of Spain in all categories and the mini-cup in 2016, where he also achieved the MVP with 32 rebounds and 40 valuation in the final in just 24 minutes. "He has natural leadership skills. He has as idol one of the most important players in the history of the NBA, the center Kareem Abdul-Jabbar, "describes the Madrid website. This summer, Garuba led Santi Aldama to the national team that was proclaimed European Under-18 champion just 15 days after the fifth of Alocén, already signed by Madrid, reached silver with the Under-20. While Mirotic made its official premiere as a Barça player in the Palau at the heel of a book, Madrid valued his training school, from which the Spanish-Montenegrin came out. In the Laso era, since 2011, the white club has made 32 signings and has debuted 12 youth players. In these eight years, Barça has made 57 signings, has had four coaches and only five youth players have shown their heads in the Palau. Garuba is here to try to give feedback to the successful Madrid cycle.
You can follow EL PAÍS Sports in Facebook, Twitter or subscribe here to the Newsletter.