Real fans also skip the measures against Covid to fire their team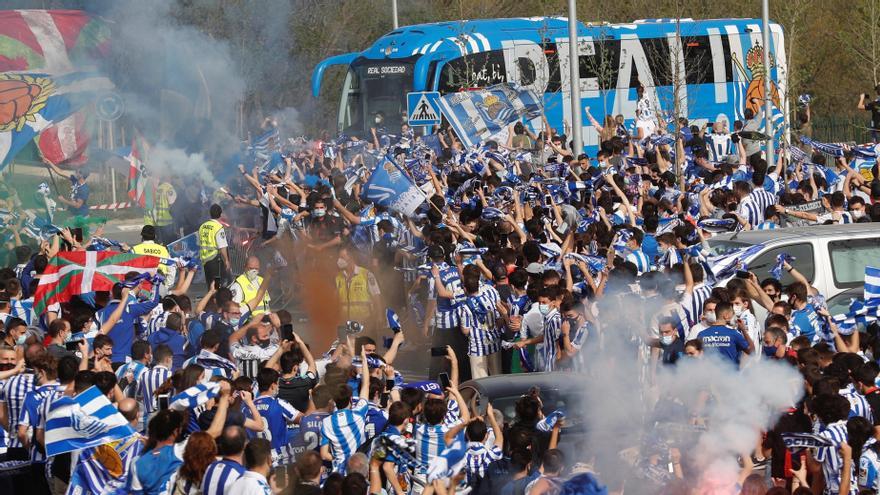 Thousands of fans of the Real society The measures against Covid-19 have been skipped to fire the team on their departure to Seville to play this Saturday against him Ahtletic the final of the Copa del Rey.
The 'txuri-urdin' team bus has left for Hondarribia airport from the Zubieta club facilities at 10.45 am as scheduled. President, Jokin AperribayHe was one of the first to arrive at Zubieta a little before ten in the morning.
There they have been received by thousands of fans with team flags, jerseys and scarves, despite the call to avoid crowds, cheering the team with songs and applause.
The supporters of the Real Sociedad have made a corridor to the team bus following it through the vicinity of Zubieta, without respecting the social distance measures, and they have crowded in the entrances to the field. The 'txuri-urdin' tide has also been present around the Hondarribia airport since early in the morning.
The San Sebastian club has asked fans through their profiles on social networks that, in the coming days in which they are going to "live moments of great intensity", they behave "at all times respecting all current sanitary measures".
The San Sebastián Municipal Police has planned a device to that the anticipated agglomeration before a call by the fans was "the smallest possible", as reported to Europa Press municipal sources.
The private security of the Royal has also participated in it, which has fenced the area to prevent the road from being invaded and has controlled it with personnel on the spot.
In this sense, despite the fact that a large number of people have gathered, "there have been no incidents, the obligation to wear a mask has been respected, and at the end it has been dissolved without problem.