Rayco González: «People took money but nobody helped to solve the problem»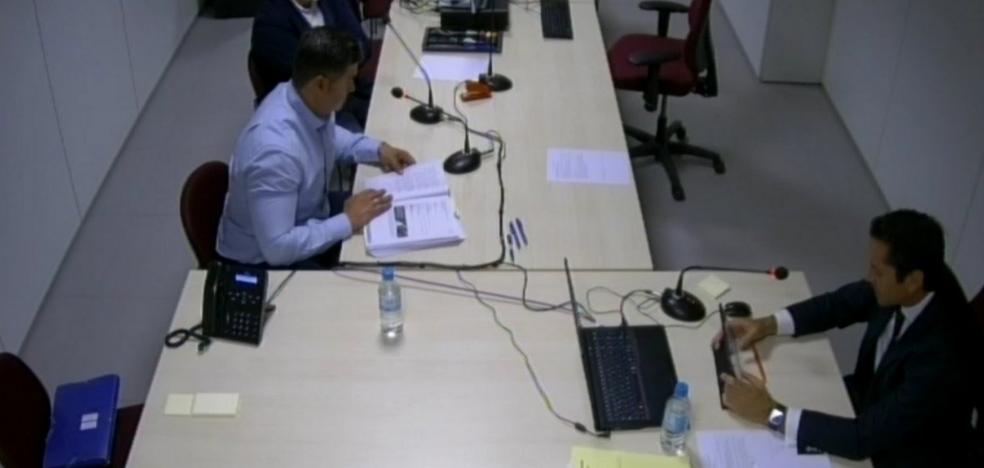 MASKS CASE
Case Masks
The owner of RR7 insists that he always wanted to fulfill the contract and if he did not, it was because of the supplier and intermediaries
Rayco Rubén González, sole administrator of RR7 United SL, investigated for aggravated fraud and money laundering in the framework of the Mascarillas case, insisted to prosecutor Javier Ródenas that his effort was always directed at fulfilling the contract and bringing the 3M and if not, , was due to the breaches suffered by the supplier and the intermediaries. He even showed his discomfort with them: "People took money but no one helped to solve the problem," he said.
How was the possibility of supplying masks to the SCS conceived?

The businessman told the Anti-Corruption Prosecutor that at the time of the confinement he began to learn about this sanitary material business: "We got to know suppliers and collaborators by telephone to obtain any product that companies or governments needed and we continued to open options." As a result of that first incursion into this sector, the possibility of contacting the Canary Islands Health Service arose and it was through an intermediary. «Samuel Machín asks me, who is a collaborator who knew that I was involved in that world... The offer was presented, I don't remember the date, because Machín asks me if I can get that product since he has access direct to Health. I told him that he could get it and that's when we started moving him to try to get that product, "he declared.
What were the risks of the operation not going ahead?

«The risks were minimal because, when these payments are made, it is ensured that the merchandise is going to be shipped and there is no problem when it comes to serving it or collecting it. [...] When this operation is proposed, they ask me if I can buy it and then collect it when I get here. Obviously I told them no, that it was a lot of money, I did not have the capacity to face that expense but it was getting out of hand, but I did have the ability to get that product, "González said.
The commissions

Did he tell the intermediaries how much they were going to earn? Ródenas asked him. "No one is told because there were more parts. Although I am responsible for setting up my company, the money was not distributed according to my criteria. There was Lucas Cruz who was responsible for finding the distributor, then there was Ihsan who was the distributor, there was Samuel Machín and another party who was Osvaldo Lastras... We were five or six people. It was divided equally except for Samuel's. He and another contact were 100,000 euros each and then Ihsan, Lucas and I shared the other part. Samuel Machín 100,000 euros, other Osvaldo Lastras who worked together and the rest of the total of 1.35 million was divided equally between Ihsan, Lucas and me ».
Some fake masks arrived

After many months of waiting, some masks arrived on the island that turned out to be fake. "First a million 3M masks had to arrive and 910,000 and others of another type arrived. I was the first surprised and when the 3M lawyer in Spain called me, she told me what I was doing bringing these masks to the country... I told her it was because I had a letter from the SCS asking for that product and she replied that they couldn't enter Europe. I told him that I had bought them from Ihsan, that Lucas had painted me that he was a sheikh who was dedicated to the world of oil and that he worked with a lawyer who was related to the British royal family. I gave him his contacts and I know they talked », exposed the investigated.
Storage and destruction

The masks "were analyzed and concluded that they were false. I had to pay for the storage and destruction of the merchandise," González complained. How did he react when he saw that they brought him fake masks and on top of that they demanded his money back? The prosecutor insisted: «Well, bad. I spoke with my advisor, the lawyer, Samuel and Lucas. In fact, when the topic of the destruction of 3M comes up, I decide not to know anything about Samuel, people took money but nobody helped to solve this problem ».
The renegotiation of the contract

The contract with RR7 had already been resolved and, despite this, the SCS made a modification to it to bring some Honeywell masks. How was this new agreement created? Rayco González was questioned: "It was done because Ihsan was told that the masks were fake and they were forcing us to destroy them. He denied it and decided, pressured by Lucas, to make the change for the other masks. It was Samuel who proposed it to Lucas in case the SCS accepted.
On fake 3M: "If the SCS sends you to find a product..."

As the prosecutor Javier Ródenas questioned Rayco Rubén González, the "basic" thing to do a commercial operation was "to know if the product could be brought to Spain", in reference to the 3M that had to be destroyed. "Personally, when we started this business, I didn't know that we couldn't serve her. I promised to serve the masks, nothing more, "justified the investigated.
But, "wasn't it reported before negotiating the agreement," the prosecutor insisted. «I did not know, I did not inform myself and neither did the supplier tell me. If the SCS, which is a public entity, sends you to look for a product, I rule out that it cannot be brought. If an official letter sends me to look for a type of mask, which we tried to market elsewhere and it was possible, then I did not stop to think that they could not enter Spain », he said.
González declared that he had not been surprised that the SCS changed the object of a contract that had been terminated. «It was to serve some masks that did not come for others. It was an acceptable loss of profit. That is why I was not surprised that they had made the change to me », he detailed.
The person in charge of RR7 United made it clear that he was not aware of the consequences that breach of contract would generate: «Until the day I filed the complaint against Lucas and Ihsan, I thought that this product was going to be served despite the fact that there were delays," he said.
«The distributor then spoke with Ana Pérez and told her that money was needed to pay a tax that was about 400 and something thousand euros and I told Lucas that that was unfeasible. Masks had to be sent. [...] When I heard the news I decided to file a complaint to try to comply with the SCS by my own means because I, naive, always thought that everything was going to be resolved. My intention was always to comply and help, although trusting the wrong people. I am responsible for that society and I have never tried to take the money, only help and I see myself in this situation for having trusted certain people.